For years, I've been telling Hoosiers that GenCon isn't just for hard-core game geeks committed to multi-hour games of World of Warcraft or Dungeons and Dragons. For every elf-costumed, sword-wielding aficionado, there's also someone who just likes to play games socially with friends.
As in the past, I visited GenCon looking for those kinds of games—ones that offer a fun alternative to television or the computer and don't require extensive study of textbook-length rules. And, once again, I found some winners worthy of space in your game closet.
OK, so maybe you don't have a game closet—and I'm a game geek. Still, if you're in the mood to expand your collection beyond Monopoly and Scrabble, here are some new ones worth considering: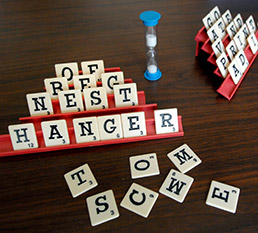 At the recent gaming convention, Dabble was a stand out. (IBJ Photo/ Perry Reichanadter)
Dabble
(INI LLC, www.dabblegame.com)
No coincidence that Dabble is only a couple of letters away from Scrabble. And, truth be told, you could play a version of it with your Scrabble tiles. But putting that aside, this think-quick word game is a brainy no-brainer for word-game fans. The rules are simple: You have 20 tiles and, before time runs out, you have to make them into a two-, a three-, a four-, a five-, and a six-letter word. The successful player gets the points on the unused tiles of the unsuccessful player.
Got 'Em!
(Calliope Games, www.calliopegames.com)
The best new game I found for fans of chess, checkers,
Othello and other abstract strategy games, Got 'Em! involves trying to trap your opponent while avoiding being trapped yourself. Each turn involves playing a card that allows you to, in most cases, move your marker and build a wall next to a specific colored square. As the game progresses, the walls become harder to avoid. A nice touch: The board is flippable to an all-white playing area, which can be used without the cards to create a strategy version that takes the luck of the card draw out of the equation.
Faux-cabulary
(Out of the Box Games, www.otb-games.com)
Fans of the breakout hit Apples to Apples are strongly urged to check out this party game in which players have to create an imaginary word out of syllable cubes in order to best match a definition card and impress that turn's wordmeister. How to describe "The smell of a dog owner's car"? Well, each player has three six-sided cubes—with Supa, Ode, Maga, Icious and other fragments from which to craft a word. Max-crust-oxious, perhaps? Or Anti-yum-tastic? As with Apples to Apples, the fun is not just in coming up with an answer, but also in seeing how the wordmeister subjectively chooses a favorite.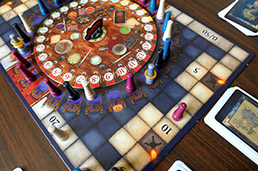 Artus was another stand out at GenCon. (IBJ Photo/ Perry Reichanadter)
Artus
(Rio Grande Games, www.riograndegames.com)
While it uses the trappings of King Arthur and his Knights of the Round Table, this colorful, tactical game relies not on noble behavior but on thinking ahead, adapting to change, and wisely managing your resources.
Playing pieces surround a movable round table (complete with suckling pig). Point values are assigned to each seat, but these values can change as the table is rotated. Points are scored, in part, based on the proximity of your pieces to the King, who always sits at the head of the table. An additional level of strategy comes from the finite set of cards you have, all of which must be played before the game is done. That element gives this one an exciting end-game where fates can turn suddenly if you haven't played your cards right.
I learned the basics of the game in about five minutes and immediately after my first bout, I wanted to play again. That's always a good sign. Replay has made it my favorite find at GenCon this year.
Hibernia
(Closet Nerd Games, www.closetnerdgames.wordpress.com)
One of the big selling points for this company's recent titles is that they come in small but sturdy boxes. That makes them great for throwing into your kid's bag when you head out for a weekend getaway. In this one, you're fighting for territory in ancient Ireland with only a finite amount of armies. The gimmick that makes the game more interesting: You move forward on the scoring track only if you occupy the right order of color-coded regions. Think a smaller scale, dice-free, quicker take on Risk.
Small World: Underground
(Games of Wonder, www.smallworld-game.com)
Not every good game can be grasped in a matter of minutes. The rule book for professional football is, after all, pretty thick.
So it might take a little patience—or an already experienced friend—to get you into your first game of this sequel to the hit Small World. Like its predecessor, Small World: Underground is played on a cramped board where your civilizations vie for dominance. Once a race (Mudmen, Spiderines, etc.) spreads itself too thin, it goes into decline, allowing you to add another race into the overpopulated mix. It's ideal for players open to the idea of fantasy-based competition but not necessarily wanting to commit to marathon gaming sessions.
Quarriors!
(Wiz Kids, www.wizkidsgames.com)
The vast quantity of dice and cards in the tin can box for Quarriors! intimidated me at first. But once I committed to the game—and realized that it's an unofficial dice variation of the popular (and outstanding) Rio Grande Games hit Dominion—the rules became reasonably easy to grasp. Each player starts with the same number and kinds of custom dice, six of which are used each turn to purchase spells or monsters. These new dice get added to your pouch, affecting the moves you can make on future turns. Each game uses only a portion of the cards and dice available, so every new game plays differently. Yahtzee meets Dungeons and Dragons? Perhaps. Whatever you call it, Quarriors! quickly became the favorite new game of the year for my 9-year-old son.•
Please enable JavaScript to view this content.