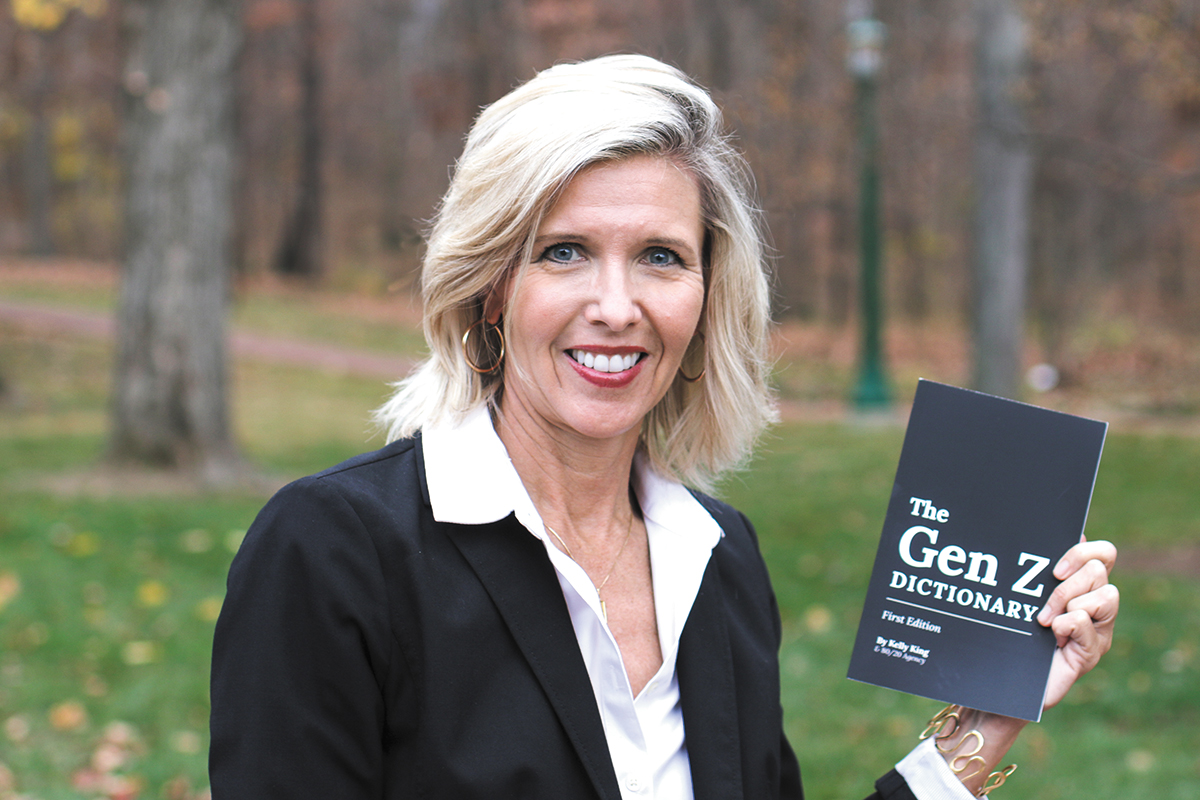 Kelly King is a brand strategist who founded the 80/20 Agency, a Bloomington ad firm with the slogan, "Old school smarts and new media minds."
"I'm the old school smarts, along with my creative director," she told IBJ. "And then we're staffed by freelancers who are mostly millennials and Gen Z, and also interns."
IBJ talked with King about her new book, "The Gen Z Dictionary," about the generation born between 1997 and 2012.
Why did you write "The Gen Z Dictionary"?
It started as just a spreadsheet of words. I was working with all these young whippersnappers, and they would have this lingo. And I have two children, who are both Gen Zers.
Then I had to do a presentation for an energy conference down at French Lick, and they wanted me to speak about … Gen Z. And so, I thought, "What can I do that would be extra special?" And I thought, "Gosh, I should share all these words, and this lingo." And then I said, "Hey guys, we're going to crank out a dictionary, really quick."
And then during the rest of 2019 and '20, we fine-tuned it. And now it's on Amazon.
What are some words or phrases the book defines?
This is a funny one, because I had no idea—to "beat my face."
What does that mean?
To put on makeup. I think it's from when you use that little sponge thing to apply it. When you hear it, it's like, "Oh yeah, that makes total sense."
Do you know what, electric is? "That's electric." It's another word for cool. There's a whole bunch of cool words.
"That slaps" is a term, that's kind of like cool. But they tend to use that with music. Like, "That Celine Dion song, that really slaps."
The funny thing about the dictionary is it uses sentences that kind of are connected to Baby Boomers. So, "These Triscuits are fire." Fire means great. But the sentence is about Triscuits.
Like referring to Celine Dion?
Right. And that's what makes it even funnier.
One more.
This is a good one. When you've "got receipts?" It means you have proof. So, if you catch someone talking to another girl, you say, "Well, I've got receipts."
Was your goal to write a humorous book?
The goal is really just to be able to connect with Gen Z. That's my expertise, in knowing this audience, and there's just so much to know about this generation. And now it's the largest generation. I think it's over 50% of the population.
This generation is just fascinating because they're … considered to be like the next Greatest Generation. … They're socially liberal, fiscally conservative, they're risk averse. They're hardworking, honest and much different than [the] stereotypes for millennials before them.
A lot of people in older generations seem to think that younger generations need to adapt to them. What is your reaction to that?
I am completely the opposite. I am so impressed by this generation, and even how they have a higher standard for the brands they buy. Like when I was young, I bought Nikes because I wanted to look cool and they were the coolest brand. Well, now kids hold brands to a higher standard—of being socially conscious. What do they stand for? How are they being philanthropic? It's incredible.
Have you thought about creating a dictionary to help Gen Zers understand the rest of us?
I have not. In all honesty, it would never sell.•
Please enable JavaScript to view this content.