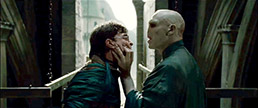 "Harry Potter and the Deathly Hollows part 2" spells the end of the wizard's saga. (Photo/DreamWorks II Distribution Co., LLC.)
Most of the time, movie reviewers chime in with their comments before the general public has had much chance to see the film in question. In fact, critics bristle when studios don't sneak preview films for their consideration and assessment—sometimes in an oddly near-empty theater opened just for them.
Sometimes, this early look can be a hollow experience that misses the communal act of movie-going (and drains the laughs from many comedies). Other times, though, it's a more focused experience that allows for a reaction untainted by the feelings of the crowd.
That certainly worked, for me, at a preview of "The Tree of Life," Terrence Mallick's ambitious simultaneously micro and macro look at, well, life. Meditative rather than strongly narrative, it takes us to the beginning of time and to the beginning of an individual man's life, giving equal weight to both. It explores the details of growing up without passing moral judgments. We see moments of great warmth and moments of horror, moments when motives are clear and others when motives are vague. It's beautifully shot but maintains a casual flow and refuses to add up neatly. And it takes luxurious tangents away from its core characters, trusting we'll go along for the journey.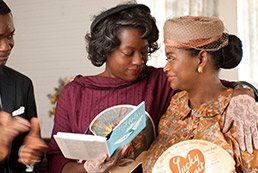 Viola Davis and Octavia Spencer shine in "The Help," adapted from the bestselling novel. (Photo Courtesy Warner Bros Pictures)
It knocked me out.
I can't say that I'll rewatch "The Tree of Life" as often as I've screened Mallick's "Days of Heaven" (one of my all-time favorite films), but I savored the experience like nothing else in recent years at the movies. For me, "The Tree of Life" raised the movie bar so high that it was weeks before I returned to a multiplex.
I didn't go back until "Harry Potter and the Deathly Hallows Part II," which I was prepared to skip because I hadn't seen—at least not all the way through—any of the previous Potter flicks. That omission wasn't because of any hostility toward the Hogwarts students—I read the first book to my daughters while it was still in galleys. (Yes, I still have that galley. No, you can't have it.) It's just that I missed the Potter train metaphorically pulling out of the cinematic station and never really found the time or energy to catch up to it.
But stuck between planes in Milwaukee on a steaming hot day with hours to kill and a teen daughter in tow, well, sure, we can go see the latest—and last—Potter.
Oddly, Harry and company left me frustrated
that George Lucas didn't film his three "Star Wars" prequels in the style of the beloved original trilogy. The Harry Potter cycle of films can now be seen as a whole—perhaps getting a bit more elaborate as technical wizardry evolved, but with each film clearly existing in the same universe as the others. Watching the "Star Wars" saga straight through is a very different experience, with an odd jump after part three into a lower-budget but much more engaging world.
Through "Deathly Hallows II," I appreciated the depth of detail and the lived-in warmth of the characters even as I knew I didn't have the knowledge base to fully understand what each of them was capable of magically doing. It was also clear that I had missed out on what is no doubt a special series in the movie-going life of a generation.
Another high-profile best-seller, "The Help," has been given the Hollywood treatment and the only thing everyone seems to agree on is that Viola Davis will land an Oscar this year.
I agree with critics who are bugged that "The Help" falls into the category of films about civil rights told largely through the stories of white characters. Yes, it's less offensive than "Mississippi Burning," but it still feels as if a white savior was needed to change these women's lives. And by giving the audience a hissible character to hate, it takes some of the heat off of the pervasive racism that was part of our culture just a few short decades ago.
But the film, unlike any recently, does remind us of our closeness to that time and the ways in which hard-working women were treated. Even when it resorts to a gross "Fried Green Tomatoes" plot device, "The Help" does give dignity to these women without turning them into saints.
Which brings me back to Viola Davis. You can feel the ache in her footsteps and the struggle in her mind. Her truth effectively countered my caveats, turning this into a recommendable crowd-pleaser. If it had arrived 30 years ago, it could have been a more important one.
I don't think I'm too far out of the mainstream when it comes to appreciating mass-market Hollywood films. But I'm baffled that my reaction to "Crazy, Stupid, Love" is so different from that of just about everyone I know.
Where others saw a funny, redemptive, romantic comedy, I saw a series of sloppy and painfully strung together "Oh, come on" moments. Afterward, I couldn't decide which scene felt the most false and most strained.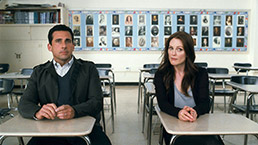 Steve Carell and Julianne Moore can't keep "Crazy, Stupid, Love" from being crazy and stupid. (Photo Courtesy Warner Bros Pictures )
There were plenty of candidates: The scene where newly separated Cal (Steve Carell) is given a Macy's bagged gift as a break-up gesture from a former friend. The one where Cal's son (Jonah Bobo) publicly demonstrates his love for his teenage babysitter. The "heartwarming" moment when that same teen gives the love-struck kid a nude photo of herself. If this film were test-marketed, the audience should have had a button they could push labeled, "Really?"
Then there are the scenes where a teacher (Marisa Tomei) publicly humiliates herself by shouting inappropriate comments at Cal outside of her school. Elsewhere, there's an otherwise smart woman making herself look like an idiot at an important business meeting. And there's the interrupted graduation speech, which I could barely watch.
In even a semi-real world, these people would be punched out, fired or arrested.
Crazy, yes. Stupid, yes. And only briefly lovable, in the apartment scene between Ryan Gosling and Emma Stone.
Hate is a strong word. But I hated "Crazy, Stupid, Love" more than any film since Tim Burton's remake of "Planet of the Apes" back in 2001. Which brings me to "Rise of the Planet of the Apes," another, far more successful attempt to reboot the franchise.
One of the things people forget about the original Charlton Heston POTA is that it had a slow build. Our hero wasn't suddenly surrounded by chimps, gorillas and orangutans. He and his companions had a lot of desert to trek across. Tension built. And while the series had its hokey moments, the first flick was intense.
The makers of the new edition wisely allow time to lay the groundwork, raising awkward and interesting questions along the way about what happens when the line blurs between pets and people. And in an almost "Flowers for Algernon"-ish way, "Rise" puts us in the expanding mind of its leading character—a brilliantly special-effected chimp more dimensional than any of the human cast members.
Yes, there are plot holes. And the trailers give away too much of the end of the film action. But this smart adventure thriller held me from the beginning. And I'm looking forward to the inevitable sequel.•
__________
Chime in with your thoughts on the summer's movies at www.ibj.com/arts.
Please enable JavaScript to view this content.