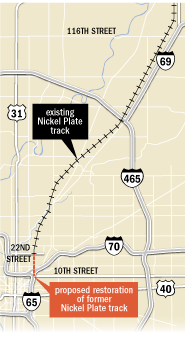 An innovative private financing deal struck last year to expand Denver's rail transit system could be used to expedite construction of the first line in central Indiana.

Local transit proponents have been approached by private investor groups about the potential for similar financing schemes here, starting with a downtown-to-Hamilton-County route.

Ehren Bingaman, executive director of the Central Indiana Regional Transportation Authority, said he wouldn't rule out the concept of a private partnership.

"I think the short of it is, we'd be open to it," said Bingaman, whose group lately has been engaged in an environmental impact study required for the planned northeast-side route, which would use the former Nickel Plate Railroad right-of-way.

He declined to detail any discussions with private firms, saying, "We've gotten calls off and on through the years."

Indy Connect, the public transit outreach created by the Central Indiana Corporate partnership, declined to comment.

But Denver's recent public-private partnership has transit planners here and around the country thinking with renewed imagination about the potential of such partnerships to overcome funding challenges.

Private partners wouldn't eliminate the need for local tax revenue, but it could greatly diminish the amount of federal funding needed, potentially saving years from the project time line.

The federal government has increasingly required a larger local funding match. Meanwhile, the line of cities hoping to tap into a diminishing pot of federal government transit funding is growing longer.

In Denver, private investment reduced the amount of upfront public money required to build the $2.1 billion system, which includes a 23-mile rail line from downtown Denver to Denver International Airport—and another 11 miles of new track in the western suburbs.

A private consortium known as Denver Transit Partners is raising $398 million by selling bonds to investors and providing an additional $50 million in equity.



The DTP consortium includes firms such as Texas-based Fluor Corp., a giant engineering and construction services firm, along with financial adviser Macquarie Capital Group. The Australian company, known around here for leasing from the state and operating the Indiana Toll Road, later sold its equity stake. Others participating in the Denver deal, as financial advisers, were JP Morgan and Goldman Sachs.

The private DTP consortium stands to gain in a number of ways, primarily by collecting nearly $4 billion in payments from Denver's Regional Transportation District over about 30 years. The RTD's payments to the private consortium come from proceeds of a 0.4-percent sales tax in the region for transit projects.

It's been described as the largest transit-oriented public-private project to close in the United States.

"It's really a breakthrough" in financing, said Art Guzzetti, vice president of policy at the American Public Transit Association.

Cautious optimism

Denver was one of a handful of cities in a public-private partnership pilot program the Federal Transit Administration initiated in 2008 to explore this new form of project delivery, said Ed Fishman, an attorney specializing in transportation at K&L Gates in Washington, D.C.

The economic downturn has brought constraints on federal and state funding for transit, helping drive the private financing concept that has been virtually without a track record in the United States.

But private partners have invested in transit in other countries, including Canada, for years. Most recently, Canada Line Rapid Transit tapped $720 million (Canadian) from a private consortium toward a $2 billion rail project in Vancouver.

"My sense is that private investors are cautiously optimistic about the potential for investing in passenger rail projects," Fishman added.

While there are attractive opportunities in the U.S. and abroad, these projects typically take many years to develop.

"Investors must be sensitive to the political risks and the need for some level of public support in any type of passenger rail project," Fishman said.

Local commitment key

Whether there's that critical mass of public support in central Indiana remains to be proven.

Based on attendance at public meetings by Indy Connect, it appears support is growing for the concept of rail and enhanced bus service in the metro area. Surveys by groups such as the Greater Indianapolis Chamber of Commerce have shown a majority believe there's a greater need for additional transit options beyond the city's chronically underfunded IndyGo bus system.

But are taxpayers in Marion and surrounding counties willing to pay for the system? One idea floated has been a regional sales tax. Indy Connect previously estimated that a $2.5 billion system could cost each taxpayer the equivalent of $15 a month per household.

There's also the matter of well-to-do Hamilton County receiving the most perceived benefit. The first leg—the northeast line—would be a boon for commuters from that area who work downtown.

The question of support would be put to voters in referenda in each of the counties in the metro area. Before county leaders can stage referenda, the Indiana General Assembly must grant permission. IndyConnect leaders are readying such proposals for next year's Legislature. They're also expected to ask legislators to approve creation of a regional transit entity on whose behalf taxes could be collected.

Having a private investor on board could improve odds of legislative approval—and perhaps make it easier for taxpayers to stomach a local tax component.

Ultimately, said Bingaman, "you still have to demonstrate you have local commitment to fund some part of this. … Denver made it work because the private equity partner understood there is a long-term commitment of the municipality."

APTA's Guzzetti agrees that private investors will require assurance of local support.

"The government has a huge role here—not just totally getting out of the way," he said, noting that the public good sometimes involves segments that might not be as lucrative to serve. "Transportation is so important to the economy and individuals' access to jobs."

Fast track?

Bringing in a private consortium has other potential benefits.

A project could be begun without the need to obtain a big, upfront funding commitment from the federal government—potentially shaving years from the start date.

Between preliminary and final engineering and environmental studies required by the federal government, it could take a minimum of five years to see federal money roll in—and that's probably being optimistic, transit experts say.

Indeed, Denver proceeded with the first phase of its most recent rail project without $1 billion in federal grants confirmed—something that didn't occur until this month.

Environmental studies began in 2004, with planning in 2008. The new lines are expected to open in 2016. Denver's project involves about twice the miles of the northeast corridor project envisioned for Indianapolis.

To the extent a project can be expedited, it could be less costly—compressing the completion time to reduce effects of inflation.

Others cite the benefits of private-sector financial discipline, which is driven in part by financial rewards that could be structured for achieving milestones in a transit project.

Denver's Regional Transportation District said the proposal from Denver Transit Partners came in at $305 million less than the $2.4 billion it had budgeted. And then there are other ways to engage the private sector in helping pay for development.

Denver officials created a tax-increment financing district around its historic Union Station, which is being renovated to serve as a multimodal transportation hub that includes rail and bus connections.

Several companies have announced plans to locate in the district. The additional tax revenue generated by their new facilities will be used to repay a portion of a $300 million federal loan obtained for the stations' redevelopment.

Might such value-capture districts, as they're sometimes called, be useful in developing phases of the region's first rail line? That's among options being looked at locally.

To the extreme

On the extreme end of the spectrum is the Las Vegas Monorail Co., which claims to be the nation's only privately owned public transportation system.

The development began in the early 1990s when MGM Grand and Bally's Hotel launched a one-mile monorail route. In 2000, the line was acquired by the not-for-profit Las Vegas Monorail Co., which now operates a four-mile system connecting hotels and major attractions. The monorail company said no public funds were used to build or operate the system.

No such degree of private involvement is likely here but, clearly, "there is growing interest in the private sector," said Guzzetti, who has been to Indianapolis on several occasions on transit issues.

"I see a yearning there" for transit.•