Now that the rusted gates are chained shut, the General Motors logos gone from the walls and acres of employee parking lots including a remote section set aside for "foreign" cars sit empty, the question for the former stamping plant is: What's next?
The 2-million-square-foot GM Indianapolis Metal Center, opened in 1930, sprawls over more than 100 acres on the west bank of the White River and enjoys some of the best views of the downtown skyline.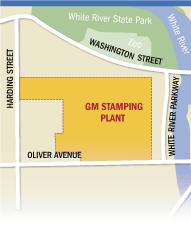 Across the river, the gleaming blue JW Marriott Hotel and hulking red-brick Lucas Oil Stadium stand as evidence of an ongoing evolution of the city's employment base, as fewer people build things and more provide services to convention visitors.
For city and business leaders, the quest to replace such a massive downtown anchor is both daunting challenge and rare opportunity. It's not every day that such a large parcel is available for redevelopment within a major city.
At this point, just about anything is possible. City officials are talking with potential manufacturing operators who would like to take some or all of the space, said Deputy Mayor Michael Huber.
And they are waiting for a final report from a 10-member commission organized by Washington, D.C.-based Urban Land Institute and led by former Mayor Bill Hudnut that has recommended mostly residential uses for the site, along with a business incubator in a portion of the former plant, a school and a riverfront park.
The ULI plan would take up to 15 years and more than $300 million to implement, the study group wrote in a preliminary report in June.
But the possibilities don't end there. Several real estate pros say the city should think big as it plots a new use for the former plant. Among their suggested uses: a Six Flags-style theme park, a mixed-use project anchored by a destination retailer such as IKEA, and a new county judicial center and jail, a concept that would free up a handful of redevelopment properties closer to the downtown core.
The city has not given serious consideration to proposals other than the one from ULI, but Huber is keeping an open mind.
"I think we wouldn't eliminate any options at this point," he said. "We're very intrigued and excited by the ULI recommendations: It's always good to have options and we've got some exciting ones. But we don't know enough yet to eliminate the possibility of a manufacturing site."
Click below to read experts' ideas on how to reuse the GM site:
The commission envisions turning the newer part of the factory—which sits just south of the Indianapolis Zoo on the west bank of the White River, not far from the IUPUI campus and Eli Lilly and Co.'s technology center—into condos and offices. The rest would be filled with single-family homes and apartment buildings, along with a school and playing fields for children.
The apartments make sense both because it's about the only property type that can secure financing and because of the property's proximity to IUPUI, said George Tikijian, principal of apartment brokerage Tikijian Associates.
But Tikijian would rather see "something that will create jobs and add to the commercial base." And he doesn't have a problem letting it sit until a good use comes along.
The GM plant once employed more than 5,000 people but the work force had dwindled to fewer than 700 at the beginning of 2011.
Jeff Gearhart, executive director of West Indianapolis Development Corp., thinks the city's first move should be tearing down the old plant and cleaning up environmental issues.
"Then the true visioning can begin," Gearhart wrote in a vision statement for the site's redevelopment (See page 20A).
The city already is working on remediation scenarios with the property owner, the Revitalizing Auto Communities Environmental Response, or RACER, Trust. The trust, now the nation's third-largest holder of industrial properties, was formed to oversee "remediation, redevelopment and restoration" of 89 former GM plants in 14 states.
The extent of the remediation effort would depend on the nature of the reuse, Huber noted.
"If it turns out a manufacturing use for that site is not possible, it's good to know that ULI and others think a residential and commercial district could be possible," he said.
Another wave of downtown residential development doesn't seem feasible to Brian F. Knapp, a veteran developer who serves as director of special assets and investment services in the local office of real estate brokerage Colliers International.
"It would take a lot of money and would have to be a huge public-private partnership" with an emphasis on the public side, he said. "Until you get the school system straightened out, I don't expect young families to start moving downtown in any significant numbers."
Knapp would like to see a Six Flags-style amusement park. The nearest theme parks are in Chicago and Cincinnati, leaving a large population base from which to draw. Plus, the park would bolster the city's convention business and complement the Indianapolis Zoo and other White River State Park attractions.
"It would be a perfect tie-in with everything else downtown, Knapp said.
Other tourist draws that would bolster downtown include destination retailers such as IKEA or Bass Pro Shops, or a family-friendly water park resort like Great Wolf Lodge, said Gordon Hendry, a first vice president in the local office of CB Richard Ellis and former director of Indy Partnership.
"We need to be thinking not just about creating more options for those who live here, but expanding the smorgasbord for those who visit Indianapolis," Hendry wrote in an essay outlining his vision for the site (See page 20A).
The Urban Land Institute proposal featured a handful of flourishes designed to give the GM plant redevelopment some panache, including an eye-catching bridge across the White River for easy access to downtown and a riverfront park that essentially extends the adjacent White River State Park.
The city commissioned the study in February at a cost of $115,000.
The plan reads like "New Urbanist fantasy" to Chris Barnett, an economic development professional who lives and works in Center Township.
"The notion of housing in that area is something I'd probably put last on the list," he said. "The best thing to do is clean up as best as you can and reuse it for some other type of industry that's less polluting. I'd really rather see some jobs that add to gross domestic product."
If the city is going to invest tax dollars in the site, it should build a new public facility, Barnett argues in an essay outlining his vision for the site (See next page).
The perfect choice: A new judicial facility and jail that would free up other space closer to downtown for redevelopment.
"A justice facility where you move the courts, jail and intake facility would be a magnet for the bail bondsmen and the lawyers to spur some private development in that area," Barnett said.•
Please enable JavaScript to view this content.