The San Diego-based fast-food chain Jack in the Box is moving forward on several Indianapolis-area restaurants after putting them on hold during the recession.
The burger chain has applied for zoning approval to build a restaurant near 16th and Meridian streets, just south of CVS drugstore. Jack in the Box considered the site in 2009, but instead put expansion plans on hold. The chain revived the plans earlier this year and now is working with city planners and neighborhood groups.
The first local Jack in the Box is planned for the south side. It will sit at the northwest corner of U.S. 31 and County Line Road, in front of a center with Toys "R" Us and T.J. Maxx.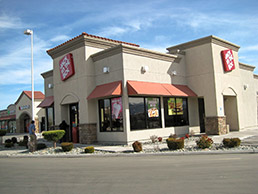 Jack in the Box hopes to open 10 restaurants in the Indianapolis area. Four are in planning stages. (AP Photo)
Jack in the Box also wants to open a location along East 82nd Street next door to a Lifestyle Family Fitness and across the street from the Rivers Edge shopping center, but the chain is facing resistance from a nearby homeowner's association. A fourth location is in the works for the intersection of East 21st Street and Post Road.
The company, which hopes to open at least 10 local restaurants, has more than 2,000 locations in 18 states, primarily in the West. Jack in the Box also owns and operates Qdoba Mexican Grill, which has 26 locations in Indiana.
Please enable JavaScript to view this content.