Mobile-phone-answers service ChaCha Search has dialed up its largest expansion yet—entering the United Kingdom and contracting with New York City's "311" municipal information service.
Now the Carmel-based company wants to expand the municipal contracting model launched in New York and forge new deals with corporate call centers.
ChaCha's international expansion and radically redrawn business model is intended to squeeze a bigger return on the more than $75 million pumped into the company over the last six years by investors no less than Amazon.com founder Jeff Bezos and Compaq Computer founder Rod Canion.ChaCha's database now has about 100 million question-and-answer pairs, a critical mass that founder and CEO Scott A. Jones said has many other applications.
Jones
"We are the leaders, by far, in answering questions in real time," said Jones, at the company's headquarters, which is hidden in plain sight within Carmel's Euro-chic Clay Terrace shopping complex.
Patrons might well confuse the ChaCha store for one of the spicy apparel shops that dot this Copenhagen-on-the-cornfield. Porsche SUVs zip past the window of ChaCha's tiny retail store, which sells company-branded clothing and coffee mugs.
While patrons at a nearby café sip espresso and share gossip, an army of ChaCha workers is chatting away on headsets and creating a cacophony in Jones' bat cave.
Concealed behind the back wall of the Clay Terrace store, the cavernous space is dimly lit and painted in salsa red colors a la ChaCha's logo. Lately, product managers have been scrawling madly on floor-to-ceiling marker boards in an adjoining conference room, as part of the U.K. rollout a couple of weeks ago.
A big challenge has been recruiting human guides in the U.K. to answer questions that could not so easily be answered by the company's 60,000 U.S. guides, such as: "Where are the cleanest loos at the Leeds Festival?"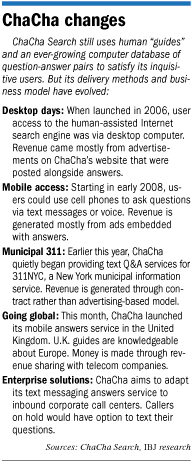 ChaCha needs guides who speak "British English" (such as "flats" and "lifts") and are spot-on about geography and soccer teams worthy of a pub brawl.
"The U.K. is known for its very clever and active mobile population," Jones told locals across the pond a few weeks ago. ChaCha will have competition over there, including the answers service known as 63336.
Jones is confident. "We're well-established here. Now we have to do the same thing in the U.K."
There's a difference, however, in how ChaCha will make its money in its first international market—at least initially.
When someone in the United States texts a question to ChaCha, he or she receives an answer embedded with an advertisement, such as from Best Buy or Coca-Cola.
But in Great Britain, ChaCha is not embedding ads. Rather, it will share with telecom companies a portion of the fee users pay for each text message. That's because unlimited texting plans are less common outside the U.S.; users are billed on a per-text basis.
Crank up the volume of texting and you crank up the revenue, Jones said.
He's also scheming to take ChaCha to additional international markets, though he won't say where.
"My expectation is that international revenue will represent more than 60 percent of our revenue within two to three years. We saw that kind of growth, and pace, when my voice-mail company expanded internationally. And a similar situation happened at Gracenote," the serial entrepreneur said of the company he formed in 1998 (now owned by Sony) that embeds information about the content of an album into a compact disc.
City, corporate contracting
But the most radical new segment for ChaCha could be contracts with cities and with corporations that need help managing their contact centers.
Recently, and without making an announcement, ChaCha inked a deal with no less than New York City to provide text-based Q&A services for 311NYC.
The service allows residents to call the three-digit number for information about city services, such as garbage collection, and to report problems such as potholes (the service can be used anywhere, by texting 311-692).
The 311 service also includes access via text message, which ChaCha is providing. Most of the guides who answer the questions are based in New York City, Jones said. "This weekend, with Hurricane Irene, we did 30 times the volume of traffic than normal."
As for how much the New York business is worth to ChaCha, Jones said he can't yet disclose that. New York City officials could not be immediately reached for comment.
Other major cities, such as Chicago, Dallas and San Francisco, have or are developing 311 services, Jones said.
Part of ChaCha's marketing pitch will be that using a private firm to provide answers via text messaging will take a big load off municipal 311 call centers, many of which are staffed with unionized work forces.
ChaCha's guides, by contrast, are part-time contract workers who generally earn 2 cents to 20 cents per task. It's little more than supplemental income for some and spending money for college students.
ChaCha would make its money under a contracted rate. Embedding ads with answers could be a dicey thing, such as an ad for food embedded with an answer to a city resident's questions about food stamps. Jones appears to have learned a thing or two about the municipal market already, adding: "You have to protect the reputation of the mayor."
Meanwhile, the company is exploring similar arrangements with businesses that have inbound call centers. A customer waiting on hold could hear a recording that gives them the option of posing their question in a text message, which would be answered by ChaCha guides.
By some estimates, it can cost a traditional call center $3 to $4 per customer interaction, but "we have figured out how to reduce that down to pennies," Jones said.
He said the company has already had discussions with potential corporate clients. "The technology that we created to provide very-high-quality answers for [New York City] can be applied in the enterprise market as well."
There's also potential money to be made in making ChaCha's 100-million question-answer pair database available in the form of a widget placed on a company's website.
"This is the biggest Q&A database by a factor of 10," Jones said.
Core market under pressure
Such new markets come as the company has been battered by new competitors, such as Facebook Questions, Yahoo Answers, Mahalo Answers and Swingly.
"I think it's a good strategy for the company," said Greg Sterling, senior analyst at Internet2Go, a unit of SanFrancisco-based Opus Research.
Sterling said it's not clear how much of an impact the other Q&A competitors have had on ChaCha. He noted that Google this month said it plans to wind down its Aardvark Q&A service. "They're proliferating, but none of them are particularly effective," Sterling added.
Privately held ChaCha doesn't disclose its financials, although company officials pointed to their Inc. ranking (No. 219) of fastest-growing companies, which put its 2010 revenue at $6.3 million, up 1,441 percent over three years.
ChaCha has about 70 employees, most of them based in Carmel.
Last January, ChaCha closed $3 million in additional funding, including $900,000 from Qualcomm Ventures, a California-based venture fund.•
Please enable JavaScript to view this content.