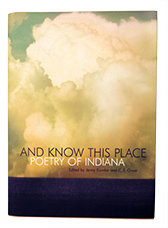 It was my sincere intention to read "And Know This Place: Poetry of Indiana" (Indiana Historical Society Press) from cover to cover. After all, that's what you are supposed to do when reviewing a book, right? It takes time, of course (which is just one of the reasons you see many more movie reviews than book reviews), but I was ready to face the challenge.
And so, at my desk, I flipped past the long Table of Contents to the Preface, by the books editors, Jenny Kander and C.E. Greer, in which they rationalize titling a book focused on Indiana writers after a line from a poem by … T.S. Eliot?
OK, it's a good and appropriate line, but doesn't the need to go to Eliot undermine the premise of the book itself?
I'm thankful the introduction by Roger Mitchell, former director of Indiana University's Creative Writing Program, effectively makes the case that Indiana truly has been an important home for poets—both those birthed here who left and those who migrated here. (For the record, I've never fully understood the difference between a preface and an introduction, so in this case, I figured a cover-to-cover journey should include both.)
Inspired by Mitchell's perspective, I turned the page to work by the first poet selected by the editors: Philip Appleman.
Who's he?
Well, since the editors have chosen to eliminate everything except the poems themselves from the body of the book, a flip to the back is required for a look at biographical notes. Once there, most prove inadequate for anyone interested in finding out how the poet is Indiana-rooted. Appleman, for instance, is a distinguished professor emeritus at IU, but the bio doesn't say if he's originally from the state. The approach seems shortsighted, given the scale of the book and its likely lonely place on the shelf of close-to-comprehensive Indiana poetry books.
Appleman gets a quartet of poems, including "How Evolution Came to Indiana," in which,
"In Indianapolis they drive/five hundred miles and end up/where they started." Then, at the turn of a page and with no transitional commentary, I'm in Donald Baker territory, in which "Advising" advises that, "There's a long time ago still to come" and where "Jeopardy" isn't just a game show, but also the state of being while in a foxhole. Next up: shorter pieces from Willis Barnstone.
Then Marianne Boruch.
Then Catherine Bowman …
And it quickly becomes apparent that I'm reading "And Know This Place" like it's an assignment, anxiously aware that soon the B's will give way to the C's (Hello, Dan Carpenter and Jared Carter) with the obligatory Mari Evans just around the corner.
I'm reading the book in a way that will minimize pleasure, draining the joy—the sense of discovery—in an effort to offer an exhaustive review.
Yes, I could finish the volume this way. But my thoughts would represent my absorbing the book in an artificial, academic way. The work deserves better than that.
So, days later, away from the office, perched on a lopsided porch swing inherited from my grandparents, I start again, only this time from the inside.
First stop: selections by my IBJ co-worker Bonnie Maurer ("I am in this silver diner thinking/about the extra 's' in dessert, and the 'men' in menu…"). After all, friends are friends.
I then turn to poets I've read and enjoyed before, including Yusef Komunyakaa, Etheridge Knight and Donald Platt. And since I'm in the PQR neighborhood, anyway, I stop in to see what the editors decided represents James Whitcomb Riley (nice to see "A Variation," his celebration of the wrath of women, is in the book instead of something more predictable about frosty pumpkins and orphant girls).
The next day, I rest the book on its spine, let it open and begin reading. Adrian Matejka's "Divine Order," is the book's choice. ("In Indiana, improvisation is using/a balled-up t-shirt as a basketball,/so jazz has no love for the Circle City.") And then on, randomly, to Jim Walker and Jared Carter and Lisel Mueller.
And here's the deadline, with "And Know This Place" only fractionally devoured—and, in the case of some poems, already chewed on more than once.
This, I think, is how a big book of poems should be read. Enjoy it for yourself, at your own pace, in any order that works for you.•
__________
This column appears weekly. Send information on upcoming arts and entertainment events to lharry@ibj.com.
Please enable JavaScript to view this content.