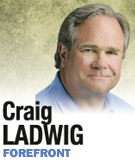 It is a question asked routinely during the last days of a General Assembly: "Will the chamber score this?" The answer has consequences for legislators in these economic times. It begs, though, a second question.
Each vote on selected bills counts for 1 percent of a legislator's total score in the "Legislative Vote Analysis" published each session. Vote wrong too many times and you lose the chamber's support. Consequently, you lose campaign contributors and gain challengers.
But here comes the second question: "Are the ratings grounded on economic principle?"
That answer has consequences as well—but for the chamber, itself. The introduction to the chamber's annual ratings promises to determine whether a legislator is "part of the solution or part of the problem." This is a boast that had better have something more behind it than hubris.
Tyler Watts, an economist and adjunct scholar of Indiana Policy Review Foundation, has his doubts.
"If the chamber truly desires maximum prosperity and economic opportunity for Hoosiers, it must come to terms with some glaring inconsistencies in its legislative analysis," Watts wrote in a white paper released recently by the foundation.
His analysis makes clear there is a difference between crony capitalism, which often includes the politically convenient public-private partnerships, and an economic climate that maximizes opportunity and prosperity for all Hoosiers—entrepreneurs, workers and taxpayers.
The chamber's most-recent ratings fall short of that ideal in three specific instances, Watts argues:
Senate Bill 584/House Bill 1183 Local Indiana Business Preference—"The chamber's argument in support of this economically absurd bill essentially said that spending more on public works by state and local governments somehow promotes economic prosperity."
Senate Bill 72 Carbon-Dioxide Pipelines and Eminent Domain—"The ends don't justify the means. If they did, and our highest public goal was jobs, why not let any number of demonstrably able private entrepreneurs use state power to accumulate other people's resources for the sake of building their commercial empires?"
Senate Bill 260 Clean-Energy-Improvement-Financing District—"The bill in question purports to subsidize energy conservation in general, and specifically the use of 'clean' energy. It might be pointed out that economizing on energy—which differs from strict conservation—needs no subsidy. In a market economy, businesses pay for the energy they use. To get more production from the same volume of energy inputs is rewarded naturally in the form of lower unit costs—i.e., higher profits."
Separately, Indiana Policy Review surveyed the roll-call votes used for the 2011 ratings. It found 14 other scored "pro-business" positions that were arguable if not risible in the context of the state's economic troubles. In the foundation's view, none of those chamber recommendations were likely to improve Indiana's economic numbers.
Given all of this, we are left with the sobering realization that there is no lobby for free-market economics at the Statehouse. There is only the chamber, which a Statehouse wag refers to as "the research arm of our Tudor parliament." Tim Carney, author of "The Big Ripoff," puts it another way: "State and local chambers have become corrupted by the lure of big-dollar corporate welfare schemes."
That should be a concern for Hoosiers of all income strata and political persuasion. "Most ironically, those who have the most to gain from a more liberalized, competitive marketplace, such as the unemployed and the poor, tend to be economically uninformed and not prone to activism," Watts wrote.
"Each session, the chamber faces a temptation to support ad hoc policies that visibly, immediately benefit this or that constituency," he added. This can, over time, weaken a state economy without countervailing leadership from the Statehouse or the Governor's Office.
The 27th edition of the "Legislative Vote Analysis" succumbed to that temptation. You should hope that the 28th edition takes greater care to address what will actually work—that is, free-market principles and a pro-business lobby staying on mission.•
__________
Ladwig edits Indiana Policy Review, a quarterly journal studying local public policy. Send comments on this column to ibjedit@ibj.com.
Please enable JavaScript to view this content.