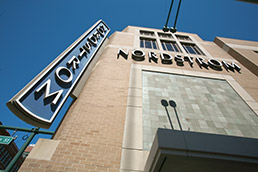 Simon Property Group hopes to convert about one-third of the former Nordstrom store at Circle Centre into street-level restaurants. (IBJ File Photo)
As many as four large restaurants could open in the first floor of the former Nordstrom at Circle Centre mall under a plan floated by mall manager Simon Property Group Inc.
The publicly traded mall giant has quietly pitched local retail real estate brokers on a plan to divide the mall's street-level space along Georgia and Meridian streets to accommodate the restaurants, most likely national chain concepts eager to enter the downtown market.
Among the restaurant chains expected to at least consider the space: The Cheesecake Factory, BJ's Restaurant and Brewhouse, ESPN Zone and the German-style brewpub Hofbräuhaus.
Nordstrom, which opened with the mall in 1995, closed at the end of July, leaving a 210,000-square-foot hole, a particularly tough space to fill since department stores have seen their market share decline by more than half in 20 years and need less space. Simon has managed to retrofit vacated anchor stores in suburban malls, but Circle Centre's urban format presents unique challenges.
Simon's preliminary plans for Circle Centre call for new street-level entries for the restaurants, along with a small first-floor space for a department store that would primarily occupy the building's second and third floors, local brokers said.
Using most of the 70,000-square-foot first floor for restaurants would bring the remaining space closer to the ideal size for department stores, including Macy's.
Brokers said Macy's could be a good fit because it has been adding stores and appeals to a broad audience of shoppers. Opening a downtown store also makes sense geographically since the chain has existing stores at Castleton Square Mall, Greenwood Park Mall and Glendale Town Center.
"I think it's a very feasible plan. The space itself is obviously enormous, so it's a matter of how to divide it," said Gary Perel, who leads the retail group at locally based Newmark Knight Frank Halakar. "It's a unique opportunity for downtown to bring in some new national restaurants."
Local brokers said they've heard several potential restaurants may take a look at the space. Among them: Ocean Prime, a Cameron Mitchell concept set to open its first local restaurant at The Fashion Mall at Keystone; Gordon Biersch Restaurant & Brewery of Chattanooga, Tenn.; The Cheesecake Factory of Calabasas Hills, Calif.; and either Haufbräuhaus or Haufbräu Beer Hall, which serve the popular beer imported from Munich, Germany.
Plenty of restaurants are looking to break into downtown, but whether they bite on the Nordstrom space depends mostly on the replacement anchor tenant, said Nick Wright, principal broker at locally based Newbridge Commercial Real Estate.
"Losing Nordstrom was a gust of wind out of the sail of Circle Centre," said Wright, who represents restaurant tenants including Beaumont, Texas-based Jason's Deli and Columbus, Ohio-based Hyde Park Steakhouse. "I would think [Simon Property Group] would have to replace them with someone equal or greater."
The Nordstrom space is more likely to attract a restaurant that caters to visitors, Wright added. Lunch-focused concepts like Jason's Deli are more interested in locating within close proximity to office workers.
Simon Property Group spokesman Les Morris declined to comment on the company's progress in leasing the former Nordstrom space.
After Nordstrom announced it was leaving in May, the Simon-led Circle Centre Partnership said in a statement that it made every effort to retain the upscale department store, "to no avail."
Sales for the downtown Nordstrom had fallen by roughly half since the chain opened its store at The Fashion Mall at Keystone in 2008. Nordstrom opened its off-price Nordstrom Rack store this month in the Rivers Edge shopping center at East 82nd Street and Dean Road.
"The Partnership will work hard to fill this space and are confident that we will find a replacement that will better serve the Circle Centre shopper," the Circle Centre Partnership said at the time.
Deputy Mayor Michael Huber, who receives regular updates from Simon on the Nordstrom space, said plenty of potential tenants have expressed interest. But he declined to elaborate.
"We're trying to let Simon do what they do," Huber said. "They're the best in the world at running these malls."•
Please enable JavaScript to view this content.