John Thompson explains his devotion to public service and philanthropy with seven simple words: "I've been helped. I want to help."
So when he's not running the four companies he owns entirely or in large part, Thompson—who grew up in a family that received charitable aid and went to college on full scholarships—serves on the boards of eight not-for-profits (including Indiana Black Expo and the Wishard Foundation, now known as Eskenazi Health Foundation), two corporations and two governmental entities.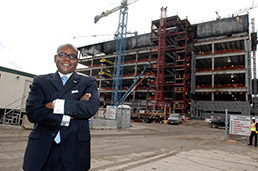 John Thompson "couldn't think of a more important thing to do" than join Wishard Hospital's board and help raise funds for its new hospital capital campaign. (IBJ Photo/ Perry Reichanadter)
He also is a fundraiser for numerous organizations, including The Mind Trust and Riley Children's Foundation; a significant contributor to charities including the United Way, United Negro College Fund and the Salvation Army; and an active member of Eastern Star Church.
"He takes time out to talk to the next generation," said Eastern Star Pastor Jeffrey Johnson Sr., "to teach them and train them and mentor them so that they can follow in his path. He helps to remove all excuses on why somebody can't make it—because I'm poor or because I'm black or because of the neighborhood I was born in. He's definitely been a blessing to our church and to this community."
Thompson's approach to community service has earned him the distinction of being the 18th recipient of IBJ's Michael A. Carroll Award, given annually to a man or woman who has demonstrated the former deputy mayor's qualities of determination, humility and devotion to the community. Carroll was one of four civic leaders killed when two small planes collided over southern Marion County on Sept. 11, 1992. The pilots also died.
"John delivers on jobs in our community and works to improve quality of life for all citizens," Mayor Greg Ballard said in an e-mail. "The city is grateful for his support and determination to build a stronger city for this and future generations."
Perhaps the most remarkable part of Thompson's story, then, is this: He's not from Indianapolis. Nor did he expect to stay here for more than a few years after he joined Mays Chemical Co. in 1984.
Early support
Thompson grew up in a Baltimore housing project, one of eight children. When the family needed help, "the Salvation Army never said no," Thompson recalled. When he needed educational guidance, he went to St. Augustine, a Lutheran church mission. There, staffers helped him prepare for the SAT, fill out college applications, and apply for college scholarships, grants and financial aid. They even informed him that he could major in chemical engineering in college.
Olin Corp., a chemical company, provided the scholarship that made his undergraduate education at Cornell University possible. He finished with a bachelor's in chemical engineering. A Mobil Corp. fellowship funded his Columbia University MBA.
"I got a great education," Thompson said. "Never cost me a dime."

After finishing his master's in 1981, Thompson went to work at the consulting firm McKinsey & Co. in New York, developing corporate and marketing strategies. In August 1984, a friend handed him a Wall Street Journal article about Mays Chemical Co. in Indianapolis. Thompson liked what he read about this fast-growing, minority-owned company. He cold-called Mays.
When Mays offered him a job, Thompson figured he'd take what he learned in Indianapolis and bring it back to New York after a few years.
"But we had a lot of fun at Mays, I liked Indianapolis more and more, so I never went back," he said.
Meeting Norma, his future wife, didn't hurt, either.
Among the many things Thompson learned at Mays was the importance of community service. He watched Mays preach the notion of giving "time, talent and treasure." In 1990, Thompson took on his first volunteer role, with Junior Achievement.
"I want a better city, a better state, a better country, a better world," he said during an interview this month between a breakfast for Circle City Classic volunteers and a Black Expo board meeting. "If you want those things, you have to do your part to make them happen."
Serving community
Thompson rose through the ranks at JA, serving as board chairman in 1999. During the same period, his interest in art and his significant collection of African-American art earned him spots on the boards of the Indianapolis Museum of Art, National Museum of African Art at the Smithsonian and Studio Museum of Harlem. (One piece from Thompson's collection, "Odysseus: Poseidon, The Sea God—Enemy of Odysseus," by Romare Bearden, will be featured on a postage stamp coming out Sept. 28.)
Thompson's philanthropic efforts were in full swing. And before he knew it, he'd spent 17 years at Mays Chemical.
But Thompson wanted to develop his entrepreneurial side. So in 2001, he bought the first of four companies. Thompson Distribution distributes pipe valves, fittings, plumbing supplies and underground supplies for water and sewers.
Over the next seven years, he would spin off part of Thompson to create First Electric Supply LLC; buy into a design firm, CMID; and purchase BC Countertops Inc.
All the while, his dedication to bettering Indianapolis continued to grow.

"What we have here is grass-roots, community, faith-based, government, businesses and education all coming together to make things happen," he said. "We do a real good job of that."
So when Black Expo came to him in December 2009 to be board chairman and help the organization through a transitional period, he gladly said yes. Thompson had been "a major user" of Black Expo, keeping his schedule open to attend its events.
"He accepted to be the chairman of Indiana Black Expo at a time when a lot of other people would have shied away given some of the little controversies that have come about," said Bill Mays. "But he stepped up and assumed a leadership role, and that's something Mike Carroll would have done for the betterment of the community."
Since taking over the board, Black Expo has resumed control over the Circle City Classic football game and events and increased the amount of scholarships the organization gives. This year, Black Expo provided $165,000 to deserving students, the most in its 41-year history.
In the last two years, he also has played a large role in the Wishard Hospital capital campaign to help fund the new $754 million hospital. The goal was $50 million. More than $64 million has been raised.
"I couldn't think of a more important thing to do," Thompson said.
When he joined the board, Thompson looked into the operation and liked what he saw. He's especially excited about a program Wishard runs that has reduced the hospital's recidivism rate of gunshot victims from around 30 percent to near zero.
Wishard, under the leadership of Lisa Harris and Matt Gutwein, "had driven the cost down, driven the service levels up," he said. "There was a new Wishard five years ago, but you and I didn't know it. Once I learned it, I said, 'This can be a model for the rest of the country. The more we raise, the better project we can build.'"
Gutwein, president and CEO of the Health and Hospital Corporation of Marion County, which runs Wishard, said he's known and admired Thompson for 20 years. When the idea came up to build a new hospital, Gutwein asked Thompson whether he thought philanthropy should be part of the method of funding the project.
"John told me that some of the other public projects were 'wants,' but a new Wishard is a 'need,'" Gutwein said in an e-mail. "He told me that he was completely confident our community would support a new safety-net hospital, that we should double our philanthropic goal, and that he'd be the first in line to support us.
"That tells you about his character and values. He is a person of extraordinary compassion and community spirit who gets things done."•
 
Please enable JavaScript to view this content.