The owner of Café Patachou is developing a restaurant in Broad Ripple for an empty city-owned building along the Monon Trail.
Public Greens, which will serve up "guilty pleasures for healthy people," including burgers, salads, smoothies and milkshakes, is scheduled to open in March in the one-story former home of The Depot east of Cornell Avenue between 64th and 65th streets.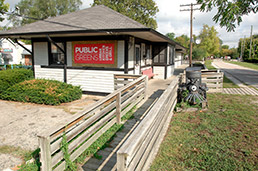 Café Patachou's Martha Hoover is working on her latest project: a restaurant featuring salads, burgers and a smoothie bar in a city-owned building in Broad Ripple. (IBJ Photo/ Perry Reichanadter)
The new concept—along with other new arrivals, including 10-01 Food & Drink and Fire by the Monon—suggest Broad Ripple remains one of the city's most sought-after spots for local restaurants, even as some in the neighborhood fear a takeover by college-oriented bars.
A planned parking garage at the corner of Broad Ripple and College avenues also could accommodate restaurants in its 25,000 square feet of street-level space.
"I live, work, shop, bank and eat in Broad Ripple. I love the neighborhood," wrote Patachou owner Martha Hoover in an e-mail from Italy, where she's visiting her daughter. "Historically, Broad Ripple was the incubator for independent restaurants and businesses in Marion County. While it has been portrayed by some as being overtaken by college bars, I think it is seeing a return to its roots."
Of particular concern for members of the Broad Ripple Village Association: plans for Kilroy's Bar n' Grill to take over the entire 7,750-square-foot home of Cardinal Fitness at 831 Broad Ripple Ave.
The owners of the proposed bar had requested a zoning variance from the city to allow them to use the building but later, apparently fearing a denial, withdrew the petition and said they would rely on a grandfathered 1987 variance for a restaurant that never opened.
The BRVA vowed to fight on and managed at a Sept. 6 hearing to convince the Marion County Alcoholic Beverage Board to table the proposal.
Change has been constant over the years in Broad Ripple, at least during the eight years Alan Hague has served as editor, publisher, reporter and delivery driver for the Broad Ripple Gazette.
The community newspaper publishes a free directory of every business and restaurant in Broad Ripple. Hague opens the file every few days, he said, "taking one out, putting one in."
"Things are going to change," Hague said. "I personally love to have lots of places to go eat."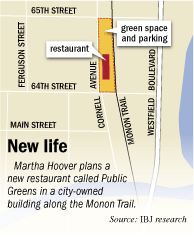 High rent rates make it tough for retail shops to thrive, leaving mostly restaurants and bars. Asking rents in the Broad Ripple area range from about $15 per square foot for space within converted homes all the way up to $27 or more for street-level space along the Broad Ripple Avenue strip, exceeding asking rents for some prime spots along Mass Ave and downtown.
One of the reasons for the constant reinvention is many of the retailers and restaurants are local or regional, making them more sensitive than national peers to changes in the economy, said Steve Delaney, a principal in locally based Sitehawk Retail Real Estate.
"It's one of those dynamic areas that always reinvents itself and continues to get better actually," Delaney said.
Another new arrival—set to open by the end of the year—is Insomnia Cookies, a chain of bakery shops offering late-night delivery.
The shop, which is taking 700 square feet in the former home of an art gallery at 809 Broad Ripple Ave., offers several types of fresh-baked cookies, cookie cakes and brownies.
The chain got its start in college towns but is expanding into "hybrid" locations where it can cater to a college and young professional crowd without seeing business dry up when classes aren't in session, said CEO Seth Berkowitz. He said Broad Ripple "fits that mold exactly."
Public Greens, the new Hoover restaurant, will be more geared toward users of the Monon Trail.
The plans call for abundant outdoor seating on a deck oriented toward the trail, along with newly improved green space, said Christina Pippen, Patachou's brand manager.
The city will continue to maintain public restrooms in the building while leasing the remaining roughly 2,000 square feet to the restaurant.•
Please enable JavaScript to view this content.