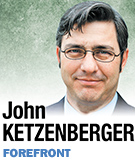 Don't believe for a moment that the television ads for candidates to public office are meant to enlighten voters.
No, unfortunately, these ads are not about policy, but about politics and the pure pursuit of power.
These ads are blunt instruments in the hands of political strategists that are used to beat the sense out of voters. The really good ones, and by that I mean highly effective politically, whack your senses in such a way that you don't realize it.
A recent ad from Mayor Greg Ballard's campaign is a good example. In it, three women decry assertions from Democratic challenger Melina Kennedy that Ballard has failed to repeal a local option income tax and has raised fees during his term.
"An Indianapolis Star columnist called Melina Kennedy's negative attacks on Greg Ballard 'disappointing and exaggerated,'" the first woman says.
Now the ad touts the Ballad administration's reduction of a local option income tax and his support of the successful effort to place caps on property taxes in the state's constitution.
"But Melina Kennedy, when she was deputy mayor, taxes went up," the ad's second woman says.
"And she supported a 43-percent hike in income taxes," adds the third.
The first woman then delivers political point: "Melina Kennedy's attacks aren't the only thing that's disappointing. So is her record."
This is gold from a political perspective and operatives from both parties employ these tactics. But look at it from a policy perspective and it looks a lot like lead.
Let's call rewrite.
The ad opens with the same woman, but instead of a grim look of disappointment, she makes her point like an anchor reading the news.
"Melina Kennedy disagrees with Greg Ballard's decision on the fees Marion County charges to regulate business. The mayor's policy is to charge those who use the services rather than assess all taxpayers for it."
The second woman appears next.
"This points out a difference between Mayor Ballard and Melina Kennedy. When she was deputy mayor, she supported an increase in the county option income tax to revamp the criminal justice system and reduce overcrowding in the county jail. This tax increase was paid by everyone who earned an income in Marion County."
The third woman then drives the point home.
"Mayor Ballard favors targeting tax increases as a fair way to pay for important public services. This is the better public policy."
Political pros will sneer that this is no way to get anyone elected. They're right, because over the years they've conditioned us to respond to their 30-second assaults.
But a guy can dream that reason will someday prevail, can't he?
The rewrite shuns the use of percentages to show rate increases because they're misleading. A 43-percent increase is shocking until you realize it's based on a relatively small amount of money per taxpayer.
The rewrite also avoids the accusatory language so prevalent in today's political ads. Let's drop the dire music and dramatic lighting, too, and focus instead on a straightforward exchange of ideas.
The fact that more than 60 entities can levy taxes in Marion County, and they can do so with myriad variations on the basic income, property and sales taxes, also is part of the problem. It's no wonder the public thinks taxes are too high even though national rankings show Indiana's overall tax take is lower than that of most states. The system is too confusing to fully comprehend for all but those who work in it every day.
Reduce the number of government entities that can levy taxes and correlate each tax to its specific purpose and we're onto something. Even "general government" can be defined by department and the service it provides.
Slick advertising works, but let's confine it to goods and services, not a discussion of tax policy. Don't misunderstand; I think a stringent discussion about taxes and their use is necessary. But let's agree to skip the drama and we'll all be better voters.•
__________
Ketzenberger is president of the Indiana Fiscal Policy Institute, a not-for-profit dedicated to nonpartisan research into the state's tax policies and budget practices. Send comments on this column to ibjedit@ibj.com.
Please enable JavaScript to view this content.