Indianapolis Cultural Trail founder Brian Payne is walking a public relations tightrope, and it has nothing to do with the seemingly endless construction downtown.

Since last year, controversy has swirled around a piece of art commissioned for the trail's $2 million public art program. What ultimately happens to Fred Wilson's "E Pluribus Unum" sculpture of a freed slave could alienate local African-Americans who oppose it or draw the scorn of national art critics.

It's an ironic situation for Payne, the Central Indiana Community Foundation president who dreamed up the Cultural Trail as a way to draw national attention and visitors to Indianapolis.

Wilson's proposed piece has spawned public meetings—including a series of discussions set to begin Saturday—talk-radio discussions and ongoing coverage from national art blogger Tyler Green. Along the way, Payne reversed a decision to plan the sculpture in front of the City-County Building.

Wilson has an international reputation for "mining" stereotypical images of African-Americans from museums and repositioning them. In his concept for the Cultural Trail, he seized on the freed slave that's at the base of the Soldiers and Sailors Monument.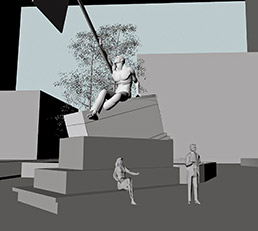 Architectural renderings of Fred Wilson's "E Pluribus Unum." (Rendering Courtesy CICF)
His sculpture would be a replica of that image, but the man would hold a brightly colored flag representing the African Diaspora.

Payne said the national critics take a back seat when it comes to resolving the issue. "It's so easy for Tyler Green to sit in his desk and write his blog without having 20 hours of conversation about race and politics and identity," Payne said.

An Indianapolis group calling itself "Citizens Against Slave Image" has rallied against the project, but it's not the only local critic.

"I think there's a better way to communicate African-American history on the trail than a statue of a slave," said Robin Winston, a former state Democratic chairman and consultant. He proposed in an op-ed column for IBJ erecting a statue of black entrepreneur Madam C.J. Walker instead. Winston said he received 217 e-mail responses that shared his point of view.

Another critic, Carlton Waterhouse, a professor at Indiana University School of Law-Indianapolis, doesn't object to the fact that "E Pluribus Unum" depicts a slave. But he said it's inadequate because it shows only a man, not a woman or family.

Payne says the trail's public art curator, Mindy Taylor Ross, warned that Wilson's work is more provocative than what one typically finds on public property.

"We thought the idea of having a piece that was more powerful than just decoration was a good thing," Payne said. "We went into that with our eyes open."

And he did not expect the heat to come from the black community.

"We thought if there was going to be any controversy with Fred Wilson, it was probably going to come out of the white community," Payne said. "We were prepared to deal with that."

CICF created the Cultural Trail and ultimately commissioned its artwork. But Ross recruited a 12-member committee of artists and art professionals to field proposals. Payne noted that two of the members are African-American.

Shortly after getting Wilson's proposal, Ross set up meetings with local African-American leaders.

"Many were too busy to meet with Fred or deal with the art," Payne said. "Many liked it. A few of them changed their minds."

The Cultural Trail also organized a series of meetings, held at the Indianapolis Museum of Art, Madame Walker Theatre and Crispus Attucks Museum in 2010.

Payne admits that those gatherings were attended by dozens, rather than the hundreds of people he'd hoped for. He said concerns expressed at those early meetings prompted a second confab at the Madame Walker, where full-fledged opposition took hold.

Another round of meetings begins Saturday (see schedule, below). Wilson won't attend the upcoming discussions, which are limited to 20 people and require advance registration.

He did not respond to a request for comment that IBJ placed with the New York gallery that represents him, but Wilson has told Modern Art Notes that he's OK with "E Pluribus Unum" being moved to a different site.

The piece originally was slated for installation in September. It's been on hold since early this year.

Meanwhile, the Cultural Trail worked with the Greater Indianapolis Progress Committee's Race and Cultural Relations Leadership Network to organize the upcoming meetings.

"We are concerned about having people come and have an opportunity to be heard in a respectful environment," Payne said. "It's smaller, so it's more of an intimate discussion."

Although attendance is limited, he said there will be as many meetings as it takes to fulfill demand.

He hopes to have a decision on the sculpture in December. Who will finally decide? Payne thinks the mayor's office, CICF board, and the board of Indianapolis Cultural Trail Inc. will consider the feedback and reach a consensus.

"I really am a neutral convener at this point," he said. "I just want a public process that is fair, that people believe is fair."

Here is the schedule of meetings:

Oct. 8
11 a.m.-12:30 p.m.
37 Place (formerly IPS School 37)
2605 E. 25th St.
Free parking in the back of the building

Oct. 11
6-7:30 p.m.
Central Indiana Community Foundation
615 N. Alabama St., Suite 119
Meet in conference rooms 6 and 7
Free parking lot to the south of the building

Oct. 13
6-7:30 p.m.
Central Indiana Community Foundation
615 N. Alabama St., Suite 119
Meet in conference rooms 6 and 7
Free parking lot to the south of the building

Registration is required. Each discussion is limited to 20 participants: adults and children age 12 and older. Discussions are free and open to the public. Registration is available online at www.fredwilsonindy.org and by calling 631-6542, ext. 173. Participants can select their desired meeting and leave their contact information for confirmation.
<

script src="http://www.ibj.com/ext/resources/html/social-buttons.js">