Super Bowl XLVI will be played in Indianapolis in less than three months—on Feb. 5.
IBJ gathered a panel of local experts, led by reporter Anthony Schoettle, who discussed issues ranging from the event's ability to generate ongoing economic development to crisis planning.
The conversation below is edited for length.
The panel
Milt Thompson: board member, Capital Improvement Board and Indiana Sports Corp.; attorney and president of Grand Slam Cos., a sports marketing firm
Susan Williams: president, Indiana Sports Corp.
Allison Melangton: CEO, 2012 Super Bowl Host Committee
Leonard Hoops: CEO, Indianapolis Convention and Visitors Association
Scott Miller: president, Develop Indy; incoming president, Indianapolis Chamber of Commerce
Bill Browne: president, Ratio Architects, which handled architectural planning for Super Bowl Village and Georgia Street project
——————–
IBJ: What is the historical significance of the 2012 Super Bowl for Indianapolis?
Thompson: Obviously, it's a culmination of a strategy that's been employed since the late 1970s and early '80s. After significant multi-sport events in the early 1980s, there were lots of discussions about how we go forward not only with respect to how we use and maintain the current facilities, but more importantly what kind of programming were we going to provide for the locals, and what's going to be left behind?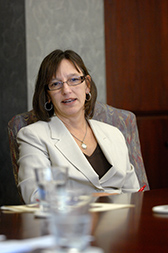 Allison Melangton (IBJ Photo/ Perry Reichanadter)
Williams: The sports strategy, now 34 years old, was always built on relationships. The important relationships were built in the sports and media world as far as building a brand for Indianapolis as the place to be. We go into these bid processes with relationships built—starting with organizations here like the Indianapolis Motor Speedway to the NCAA and Olympic organizations—that are real important.
Thompson: There was a piggybacking of these relationships early on which drew a lot of not only events, but organizations, here. The more visionary leaders of this initiative, people like Jim Morris and Michael Browning, discussed drawing a list of A+ celebrities, a group of heads of organizations like the NCAA and NFL that we wanted to lure here on a regular basis.
——————–
IBJ: In the 1980s, was bringing the Super Bowl to Indianapolis something that could have been imagined?
Thompson: I don't think we had sufficient hotel rooms or infrastructure.
Williams: There was one effort maybe 15 years ago. It was pretty clear then we had a long way to go in terms of infrastructure. But it was definitely on people's minds that it was one of the big things we'd like to land.
——————–
IBJ: What is the one most important thing to get right that would impress NFL owners and allow Indianapolis to get the game back?
Melangton: Logistics is critical. Everything from hotel rooms, transportation, operations, stadium set-up. Secondly, the way the community embraces the event. It's very important to the NFL that the Super Bowl is doing positive things in communities, and it's up to the community to figure out what those things are. With the community embracing the event through the business, the volunteers through the different partnership organizations, I think the [NFL] will grade us on all of that.
Hoops: The [NFL owners] will be looking at it from the criteria of, "Is this a Super Bowl city?" That's going to be different things to different owners, so I don't know if there is one thing. People will walk away and ask, "Has this been a Super Bowl experience? Has this been a world-class event?" This is an important opportunity for us to showcase our infrastructure and say, "Look what we have now." Sixty-five percent of the people who attend a Super Bowl are corporate decision-makers with the ability to bring an event or a company here. That's very meaningful to us. The impression our city makes on those people is at least if not more important than what impression this city makes on the NFL owners.
——————–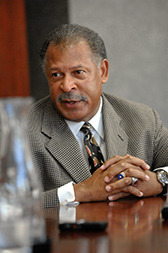 Milt Thompson (IBJ Photo/ Perry Reichanadter)
IBJ: What other events could hosting the Super Bowl help land?
Hoops: Going back to the [1987] Pan Am Games and the Indianapolis 500, we've clearly shown we can handle large numbers of people. It goes back to, are you on the level of a world-class city? Are you able not only to host a big event, but a high-profile event? We've demonstrated with the Final Four we can do that, but the Super Bowl is in a league by itself. It is the American national holiday of sports.
Williams: But honestly, it wouldn't be here if they didn't think we could handle it. For us, winning the bid was a defining moment. They can send it to Miami, they can send it to Dallas, and they assumed a lot of these places can handle it without giving it a lot of thought. There was a lot of thought [by NFL owners] given to whether we could handle it or not. What we're doing is not demonstrating we can handle a Super Bowl, we're showing them what a Super Bowl can be in a city that is configured like ours, that has the passion of the volunteer spirit and has what I'm guessing is the most creative legacy project they've ever looked at.
Hoops: I think a lot of people who have a perception of what the Super Bowl is are going to be blown away by what they find in Indianapolis. There is just no other city that has hosted a Super Bowl the way we are going to host it. The compact nature of our city and the diligence that is going into the fan experience and customer service experience the state of Indiana is known for.
Melangton: I think people are going to see what a warm and inviting feeling you're going to be able to get during an event in the middle of winter in a cold-winter city.
——————–
IBJ: How do you feel the Super Bowl can spark new businesses or relocations to the city? Is there anything being done to maximize that effort?
Miller: We'll be hosting site selectors—who are key components to business attraction efforts—in the week leading up to and during the Super Bowl weekend. The Young Presidents Organization will have multiple groups that weekend probably from the cities of Super Bowl teams, themselves. Each of those entrepreneurs is running businesses, and they'll be the decision-makers on where they're going to locate their next operation or division. It's going to be a unique opportunity for us, probably a once-in-a-generation opportunity for our city to capitalize on. At the airport, we're working on signage and different marketing campaigns that we'll work through right up to and through the Super Bowl from an advertising perspective.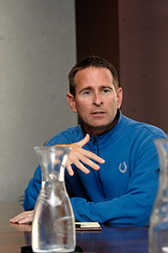 Scott Miller (IBJ Photo/ Perry Reichanadter)
Thompson: We've partnered with the appropriate groups, including Develop Indy, to make sure visiting companies have a great experience. That's happening on a number of fronts, so we're involved and helping.
——————–
IBJ: How will the city and ICVA use the Super Bowl as a springboard to promote the city in terms of conventions and visitor business?
Hoops: In marketing, you go through an awareness, interest, desire and action kind of process. We're still, for a lot of our target audiences, in the awareness and interest stage. So we'll be working hard to raise awareness and interest in the city not only among corporate decision-makers, but with leisure travelers, as well. There is some inherent risk, as Dallas-Fort Worth found out last year with their response to the weather. There's no guarantee that it's going to 100 percent help the city. The Super Bowl could hurt your image and perception if things don't go well. I'm sure that keeps Allison up at night. To the extent we can plan for it, we know we have an all-star cast here planning this event.
Thompson: There is another new event (Big Ten Football Championship Dec. 3) in advance of the Super Bowl in that same facility. One thing about that football game is, it is not a dress rehearsal. It cannot be a dress rehearsal. It has to be the event and it has to be nailed at every level because that will leave an immediate impression not only on prospective visitors and businesses, but also it will leave impressions that land squarely on Allison's neck. If it's not done well, there's going to be some skepticism about whether Indianapolis can really handle a big event during the winter and do it well.
Hoops: It's not a dress rehearsal, but there are some things we can learn from it that can be incorporated by all of us involved in hosting the Super Bowl. I can tell you already there are meeting planners who are resistant to Indianapolis. They come up with every excuse, even though we have the infrastructure to host their meetings, to say they don't fit here. When you get to the part of the conversation where you say, "We're hosting the Super Bowl," they say, "You're hosting the Super Bowl?" When they find out we're hosting the Super Bowl, that suddenly changes their mentality. They think, "If you can host the Super Bowl, you can certainly host our meeting."
Thompson: One thing I think we'll be able to show meeting planners and prospective conventions is that we work cohesively. We all sing from the same hymnal. In cities like Chicago, which in some circles is considered one tier above Indianapolis, that's not the case. We have organizations that are connected and understand each other that are part of this business of luring events and conventions. That comes with our long history of experience. That's something we can really showcase during the Super Bowl.
Hoops: The 150,000 people who are going to be in town for the game are just the tip of the iceberg. The vast majority of people who have an impression about Indianapolis will be reached through the media. Everything from how the media covers us makes an impression and that's the hardest thing to manage. No matter what we plan, those are all folks who have their own opinions and they're going to share their opinions, and we hope to make an impression on them. There are factors that are out of our control, but there are ways we can control our response to weather and things like that that will ultimately leave an impression on the media, and they'll pass that along, and that forms an impression to the people watching the game.
Williams: I would challenge that to some extent. We have been very focused on the media for 30 years making sure they've been happy, that they get their reservation at St. Elmo, that their media centers are well stocked with food, and that they are well taken care of. So they don't come here as strangers. They come here with an impression, and I would say to you that it is an extraordinarily positive impression. Most of the people that are coming here that matter have a very strong relationship with the city, with the public sector, with the private sector.
——————–
IBJ: Is there an opportunity to widen that impression?
Williams: The expectation is very high. It's always very high when people come here. Our goal is to knock it out of the park. We're going to show them a new and enhanced formula for hosting a Super Bowl.
IBJ: Is there more pressure to hosting a Super Bowl, or even Big Ten championship football game, than other events Indianapolis has hosted?
Melangton: I don't feel it accentuates our pressure because I'm confident we're going to deliver.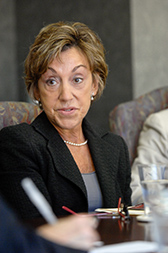 Susan Williams (IBJ Photo/ Perry Reichanadter)
Williams: It's more energy than pressure, the energy to do these two huge events back-to-back with many of the same staff and many of the same volunteers.
Browne: I think that demonstrates a level of confidence.
Williams: It's a huge opportunity. When the Big Ten said, "Do you think you want to do this?" we said, "Of course we do."
Melangton: Getting the Big Ten Football Championship should not be overshadowed. It's a major, major deal. It's a long-term economic driver and quality-of-life event. It's something that young professionals are excited to attend and be a part of. There are a lot of Big Ten alums, and for us to have the Big Ten football and basketball [events] is a really big deal.
——————–
IBJ: What went into the design of the Georgia Street corridor?
Browne: We wanted a facility that tried to connect with the community. A lot of local residents will not have the opportunity to participate in the game itself so we wanted to build the community spirit and excitement, and the Super Bowl village became a means to accomplish that.
As the concept unfolded, there was a desire to have something more lasting than just a temporary event space. We wanted a piece of infrastructure that could serve the community for years to come. As a result of that thinking, we ultimately obtained funding and realized we could do a significant street that could extend the convention center down the street to Conseco Fieldhouse and provide event usage year-round.
From a design standpoint, we wanted to make this sustainable and be very responsible from an environmental standpoint. We're going to be capturing all the rainwater and percolating it into the ground instead of charging our storm sewer system. In fact, we're going to be relieving that system. Some folks from the New York Times are very interested that we in the Midwest are doing something that could have potential to be implemented in other urban environments around the country. It's that kind of thinking that has gone into that project that goes beyond the fact that this is going to be a space to go for a wonderful Super Bowl event.
Melangton: Almost every other major city that hosts a lot of events has an outdoor event area. And while we've had the Circle, it hasn't had the technology and some of the structure needed to really showcase it. Going forward, it's a huge attraction for people looking to book conventions, especially those looking to use the Fieldhouse and Convention Center and connect it all together. It puts us in another realm.
——————–
IBJ: Will Georgia Street host the types of events, like the Strawberry Festival, that historically have been on the Circle?
Browne: The goal is to complement that and not take away from what the Monument Circle is. Monument Circle obviously is a circular urban space. Georgia Street is a linear space. The two spaces are different. We want to find events that can complement and add to the downtown events and excitement. There are certain events that don't make sense with a circular space, where a linear space makes more sense, so hopefully Georgia Street will provide that opportunity.
Melangton: The city is really going toward focusing on outdoor, and people being outdoor with the Cultural Trail and other initiatives and this will just add to that.
——————–
IBJ: What's the plan to maintain that space?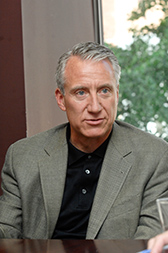 Bill Browne (IBJ Photo/ Perry Reichanadter)
Browne: The city is looking to identify a street manager for that facility who would partner with the ICVA and [Capital Improvement Board] in being able to bring events there and take care of events. By having a street manager, they'll be able to vet the event and communicate to various vendors and businesses along the way so they can coexist. The city is going to come forward with a street manager in the next couple of months.
Hoops: We're going to focus on selling the space or incorporating it into conventions and event packages. If there's a local event, they wouldn't be working thr ough us, because that's not part of our mission. So there are some things that have to be figured out as far as who is going to sell it locally and who's going to maintain and operate it on a day-to-day basis.
——————–
IBJ: Is attracting events like the Big Ten Championships, which brings in a younger demographic, and things like the Georgia Street project going to attract business to come here?
Miller: We recently looked at all the businesses that have come here over the last year, and looked at all the factors that brought them here. Three things bubbled up. No. 1 is work force. We believe this type of infrastructure makes a beautiful downtown and helps attract people because it's a part of the quality of life. The cleanliness of our downtown is another factor that helps make this an attractive city for young entrepreneurs and work force that we're looking to attract.
Melangton: I was at the Colts game yesterday, so didn't see the broadcast of the game, but I understand that CBS announcers said two or three times that they had been here two or three days and the city was getting ready for the Super Bowl and everything is looking good. That's always good for the city.
——————–
IBJ: Do those media mentions help us draw visitors or businesses to Indianapolis?
Hoops: It creates an impression. It goes back to what Susan and I were talking about earlier. There are certain things that I know as a destination that we've done for the last 30 years to ensure the comfort of the media so they have a good personal experience. But at the end of the day, what comes out of their mouth is anything that pops into their head. I'm sure Jerry Jones felt he had a great relationship with the media, then all of a sudden ice starts falling off the stadium, people can't get to the stadium and that changes what they say. That perception from watching the game on TV will have a big impact, either positive or negative, on the brand of this city.
Miller: Perception is reality. From my perspective, we're not just trying to sell businesses and their CEOs. We're trying to sell to spouses and families. The spouse, from our perspective, is the biggest decision maker on where somebody will relocate to because the CEO will spend most of their time at the business or in the business. But the spouse will get to be a part of the community and the school systems, so those are key factors. Spouses watch Super Bowls, so anything happening at a Super Bowl or the week leading up to it is really critical from a perception standpoint.
——————–
IBJ: When you consider events and what you've constructed for those events, what can you do to mitigate the sorts of things that happened in Dallas to the stadium and to the host city?
Melangton: We have taken on a very broad risk management initiative with our committees. We have 60 committees and eight divisions. We had each division meet with a risk manager. We went through a seven-month process. Through all those committees and staff input we came up with over 100 things that we were going to focus on and try to develop a risk strategy for and to mitigate. I feel we've done our homework. We've eliminated as many risks as we can in our planning.
Williams: Whether it's a success or failure from a weather or weather-management standpoint is whatever the media says about it. One thing that is different about us is that media members don't have to get on a bus, wait out in traffic, or slip-slide on the ice. They're in the hotel; all they have to do is walk across the street. And they may not even have to put their feet on the street. So that risk is managed. From what I saw last year, the media was declaring Dallas a messed-up Super Bowl on Thursday or Friday. The weather and the media's dealing with it is a huge risk we have managed by the set-up of our downtown and stadium.
Hoops: I don't know that there's ever been a Super Bowl in a city that has the infrastructure Indianapolis has. There's no downtown connectivity between the stadium, hotels and convention center, where the Fan Fest will be, and Georgia Street, where the Super Bowl Village will be. There's just nothing else like that. I think that helps modify perceptions of this city. Weather-wise, it's a climate-controlled heaven.
Leonard Hoops (IBJ Photo/ Perry Reichanadter) Browne: From a design standpoint, you're always knowledgeable and careful about risk management. Taking it a step further, as we've looked at things like Georgia Street, we've worked with Allison's committee to understand things like how snow removal is going to be handled and how temporary heat can be part of the experience. Risk management is in the planning.
Williams: One of the big things that shouldn't be taken for granted is how the people here and our agencies work together. That's a big way we mitigate risks. That part of the way we run events just astounds people, from the Big Ten commissioner to people from Boston who were here not too long ago to see how we put on a Final Four. The level of cooperation we achieve here flabbergasts people. And it's not just in sports, it's in a lot of areas, and that should be celebrated.
Thompson: You don't have to agree with everyone politically to have a consensus on how something should operate.
Hoops: In 2005, when I first came here on a study mission from Sacramento, the impression I left Indianapolis with was this sense of earnestness the city has of collaboration. We wouldn't be able to pull off Super Service without that. If you were to go to most destinations that have hosted a Super Bowl, they just wouldn't have that kind of earnestness to the people to where there would be a lot of eye rolling; there's a jaded perspective.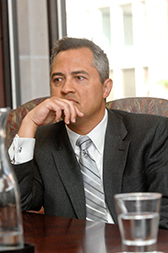 Leonard Hoops (IBJ Photo/ Perry Reichanadter)
I come from a first-tier city, and I don't think you could have gotten Super Service through that city. People just wouldn't have bought into it. But people here buy into it. They earnestly want to be hospitable. It's part of the DNA here. And if you're not from here, you better start being like that. One of the things I said when I first got here was that I was among the rudest people I knew. I consider myself friendly. But I wasn't friendly by Indianapolis standards. It's a great characteristic you have here.
Thompson: When Allison was talking about risks and mitigation, I was thinking about risk management terms. Before 9/11, most people didn't know what terrorism insurance was. But because we have been involved with so many events, and we were negotiating for Market Square Arena's use, we had to have terrorism insurance because it was open underneath. From a design standpoint, the thought was that the next time we built a facility, those types of things need to be considered and addressed in the design process.
Melangton: One last comment on volunteers. I talked to a number of Super Bowl host committees. They keep calling me because they get our Friday newsletter and they keep asking, "How are you physically getting all this done?" It's because we have 800 [volunteers] working on the committee. That's why we're getting it done. If it was just our 25 [paid] staff, we'd never get all this done. The next question is, "How did you get those people to volunteer that much time? Did you have to offer them tickets?" None of our [volunteers] are getting tickets. They don't even have the opportunity to buy tickets. And they're still giving two years of their lives.
Williams: And a lot of them don't even care that much about football. They just want to be a part of supporting this community.
——————–
IBJ: How do you assure the Super Bowl has a maximum impact on central Indiana businesses, especially small businesses?
Melangton: The NFL's emerging business program has been a key program for us. We have 400 city- and state-registered minority- and women-owned business, and those folks are attending workshops and procurement opportunities through the NFL. We have a very active relationship with businesses. We throw as many opportunities as we can toward local businesses, and the NFL is doing a great job hiring local. They're not bringing in a lot from outside.
Hoops: Everything from Super Service is designed to communicate what the state, not just Indianapolis, has to offer. The fact that the Super Bowl will take 18,000 hotel rooms pushes business not just throughout Marion County, but pretty much every surrounding county and even further out. The best thing we can do is to arm our businesses with as much information as possible to help them understand who the [visitors] are, where they'll be staying, and what they'll be doing. It's up to them then to differentiate themselves from other businesses.
Thompson: We have to be careful about overhyped expectations of particularly small businesses. They see Super Bowl and they see money-making opportunities. It's incumbent upon all of us to make sure they don't see some type of unrealistic golden goose. After all, the NFL runs this show.
Melangton: I think we've done a good job educating the businesses that this is not the time to add a new arm to your business. If you're a florist, be a florist and do a great job, and don't try to branch into catering or clown balloons. Do the things you do best.
Hoops: From an ICVA standpoint, we're trying to get, not so much specific businesses, but areas activated, the six cultural districts for example. Even if they don't get there, we want to make sure people hear about places like Broad Ripple or Fountain Square. One of the things that differentiates some of the great destinations from average destinations is this sense of specialty neighborhoods and cultural districts people can enjoy.
——————–
IBJ: Why is community participation in this global event important and why should people who can't afford a ticket to the game come downtown to be a part of the Super Bowl experience?
Browne: The programming that is being developed, particularly for the Super Bowl Village, is going to be very family-friendly, and it's going to transition into an evening opportunity for younger and older adults, and I think that kind of reach is going to be very good as a draw. I think it will be very exciting.
Hoops: I see this as a week-long tailgate party. It's a chance to do Fan Fest and to explore the city. Our attractions and businesses are going to want to put on their best face.
——————–
IBJ: From an economic impact standpoint, does it matter that much if people come in and spend their money?
Hoops: It certainly matters to Marion County. Anyone who lives outside the 50-mile radium of the city is considered an outside dollar, and I think there's a lot of dollars to be had for Indianapolis outside that 50-mile radius.
Browne: It would seem to me this type of event is one where people would come to and spend more than they would on a normal weekend because it's such an important event.
——————–
IBJ: Is it important from the NFL's perspective that local residents participate in the Super Bowl in a big way?
Melangton: They've continued to stress that. The [2007] season kick-off was a big turning point for us. The timing of the Colts' winning the Super Bowl and that kick-off couldn't have been better in terms of our Super Bowl bid. The NFL was amazed at the turnout and the activity of the residents we had in that event. It brought our city up a notch in their eyes. It was a whole day where people took off work and came out and enjoyed. In other communities like Miami or New Orleans that have had a lot of Super Bowls, that kind of spark is sometimes gone.
Hoops: At the end of the day, this is the NFL's signature showcase event. Ultimately, it matters to them how people who live in the host city feel about their showcase event. They want that showcase event to be an unbelievable experience both for visitors and those that live in the host city. The locals' embrace can boost the experience for everyone.
——————–
IBJ: Has the NFL talked to city officials about any special security issues?
Melangton: The sex-trafficking issue attracts a lot of attention. I'm not trying to minimize it, but if you look at the numbers and the facts from the past few Super Bowls, it appears to be a bigger problem than it is. There's a lot of misinformation about that. I wouldn't say there's one particular area of public safety we're concerned about. We're working on all areas equally.
——————–
IBJ: How is the city working on the potential problem of panhandlers?
Melangton: It's being worked on. We're thinking a lot about it.
Browne: Maybe we can look at the way New Orleans handles that during previous Super Bowls.
——————–
IBJ: What impact does that have on sales?
Hoops: It doesn't have necessarily much of an impact on sales, but it does create perception issues that can affect the host destination. San Francisco has as big a panhandling challenge as any city in the country, but that didn't stop us from booking 2 million hotel room nights on the convention side.
——————–
IBJ: For economic reasons or otherwise, not including the Indianapolis Colts, who would you like to see play in the game?
Miller: There are surveys out there that will tell you which teams are best in terms of economic impact. I think fans for whatever teams make it will travel well.
Williams: People who are going to come to the Super Bowl are going to the Super Bowl. Then there's a little fan block. The crowd is built in by the very nature of the event. Everybody has their favorite team, and mine isn't doing real well right now.
Hoops: It'd be interesting to figure out what's the net present value of the 100 million people watching TV. I can tell you from an ICVA perspective, if it were teams from bigger media markets, therefore people from those markets paid more attention and were getting a little bit more of the message as opposed to eating guacamole and doing whatever. In theory, that could lead to a little more long-term economic value for the city.
Melangton: The NFL tells us that the Super Bowl is the second-largest food consumption day in the U.S. behind Thanksgiving. That shows us the reach and impact of this game no matter who's playing.
Thompson: Teams that typically travel well or from a big market would be the best. One of the New York teams or traditional teams like the Chicago Bears or Green Bay Packers where those fan bases follow no matter where or what weather just to be there whether they can get a ticket to the game or not. I think the proximity of the teams that make it to the Super Bowl matter to the host city, so the entourages can drive in. The question is, where will they stay once they get here?
Melangton: There are a couple hotels in Kokomo with rooms, and the next nearest place there are some rooms is in Columbus.
Hoops: The important thing to remember is that there are rooms available in Indianapolis up until Thursday before the Super Bowl. So people can come in the weekend before the Super Bowl or early in the week. That's where a difference can be felt in the early part of the run-up to the Super Bowl.•
Please enable JavaScript to view this content.