In Mayor Greg Ballard's second term, he'll be charged with helping to lay the foundation for a grand, decades-long strategy to reinvigorate Indianapolis' urban core.
Efforts to attract residents and capital to neighborhoods from just outside downtown Indianapolis to the borders of Interstate 465 have been ongoing for years. But in the last few months, civic leaders have coalesced around a three-prong strategy to tackle the challenge.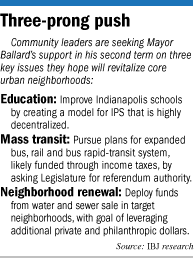 Led by key community players such as the Greater Indianapolis Chamber of Commerce and the Central Indiana Corporate Partnership, various groups are crafting game-changing plans for each prong: K-12 education, mass transit and neighborhood revitalization.
Efforts include petitioning the Indiana General Assembly for a transit-related referendum; creating a new, decentralized model for Indianapolis Public Schools; and deploying money from the city's utilities sale to urban renewal efforts.
It's not yet clear whether all the initiatives will have the full support of Ballard, a Republican who garnered 51 percent of the vote in the Nov. 8 election.
That's largely because civic leaders, who have been hashing out the details of the plans behind the scenes, have been waiting to see who would be elected mayor before sharing the specifics.
However, Ballard spokesman Marc Lotter said focusing on core neighborhoods would be among the key priorities for Ballard's second term.
"We've done a great job over the course of multiple administrations and decades to build a successful downtown," Lotter said. "We want to take that same energy and commitment and take it out to the next level."
In fact, the current discussions parallel similar conversations among civic and government leaders in the 1970s, when they were mulling ways to revive Indianapolis' struggling downtown.
Separate conversations and efforts took place for about 10 years before sports emerged as a unifying strategy, said Mark Miles, president of the Central Indiana Corporate Partnership.
"We're at about that same place," Miles said. "It's like we've been dabbling, not thinking from a top-level strategy."
Until now, that is.
This fall, Miles and other leaders have been beating the drum about how transit, schools and neighborhoods fit into a broader plan to revamp the city's core. And earlier this month, the chamber devoted part of its annual leadership exchange to discussing elements of the specific initiatives in progress.
Transit a top priority
Mass transit is an issue Ballard and other leaders are preparing to push in the upcoming legislative session.
In February 2010, a regional transit task force released its proposal for enhancing transit service in Indianapolis and neighboring counties over 25 years. That plan was tweaked after the public weighed in.
Now, the same transit task force, which includes players from the chamber, CICP and the Central Indiana Community Foundation, is preparing another update to the $2.4 billion plan, which Miles said still includes expanded bus service and the addition of rail and bus rapid transit.
The latest plan also will provide more specifics about the expected return on the transit investment—and proposals to pay for it.
Most likely, funding would come through an increase in local income taxes, though the exact amount has yet to be determined, said Christine Altman, a Hamilton County commissioner who has been involved in the discussions. In the current economy, a quarter-percentage-point increase, for example, would be enough to expand bus service, while a half percentage point would fund the local share of the plan.
Altman said the group is projecting that federal dollars would cover about a third of the costs—less than the 50 percent previously assumed—leaving the local tab about $1.6 billion for the full plan.
The group is in talks with lawmakers about the numbers and the options for a referendum that would go to voters, who would have the final say on any tax hike. They're targeting next fall for a referendum, Altman said, if legislators approve it.
Ballard played a key role in pushing the original transit plan, but he has not seen the latest iteration of it, Miles said. Even so, he already is making a push for expanded transit.
The day after the election, Ballard met with key Republican lawmakers to talk about transit. But he hasn't committed to the need to propose an income-tax increase to pay for it.
Lotter said the administration is exploring other "creative" funding solutions for transit, but would not go into detail about them. He said the city needs buy-in from the General Assembly to pitch those ideas.
"We don't know what the referendum would say," Lotter said. "This is about the Legislature giving us support to make the referendum happen."
Revamping schools, neighborhoods
Meanwhile, other groups are looking at ways to improve the K-12 education system. The Mind Trust, an education-reform group, expects to release a plan in coming weeks laying out a new model for operating Indianapolis Public Schools.
The proposal has been in the works about a year and a half, said David Harris, the group's CEO. Neither he nor Miles would discuss it in detail, but they emphasized a decentralized structure in which individual schools have autonomy to produce results.
Sweeping education reforms passed by the Legislature this year are a positive step, but Miles said they were not drastic enough to create the kind of change that's needed in IPS.
"We need a new approach to the system," he said. "If you look at great [inner-city] schools, they're run at the level of the schools. They're not run by this great bureaucracy. Fundamentally, we think schools have a better chance of being outstanding when they're run at the school level."
Miles said Ballard had not been briefed in detail on The Mind Trust plan. The mayor has been a strong advocate for charter schools and other education reforms, but Lotter said he's not ready to weigh in on an IPS overhaul until there's more evidence of how the new reforms will play out.
"Any kind of discussions on those things would be a little premature," Lotter said. "We're barely scratching the surface on the reforms and what they can do."
Ballard has, however, signaled support for discussions taking place among several groups about using money from the city's water and sewer sale for large-scale neighborhood revitalization efforts.
Local Initiatives Support Corp., or LISC, last spring hired a Philadelphia-based consultant to shape a strategy for how it could be done in Indianapolis.
The idea is to select, through a competitive process, neighborhoods where public and philanthropic investment is needed to jump-start private development. Deploying some—or all—of the remaining $425 million in so-called Rebuild Indy money for revitalization projects in those areas could leverage other investment, said Bill Taft, LISC's executive director.
It's a similar strategy to the one deployed on the near-east side, where neighborhood-based groups and local Super Bowl organizers cobbled together $125 million for improvements now taking place.
Taft said the concept is still in the discussion phase, but initial conversations with Ballard's administration have been positive.
"We're still in the process of building a case that utilizing a significant portion of Rebuild Indy to take lessons of the near-east side to new neighborhoods is the best use of that money," Taft said. "There's a lot of interest in doing that."
Lotter said the city still intends to fix bridges and streets with the money, but also signaled interest in using some of it for key neighborhood projects. He cited the blueprint for a tech- and life-sciences-related development near the IUPUI campus, dubbed 16 Downtown Technology District, as an example of what is possible.
"It's just as important to focus [the money] on the transformational side," Lotter said. "Not just sidewalks—but how can it enhance the neighborhoods' redevelopment?"•
Please enable JavaScript to view this content.