Republican leaders in the General Assembly who have backed local government reform will trade ambitious proposals they've pursued in years past for more moderate—and widely accepted—ideas in the next legislative session.
Off the priority list are sweeping changes such as mandating the elimination of township government and giving counties final approval of township budgets. Now at the top of the priority list are less controversial moves, such as clamping down on government nepotism and conflicts of interest.
Rather than try to wipe out township government, reform proponents will pursue allowing referendums that let voters decide.
Senate President Pro Tem David Long, R-Fort Wayne, has called it "government reform light." And while some lobbyists and lawmakers may push for more dramatic reforms, key Republicans—who control the House, Senate and Governor's Office—have agreed to pursue the milder approach.
Mahan
"I will not hear any bill that has anything to do with a mandate out of Indianapolis to do away with townships or trustees," said Rep. Kevin Mahan, a Hartford City Republican who next year will take over the local government committee where reform bills typically are heard.
"I feel a lot more comfortable with the direction we're heading in now, versus what a lot of legislators and Hoosiers thought we were going to be heading in, which was coming in and eliminating [township government]."
Even Gov. Mitch Daniels, who has been among the most ardent backers of eliminating township government, recently signaled a willingness to settle for subtler changes this year, if it means getting some reforms passed.
"I'm for whatever we can get," Daniels said. "I continue to believe the township layer of government has outlived its usefulness. [But] I'm willing to seek compromise if we can find one."
Advocates are pursuing a compromise because they've been unsuccessful in trying to pass a stronger brand of government reform for three consecutive years.
Aggressive proposals consistently have been defeated by lawmakers from both parties—even as property tax caps force cuts in government services that many advocates consider more important.
A model run by economists at Ball State University estimated $470 million in annual statewide savings from a gamut of reforms proposed as part of the 2007 Kernan-Shepard government streamlining report.
Lawmakers who served in township government or received support from those in it remain particularly loyal to the system.
But the toned-down approach hasn't placated township advocates, who are concerned about a bill allowing for elimination of township trustees by referendum. It also won't keep pro-reform groups such as the Indiana Chamber of Commerce from pushing for more sweeping changes.
"There does not appear to be any kind of a strong movement of, 'Let's get rid of the townships.' However, the need for township reform remains," said Mark Lawrance, a senior vice president at the chamber who lobbies on local government reform. "We're going to try to get as much as we can get done this year because it's the right thing for taxpayers."
Controversy or compromise?
The first big push for local-government reform came in 2009, when Daniels endorsed reform proposals such as replacing some county elected positions with appointed ones and establishing a single county-executive position to replace the three commissioners. (Commissioners run county government everywhere except Marion County, where city and county functions are merged).
Chief among Daniels' priorities was the elimination of township government, a proposal that failed to pass the Legislature that year.
In 2010, a bill that would have allowed for referendums to eliminate township trustees and boards and another that would have done away with township boards did not get traction.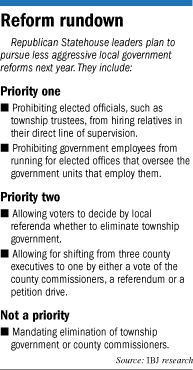 And this year, lawmakers introduced several bills to tackle local government reform, including one eliminating township government in Marion County and another giving county fiscal bodies authority to modify township budgets. All of them flopped.
Township trustees' primary duties include administering assistance to the poor, maintaining parks and cemeteries, and providing fire service in unincorporated parts of townships. Township boards set the budgets for trustees.
The arguments for and against reform measures have largely been the same, with reform proponents touting the benefits of more government efficiency and accountability, and opponents expressing fear about eliminating a government system that's designed to be the most accessible to the public.
Next year, however, the debates could be more subdued and nuanced.
Lawmakers plan to push a bill barring elected officials from hiring relatives to work for the government unit they represent and another prohibiting elected officials from working for government units they represent.
A bill with similar anti-nepotism and conflict-of-interest provisions passed both houses this year but ultimately failed on the last day of the session because of a controversial, last-minute addition.
However, traditional proponents and opponents of government reform have been supportive of implementing such laws and are optimistic about their prospects next year.
What could stir more discussion are bills that would eliminate township boards and provide for countywide referendums to let voters decide whether to retain township trustees and remaining township assessors.
Rep. Jerry Torr, R-Carmel, is proposing a bill along those lines, similar to one he presented last year. His bill also would replace three county commissioners with a single county executive through a 3-0 vote of the commissioners, a 2-1 commissioner vote and successful referendum, or a voter petition drive that would trigger a referendum.
Torr, who has been a proponent of local government reform since seeing the Kernan-Shepard report, said the intent behind his bill is to minimize township government to the extent possible.
"If I were king, we'd eliminate township government and transfer the powers mostly to the county," Torr said. "This is a compromise between those who would do away with township government and those who want to let people decide or who want to keep township government and think they can win the referendum."
But Debbie Driskell, executive director of the Indiana Township Association, said a referendum would be just the beginning of an effort to entirely do away with township government.
"It wouldn't stop there," Driskell said. "They want to whittle us down so our base is smaller to fight total elimination."
Crawford
Rep. Bill Crawford, D-Indianapolis, also has concerns about such a referendum. Crawford proposed a similar bill in 2010, but he said that was more of a pre-emptive strike against tougher township reforms.
He opposes doing away with townships, he said, because it's "the government closest to the people," and allows low-income residents to easily access government assistance.
He also shares Driskell's concerns about a referendum taking place at the county level, rather than township by township. That would allow residents in larger population centers to determine the fate of more rural townships, he said.
A question of faith
Such opposition could call into question whether some of the less ambitious measures have a chance at passage.
Lawrance, of the Indiana Chamber, said the greatest hope for passing reform lies in the House, rather than the Senate, where legislators have tired of debating the issue.
Because the issue has not tended to fall along partisan lines, Crawford said the outcome of more controversial measures such as the referendum will depend, as it has in the past, upon general sentiment about township government.
"It's going to come down to whether legislators have faith in the township system," Crawford said. "The majority have not lost faith in it."
But Mahan, the local government committee chairman, said the tamer approach will bring about consensus on passing some kind of reform.
"I'm encouraged by the conversation because everyone is coming to the table and recognizing we need reform," Mahan said. "We've got this big apple—we just need to start taking a bite out of it."•
Please enable JavaScript to view this content.