A couple of years back, Mayor Greg Ballard took heat from a few car dealers and domestic-car-brand loyalists. His administration bought Toyota hybrid cars rather than hybrid Chevy Malibus for the city fleet, saying the Toyota models burned less gas and thus saved taxpayers more money.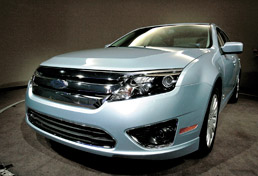 The 24 Ford Fusion hybrids the city is buying for the Department of Public Works average 30 miles a gallon, versus the 20 mpg for the replaced Crown Victorias. (AP Photo)
We're not sure how the economics pan out this time, but the mayor must have gotten the message. The Indianapolis Department of Public Works is buying 24 Ford Fusion hybrids.
DPW also is preserving eight Ford F-150 pickups and 11 Sheriff's vans made by domestic automakers by converting them to run on propane fuel.
The city estimates the gas and maintenance savings for the propane conversions amount to $15,000 per truck, over its useful life. Propane lately has been running at about $2.50 per equivalent of a gasoline gallon.
The Ford Fusion hybrids average 30 miles a gallon versus the 20 mpg achieved by the Crown Victorias they're replacing.
The fleet greening measures apparently were too cheap to pass up. The city, with help from the Indiana Clean Cities Coalition and Indiana Office of Energy Development, lassoed a $318,300 grant from the U.S. Department of Energy.
Propane and its cousin, compressed natural gas, aren't as hip as hybrids and electric-only vehicles, but the economics have been favorable with the rise in gasoline prices. AT&T and Citizens Gas have extensive fleets of CNG-powered vehicles, and other companies are jumping aboard. Clean Cities recently helped the state of Indiana pull down grants to convert 19 dump trucks to CNG.
If the trend continues, such fuels could be good for conversion firms such as Greene's Auto and Truck Service, in Indianapolis, and upstart Indy CNG, of Elwood.
Please enable JavaScript to view this content.