The city's biggest event of the year will be run almost entirely by an army of volunteers the size of a small town.
Some 8,000 volunteers are helping to execute the events and preparations for the Feb. 5 Super Bowl, which is expected to draw 150,000 visitors to Indianapolis. That's compared with a full-time staff of 31.
Those volunteers will donate a collective 150,000 hours—or 17 years—of time to activities ranging from providing visitors with directions to conducting background checks for fellow volunteers. Some have spent up to 12 hours a day preparing for the event.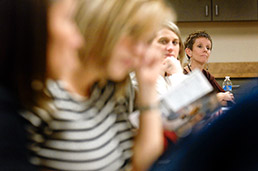 Dianna Boyce, director of communications for the Super Bowl Host Committee, wraps up details for the Super Bowl's media outreach efforts during a volunteers meeting. (IBJ Photo/ Perry Reichanadter)
Nearly every Super Bowl function—including insurance, human resources and legal work—is farmed out to volunteers. About 200 leaders of 60 organizational committees manage some 900 committee members involved in planning, while another 7,100 volunteers on 25 volunteer teams will be deployed during the event.
Super Bowl organizers recognize the logistical challenges that can arise from such a bottom-heavy approach. Super Bowl Host Committee Chairman Mark Miles has quipped that a Harvard Business School class would scoff at the sprawling structure.
But the tradition of engaging the masses in Indianapolis-hosted events dates back to sports festivals in the 1980s, from the National Sports Festival to the Pan American Games. And it's important, leaders say, for establishing a volunteer culture in the city that event leaders hope extends beyond activities such as the Super Bowl.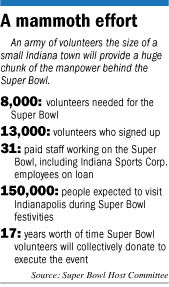 "We want to get as many people involved in it as possible, even if it's not a particularly efficient way to do it," Miles said. "Once people get involved initially in something bigger than themselves, assuming it goes well, they love it and develop an appetite to do more."
Attracting volunteers to the effort has been the easy part—so much so that 13,000 people volunteered for the 8,000 slots. That left 5,000 who won't even get to participate.
The bigger challenge is managing a volunteer force the size of a midsize undergraduate student body, which demands the effort of two full-time staff members.
One of them, Sheila Bradley, spends virtually all her time answering phone calls and e-mails from volunteers. If even 1 percent of the volunteer base has a question about information in a newsletter or e-mail, Bradley has 80 questions to answer. More often, about 10 percent do.
"They have lots of questions," Bradley said. "It goes along with that excitement to be part of the Super Bowl."
An emerging tradition
The volunteer-heavy event-management model was pioneered during the 1982 National Sports Festival, Miles said. It was scaled up during the 1987 Pan Am Games, which drew 36,000 volunteers.
"The approach taken was not simply to use volunteers to be the labor force during the event," Miles said. "Senior leaders in the community filled out the organization chart, which effectively represented the management of the organization. That's really been the approach in most of what the Indiana Sports Corp. has done since."
Starting with the Pan Am Games, the Indiana Sports Corp., which serves as the city's official sports commission, has maintained a database of volunteers who have served in events such as Final Four tournaments, swimming and diving championships, and charity golf outings.
The database now holds 17,000 names, including those who signed up to volunteer for the Super Bowl.
Getting prospective volunteers to register in that database was the first step when the Super Bowl sign-up process opened shortly after Indianapolis got the bid in early 2008. Since then, many who registered have been tapped to help with other Sports Corp. events, Bradley said.
But organizers did not have to recruit longtime volunteers from the database for the Super Bowl.
After the website opened, a flood of people signed up. By September 2009, when Connie Israel started as vice president of special events and volunteer services for the host committee, the committee was just 20 volunteers shy of the 8,000 needed.
"I was flabbergasted," Israel said. "There was a lot of coverage, so people knew the Super Bowl was coming. There was never a recruitment effort."
By last May, the host committee closed the original database when it hit 10,000 registrants and funneled additional volunteers to a waiting list.
"This is one of the largest and [most] enthusiastic volunteer groups in Super Bowl history," Brian McCarthy, an NFL spokesman, said in an e-mail.
Leslie Lenkowsky, a professor at Indiana University's Center on Philanthropy, credits the outpouring to high rates of volunteering among young adults and baby boomers in Indianapolis.
On the whole, the city ranked 19th in volunteer rates among the nation's 51 largest cities from 2008 to 2010, according to research by the Corporation for National and Community Service. However, Indianapolis' rates among young people and baby boomers both exceed national averages.
The city also has a network of longtime volunteers such as Nancy Canning, who began volunteering for Indiana Sports Corp. events when she took a job as director of the Terre Haute Convention & Visitors Bureau in 1989.
She has since volunteered for more than 50 events, inspired partly by a network of friends she established through the events and by her motivation to get outsiders excited about Indianapolis.
As co-chairwoman of the Super Bowl's volunteer services committee, she took a week off work and spent 12 hours a day late last fall to complete work related to volunteer background checks. That's in addition to two to three hours per week she devoted during earlier planning phases.
"I truly believe we can make a difference on people's impression when they visit our city," Canning said. "Indianapolis is a well-kept secret beyond our borders. People leave saying positive things."
A heavy Super Bowl volunteer turnout doesn't necessarily translate into strong support for ongoing volunteer efforts. But it could leave a positive impression that prompts more volunteer activity down the road, Lenkowsky said.
"It may very well be when [the volunteers] are older and opportunities to volunteer present themselves," Lenkowsky said, "They'll say, 'Gee, I enjoyed doing what I did at the Super Bowl. I'll give this a try.'"
Hooking newcomers
Super Bowl organizers especially hope young professionals will remain engaged.
The host committee made a concerted effort to recruit them, sending letters to Super Bowl donors and other local employers to solicit names, and interviewing about a third of those recommended for committee chairmen positions.
About 40 percent of the leadership positions were filled by newcomers, Miles said, while the balance included seasoned leaders.
The idea in recruiting the newcomers was to create a pipeline of civically engaged residents who would be inclined to step up for future events.
Reaching that goal, some say, will require efforts by groups such as the Sports Corp. to maintain relationships with volunteers after the event.
Cassie Hall, a veteran Sports Corp. volunteer who is helping with accreditation during the Super Bowl, said often there's a communication lag from the end of one event until the next need arises.
"We volunteer and there's a nice thank-you party afterward, and then you don't hear anything again," Hall said. "I think [recruiting newcomers] is a good start, but I don't think it necessarily translates into a bunch of new volunteers."
For some first-timers, however, the approach has been effective.
Jose Samperio, a corporate strategist at Cummins Inc. who was among those selected for committee leadership, already is civically inclined: He volunteers as a Eucharistic minister and event organizer at his church.
Now that Samperio, 34, knows how to be involved in sporting events, he's likely to volunteer again.
"It's not a matter of wanting to do it—it's a matter of finding the people and the opportunity," Samperio said. "I just lacked the network to do it."•
Please enable JavaScript to view this content.