The most impressive thing about "Turf," the art installation exhibition occupying old Indianapolis City Hall/old Indiana State Museum through Feb. 5, is that it doesn't feel like it was created by committee. There's no sense of, "OK, you can be part of this high-profile show if you follow these rules …"
There are other big positives as well, but that overarching sense of artistic freedom demonstrates that Indianapolis has reached a certain degree of maturity when it comes to its art. A lesser town would have at least one eye focused on making sure every work showcases it in the best promotional light.
Another great thing about "Turf" is that it is both free and welcoming. That's not to say it isn't a show worth paying for. But the free admission makes it more likely to attract both locals making a downtown run and visitors looking for diversion during their stay.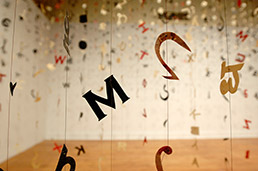 Three alphabets dangle together in Anila Quayyum Agha's "My Forked Tongue," one of the many highlights of the "Turf" exhibition. (IBJ Photo/ Perry Reichanadter)
Then there's the art itself, of course.
I had the strongest initial positive reaction to Anila Quayyum Agha's magical room of dangling letters "My Forked Tongue," Lesley Baker's whimsical and sweet "Bull in a China Shop" (with the bull constructed from shipping pallets), Jeff Martin's crowd-pleasing "Switch V2.0" (which should get a permanent place at The Children's Museum of Indianapolis), and Nick Allman's dramatic "Coffee Table," creating the odd tableau of an old-fashioned refrigerator that has crashed through from the floor above. And Greg Hull's "Meditated Terrain"—consisting of a series of computer screens arranged to create a waterfall—is strengthened by its context, including dim lighting, a charming bridge, and a bed of black umbrellas. The only thing missing is a bench for some meditative time.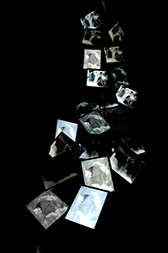 Greg Hull's "Meditated Terrain" turns computer screens into a dramatic waterfall. (IBJ Photo/ Perry Reichanadter)
Other works revealed more on my second visit. That's when the lack of specific usefulness of the orange machine in John Himmelfarb's "The Road Leaves a Trail Behind" began to resonate for me. That's when I realized that Casey Roberts' "Crossroads" was taking me back to this building's Indiana State Museum days (although the dioramas back then didn't combine wildlife and musical instruments). And that's when the cosmic implications of Brian James Priest's and Christopher Iseri's "Stardust to Stardust" deepened.
Not every player on the "Turf" team is Pro-Bowl-ready. Ratio Architect's "Design Matters" feels like a trade show display and is dramatically out of place. Mike Lyons' "A Rapid Variation" seems like a cordoned-off area to a famed artist's space—which would be fine if we had any reason to care about this faux studio. And Lauren Zoll's "Perspectives on Indianapolis" comes across as the beginning of a promising project rather than a complete one.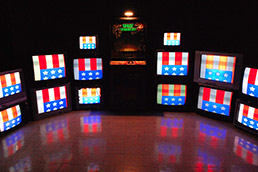 With multiple screens and an old-school video game, Artur Silva's "Culture is a Gun" is one of the few "Turf" pieces to try to make an overt political statement. (IBJ Photo/ Perry Reichanadter)
Still, those less-than-successful pieces help make my point. A committee would have buffed away these edges, but would also have stifled the most interesting work. Even with its flaws, "Turf" is a must-see and a terrific addition to the Super Bowl-ified downtown.
Now let's see what can be done with this landmark building the rest of the year.
Note: If it were a piece of art and not an accident, my favorite piece of art at "Turf" might be the stone eagle's feet perched on the stone ball outside the building. Unfortunately, those feet once belonged to a complete bird, which was broken recently by an errant crane operator.•
__________
This column appears weekly. Send information on upcoming arts and entertainment events to [email protected]
Please enable JavaScript to view this content.