A decision by the Indianapolis Airport Authority might roil ambitious Fishers leaders wanting to make the bedroom community just as prestigious as well-to-do neighbor Carmel, just to the west.
The authority is inviting proposals from those interested in farming 72 excess acres at Indianapolis Metropolitan Airport. The property just northwest of East 96th Street and Lantern Road is in addition to 174 acres that have been farmed previously at the reliever airport.
For years, some in Fishers have wanted to see the entire airport fly away, salivating over its 445 acres for retail or other tax-generating purposes. But now even the excess land is more likely to attract a John Deere than a flashy new development.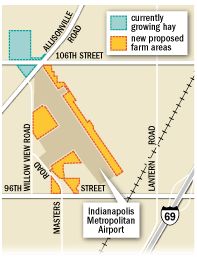 The largest swath of new farm space will be 32 acres parallel to and just northeast of the runway. Another 19 acres will be designated farming along Willow View Road, while a new, 20-acre piece will run all the way down to 96th Street.
The airport is accepting farming proposals through Feb. 14.
Pro-development types in Fishers were crushed a few years ago when proposals to move the airport to Madison County fell apart. More recently, Fishers leaders have turned ambitions to making 116th Street, one of the town's main thoroughfares, into an upscale retail and entertainment hot spot.
The airport authority, meanwhile, has been working hard to generate additional non-airline income. The authority leases out land for farming at most of its airports, including Indianapolis International.
The thrust of the authority's efforts has been to attract logistics development in and around Indianapolis International and at some reliever airports. A land development plan commissioned by the authority calls for eventual retail development on the extreme south end of Metropolitan Airport, along 96th Street.
Please enable JavaScript to view this content.