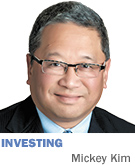 If you're like me, this is when you start organizing year-end statements in preparation for income tax time. While you're at it, it's a good idea to look beyond the figures and ask yourself why you made the investments you did.

Carl Richards is a certified financial planner in Park City, Utah. His recent book, "The Behavior Gap—Simple Ways to Stop Doing Dumb Things with Money," is a quick and terrific read thanks in part to the author's uncanny ability to illustrate important financial and investing concepts with a Sharpie and a cocktail napkin.

Richards coined the term "behavior gap" to label the sizable difference between investor returns and investment returns. This gap represents the cost of common investment mistakes, and Richards aims to provide the tools to shrink it.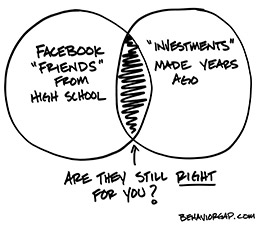 He has given me permission to share one with you.

A friend of Richards recommends the "Overnight Test." Pretend someone comes in one night and sells all your investments. You wake up the next morning with a portfolio with 100 percent cash. Here's the test: Would you rebuild the same portfolio you had before? If not, what changes would you make? And most important, why aren't you making them now?

It's an uncomfortable test. It forces you to think about the reasons you bought each investment in the first place. Maybe 10 years ago, Smart Money highlighted Mutual Fund X as a Top 10 fund. Perhaps the following year Barron's recommended Stock Y as a pick to click. You get the picture.

Before you know it, you have collected a hodgepodge of unrelated investments with no strategy. Each investment just seemed like a good idea at the time.

But each individual component of a portfolio should be there for a reason. Richards says to think of each investment as a thread in a larger tapestry. As an investor, you don't want to waste time and energy in the perpetual pursuit of the "best" investment, be it the next hot fund or stock. Instead, look for the "right" investments, those that will help you meet your long-term financial goals.

Take a long, critical look at each of your current investments. Do they fit your current goals? Or are they like that formerly pretty/interesting high school classmate from long ago?

Be an investor, not a collector. Know what you own and why you own it. As Richards says, the result should be a portfolio that reflects your financial goals, not the collection of magazines on your coffee table.•

__________

Kim is the chief operating officer and chief compliance officer for Kirr Marbach & Co. LLC, an investment adviser based in Columbus, Ind. He can be reached at (812) 376-9444 or mickey@kirrmar.com.