Crash into a guardrail and chances are now higher that your insurer—or you—will get a repair bill from the Indiana Department of Transportation.
INDOT has deployed a new way of tracking damage to state property at crash scenes and quickly collecting money from those responsible. The state aims to boost the percentage of money it collects to fix mangled guardrails, toppled light poles and unraveled median cable barriers, possibly adding as much as $4 million a year to its coffers.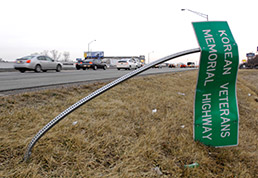 Motorist-mangled highway sign along Interstate 69, near 82nd Street. (IBJ Photo/ Perry Reichanadter)
Not long ago, billing was slow and payments didn't come close to keeping pace. In a 15-month period ended in February 2009, the state billed insurers and motorists $3.5 million, according to Purdue University research. But INDOT recovered only $1.8 million of that amount.

A bridge support struck by a semi can cost more than $600,000 to fix. But even replacing a small section of guardrail can tally $2,500. With an average of 4,000 incidents a year causing damage to state highway infrastructure, even small damage costs add up.



The problem has been that INDOT hasn't always been able to link highway infrastructure damage to a particular accident. Maintenance crews might arrive at some point to assess damage, but they have no idea who was at fault.

Enter INDOT's program—a combination of high-tech gadgetry and primitive paper tagging of damaged property. It could compound the misery for at-fault motorists and their insurers, but could also be a fiscal boon for taxpayers.

In the six months since the program began last July, INDOT has billed just over $2 million for property damage—versus $1.4 million for the entire 2010 fiscal year.

A milder winter and thus fewer weather-related crashes might have skewed the initial results, said Dan Brassard, INDOT's chief financial officer. But Brassard said he's confident additional data will show the program has had a favorable effect on collection amounts.

INDOT's new system includes a kit for police officers that contains tags that can be tied to a damaged fixture. On it the officer writes the accident number and date of the crash. INDOT officials call up the report later to see which motorist was blamed for striking and damaging a guardrail or other state-owned object.

The other core component of the system is more high-tech—a hand-held surveying tool INDOT crews have carried around for years.

Downloaded into these devices is software INDOT recently developed that allows crews to drag down a menu of materials and type in the quantity needed to make repairs, such as a new length of guardrail, posts, brackets and bolts. Upon this assessment, the state can figure out how much to bill the motorist's insurer.



Not only that, but the device can take a photo of the damage site and add an electronic time stamp and geographic coordinates.

The result is that INDOT can now have a bill to insurers within days, rather than months. Long delays gave room for insurers to contend the damage was caused by a subsequent accident, "which, quite frankly, you could argue there was some plausibility" to that argument, Brassard said.

As a result, INDOT in some cases wound up having to accept less to settle a claim.

The new approach sends a message to insurers that INDOT is serious about collecting on damages to its property, Brassard said.

Yet some insurers are balking, despite this additional evidence.

Some argue they should have to pay only the depreciated value of a damaged item, say a guardrail.

But guardrails are made from galvanized steel that lasts decades and thus doesn't really depreciate, Brassard counters.

Other insurers have responded offering settlements worth 70 percent or 80 percent of the bill, hoping the state will be happy to settle for what it can get.

"We began to see a lot of tactics," Brassard added.

Brassard's team also has been passing on overhead charges for the program, including the cost of tagging kits, which cost about $12 a pop.

"We believe that we're serving the taxpayer and there needs to be a full settlement of the charges," he said.

Missy Lundberg, a spokeswoman for State Farm, the largest auto insurer in Indiana, said the company declined to comment on INDOT's new reporting system.

"We evaluate each claim on its own merits," Lundberg said.

The new approach followed a study presented to INDOT early last year by the Joint Transportation Research Program at Purdue University, a long-standing collaboration between Purdue and INDOT to improve the state's highway system.

Darcy Bullock, a Purdue professor of transportation studies who was the principal investigator in the study, estimated INDOT could boost its collections $2 million to $4 million a year.

"What it created for us was a huge, quantifiable awareness of the opportunity" for damage recovery, Brassard said.

Such a tagging system could also be developed with local highway agencies, the study said.

There are about 190,000 documented crashes in the state each year, with 2 percent to 3 percent involving damage to state property.

Other states using tags or decals to mark and correlate motorists and damage include Florida, Minnesota and North Carolina. More recently, Kentucky, Texas and Tennessee have adopted the practice, the study said.

North Carolina implemented tagging statewide in 2004, with a total benefit to date of $8.7 million, according to Purdue's study.

Though such returns are relatively small against a state's overall highway budget, it helps at a time when fuel costs are rising. Despite using 120,000 fewer gallons of fuel between July 2010 and February 2011, INDOT spent an additional $1 million to fill up its considerable truck fleet.•