Serial entrepreneur Jenn Kampmeier is a CEO—that's "chief everything officer" in the get-it-done world of startups—who prefers an even-loftier title: Mom.
Kampmeier, 37, left the corporate rat race five years ago to pursue her own ideas after cashing in on social networking venture IndySingleScene. Since then, she's nurtured three other businesses even as she has raised son Zane.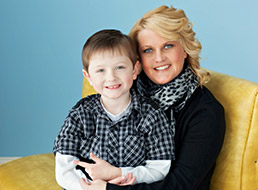 Jenn Kampmeier balances business and family, making her son Zane a priority.(Photo courtesy Jenn Kampmeier)
With her 6-year-old now in school, Kampmeier has two more ideas ready to graduate to reality: online shopping site PurplePail, set to launch this spring, and a brick-and-mortar maternity boutique that could open by fall.
"I'm enjoying where I am right now in life," the Westfield resident said. "I've hit my stride and it feels like all the pieces are just falling into place."
Kampmeier is among a growing group of women who have made the leap into entrepreneurship. In 2007 (the year she quit her day job), nearly 8 million firms in the United States had female owners, up more than 20 percent from 2002, according to the most recent U.S. Census Bureau's Survey of Business Owners, conducted every five years.
The daughter of business owners herself, Kampmeier was drawn by the prospect of calling the shots—and accommodating her own needs as a single mom.
The desire for such flexibility is a common motivator for entrepreneurial women, said Erin Albert, a Butler University assistant professor who owns two Indianapolis businesses and has written a pair of books on entrepreneurs.
"Men and women go about entrepreneurial endeavors very differently, for different reasons," she said. "Women are designing a life, not designing a business."
While that's certainly true for Kampmeier and many of her peers, critics nationally have decried the "pink ghetto" reputation of businesses created by and for women—particularly so-called "mompreneurs" who make family a priority.
Indeed, lifestyle startups often are seen as "business light" by the tech-oriented venture capital community, Northeastern University's Jamie Ladge told Forbes last year. Such biases are one reason female entrepreneurs like Kampmeier opt to finance their startups with their own money, Butler's Albert said.
"It's a more controlled risk," said Albert, who interviewed dozens of subjects for her book "Single. Women. Entrepreneurs." "Women want to organically grow their business on their own terms, without debt."
Kampmeier agrees. Her ventures all have been self-funded, though she has brought in partners to collaborate on recent projects. It helps that she has been able to sell two businesses for a profit: social networking site IndySingleScene in 2007 and trade show organizer Bebe Paluzza Productions in 2010.
Although terms of the deals remain confidential, Kampmeier said she doesn't regret giving up a six-figure salary to bet on herself—and her brainstorms.
Kampmeier fleshes out her ideas by writing business plans, though she admits some never make it past the back of a napkin.

"I have a million ideas," she said. "Not all of them pan out, but if it doesn't work, it's my money."
And her life. So far, Kampmeier's businesses have provided a window into her personal interests. IndySingleScene was born when she was actively looking for love. Bebe Paluzza started as a local trade show for new and expectant parents shortly after Zane was born. LadiesEveningOut came about after Kampmeier lost touch with her friends while putting in long days on her other enterprises.
Launched last year and now up for sale, LEO organizes social events for women in central Indiana. Outings run the gamut from spa days to shopping excursions to wine-and-chocolate tastings—anything that gives busy women an excuse to get together.
Kampmeier is evaluating an initial round of bids from potential buyers, but she's looking for someone who can expand the concept to other cities. It's what she has planned all along for LadiesEveningOut.
"Where I excel is getting the framework in place, getting the foundation laid, and then turning it over to someone else," Kampmeier said. "I'm a starter, an idea person."
Many solo entrepreneurs share that preference, said Kathryn Rietmann, executive director of the Central Indiana Women's Business Center.
"It's all about building [a company], then they want a new challenge," she said.
The Indianapolis-based center, which provides business counseling and offers a micro-loan program, has seen more women—especially mothers—seek help in recent years as they look for ways to achieve work-life balance, Rietmann said.
"They're tying their family structure into and around their business," she said.
Kampmeier's son has taken in more than a few meetings with his mom, for example, and she makes the time to drop him off and pick him up from The Orchard School every day.
"Zane and I have a routine again," she said.
Even so, Kampmeier isn't letting up. In September, she and partner Colleen Page launched EventzPlus, a meeting venue/planning service adjacent to Page's La Dolce Salon on Range Line Road in Carmel. A grand opening is planned for next month.
Then there's PurplePail, the online marketplace Kampmeier has been working on since 2009, during her Bebe Paluzza days. Many of the vendors who attended the family-oriented trade shows didn't have e-commerce sites of their own, limiting their potential. Given that most shows produced more than $1.5 million in sales over just two days, she saw an opportunity to help them help themselves. PurplePail will allow vendors to market their products online in exchange for a percentage of sales.
The maternity boutique also has been in the works for some time because of "that damn recession," as Kampmeier puts it. She intends for the shop, planned for an 86th Street strip mall, to sell everyday clothing and rent special-occasion outfits. Kampmeier also wants to offer four-dimensional ultrasounds and a party room for baby showers.
LadiesEveningOut, which plans social events for busy women, is for sale. (Photo courtesy Jenn Kampmeier)
Among her secret weapons: enough self-awareness to know when to ask for help. Graphic design, for example, is better off in a professional's hands. Pride is more expensive than a service contract.
Although she's proud of her juggling skills, Kampmeier figures running three businesses is her limit. So she'll wait a while before pursuing her next idea, a brainstorm she had while considering the legacy her parents would leave behind.
Her businesses undoubtedly have personal connections—something she said reflects her entrepreneurial enthusiasm. As the saying goes, love what you do and you'll never work a day in your life.
"You need to have passion for what you're doing," Kampmeier said. "At the end of the day, money is never the point."
Butler's Albert agrees.
"Women don't start businesses to be empire builders," she said, but that doesn't make them any less serious about their enterprises. "Being an entrepreneur is hard enough. Why are we judging each other?"
Kampmeier isn't concerned about critics of the family-first approach she and others have embraced. She bills herself as a "mompreneur" with pride, saying it helps her connect with some customers and describes her perfectly.
"It's who I am: a mom and entrepreneur," she said. In that order.•
Please enable JavaScript to view this content.