Accommodating flying objects at Indianapolis International Airport is costly enough. But the latest such expense isn't for the usual, aluminum-winged variety.
The Indianapolis Airport Authority board this month approved a $504,872, two-year contract with Indiana State University to study the federally endangered Myotis sodalis.
That would be the Indiana bat.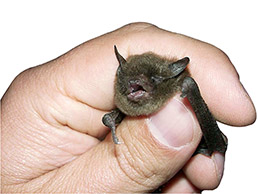 Millions of dollars have been spent to study the Indiana bat, a voracious consumer of bugs that prefers quiet areas close to forests and away from noisy airports. (Photo courtesy U.S. Fish and Wildlife Service)
Not just this little critter but eight other species, including the evening bat and his not-so-sociable cousin, the hoary bat.
The latest contract brings to $2.5 million what the airport has paid ISU since 2004 to track and observe the minuscule mammals. That's equivalent roughly to the revenue generated in one year by the authority's four reliever airports and downtown heliport.
This is on top of millions of dollars spent to study and accommodate bats before 2004. Starting in the early 1990s, when construction began on the United Airlines maintenance base, experts discovered more about bats roosting at the airport than previously known.
Among the expenses was at least $1.3 million to buy new roosting land for bats over the years, mostly southwest of the airport.
Some might deem this fiscally batty behavior. Indeed, not a few eyes rolled in the 1990s when the IAA authorized the placement of 3,000 glorified bird houses for bats after the trees in which they lived were felled for airport development.
But the IAA has no choice. The federal Endangered Species Act, enforced by the U.S. Fish and Wildlife Service, makes compliance a must for the airport. It must monitor and report its findings annually until 2017.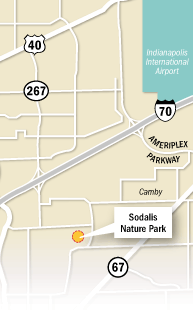 ISU has been surveying the airport's bat population in one form or another since 1997. It strings nets to assess the bat population and sometimes affixes electronic tags to monitor their flight patterns.
The ISU team usually includes up to seven students in the field.
The airport said the contract with ISU represents a "significant cost reduction" over private contractors used previously.
"They have an especially long history out here. They're kind of the Indiana bat experts. … We think it's as least cost as possible," said Tim Method, head of the airport's environmental operations.
Bat paradise
Whatever one thinks of federal regulations for such things, the research at the airport has generated a treasure trove of information on bats and how to best accommodate them.
"It's the longest-running study and the biggest study we've ever had on the Indiana bat," said John Whitaker, a semi-retired professor of biology at Indiana State.
Whitaker, who has published more than 400 scholarly papers involving mammals since 1957, said the research has provided valuable lessons on what and what not to do in helping bats overcome human disruption to their habitats.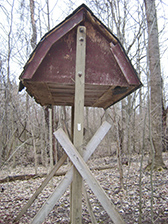 Researchers found bats prefer to be in trees rather than in these houses. (IBJ Photo/Chris O'Malley)
For example, it's become clear some of those roosting structures placed previously on airport land were not a good substitute for the tree bark that bats prefer to use as shelter. Some of the boxes leaked water or had other characteristics the creatures snubbed.
"The boxes were not our idea," Whitaker was careful to point out.
He said relying on boxes alone does not provide a viable conservation strategy.
The airport authority appeared to take note of such findings. In recent years, it acquired hundreds of acres of land, not only that were affected by aircraft noise but also for bat conservation areas.
That includes 210 acres south of Plainfield that last May, through a partnership with Hendricks County Parks & Recreation, opened as the Sodalis Nature Park.
South Dakota may have the badlands, but this airport-owned park has its "bat lands" consisting of densely wooded areas surrounding the east fork of White Lick Creek.
Creek banks are lined with trees such as hickory, oaks and black walnut. Bats often pick the ones with shaggy bark or those with voids in the trunk where they can roost. They dive bomb the creek for insects. A single brown bat with a body barely the size of an adult's thumb can eat up to 8 grams of insects a night, or the equivalent of about two grapes. Thus the creatures benefit the agriculture industry in the United States by as much as $53 billion a year, according to researchers at the U.S. Geological Survey.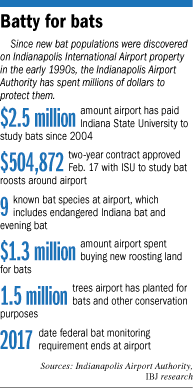 On one recent day at Sodalis, the sounds of nature competed with the roar of jet aircraft overhead and the occasional sound of a chain saw in the distance—two reminders of the threat to the bat.
Whitaker and other ISU researchers have found a diverse population of bats at Sodalis. They've studied movements between bat colonies and their foraging behavior, not to mention eating habits, reproduction and which parasites plague a particular species.
There also have been some long-term observations that showed the bat boxes used initially weren't particularly effective. Few were used by bats on a regular basis, and even then it took about a decade for bats to warm to them.
Evolving understanding
Walk along the Sodalis trails and you'll find plenty of evidence of the various manmade roosting options that have been provided over the years. There's no sign of bats here this time of year. But with acres of shaggy-barked trees along the stream, it's not surprising the manmade structures go mostly vacant all year.
Trees in the sun generate enough heat for young bats to develop.
So the best conservation habitats are large tracts of land with wooded and open areas, Whitaker said, noting that bats forage mostly in open areas and along the edge of woods.
Preserving large, dead trees is also important because bats like those, too.
"These are complex systems that took thousands, or tens of thousands, of years to develop. You can't just waltz in there and expect to re-create it in a couple of years," said Tim Maloney, senior policy director for Hoosier Environmental Council.
"Protecting what we have now should still be a high priority. … Mitigation is still kind of an after-the-fact effort."
One reason bat studies have continued is the ongoing development of the airport, including the widening of Interstate 70 and construction of the entrance to the midfield terminal.
Not only have some wooded areas been taken, but widening the highway corridor makes bats less inclined to fly over it, Whitaker said.
One other value of the bat conservation area is that it serves as a way to advance public education about the creatures, said IAA's Method.•
Please enable JavaScript to view this content.