Indianapolis-based MainGate Inc. is in hot pursuit of the NFL's exclusive Super Bowl on-site merchandise contract. And it might not be the only local company pursuing the multimillion-dollar deal.
NFL officials in April are expected to put out a request for proposals to handle merchandising at the host-city stadium, NFL Experience and host-city hotels.
"We're certainly interested and have been for some time," said MainGate CEO Dave Moroknek. "That would be a big account, definitely one of our top five."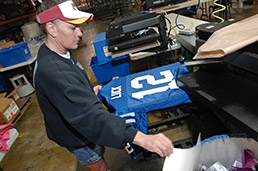 MainGate's custom-order work includes an Indianapolis Colts jersey bearing quarterback Andrew Luck's No. 12. MainGate is pursuing a lucrative Super Bowl contract. (IBJ Photo/ Perry Reichanadter)
Competition is expected to be stiff. Moroknek said he expects three other merchandising heavyweights to jump in the ring with his firm after the RFP is released.
California-based Facility Merchandising Inc., which has handled the deal since 1989, is expected to be among the contenders. FMI did not return phone calls seeking comment.
Despite FMI's previous dominance, MainGate got its foot in the door this year, snagging the hotel portion of the deal. Now, NFL officials might be looking to consolidate the contract, and MainGate—along with FMI—appears to be a front-runner.
"MainGate's status within the NFL is growing, no question," said Pete Ward, Indianapolis Colts senior vice president. "Their reputation is a good one."
MainGate took over merchandising operations for the Colts stadium and Circle Centre mall store locations, as well as online, in 2008. In recent years, MainGate has also signed deals with the St. Louis Rams, Kansas City Chiefs, Detroit Lions, Minnesota Vikings, Washington Redskins and Tennessee Titans. MainGate, which was founded in 1963 in the motorsports realm, also has handled merchandising for two NFL season kick-off events and a league-sponsored 5K run and walk.
Though NFL officials declined to comment on the deal, Frank Supovitz, the league's Super Bowl point person, said he was pleased by the way MainGate performed at this year's Super Bowl.
"They executed everything we asked them to," Supovitz said. "Their operations ran very smoothly."
In addition to operating Super Bowl merchandise kiosks at 11 downtown hotels and two area malls, MainGate also ran the high-end NFL store inside the NFL House at Union Station. That store sold everything from silver and gold watches to Tiffany crystal vases.
"MainGate is very aggressive and creative in marketing and getting product out there," Ward said. "A lot of folks within the NFL have noticed that."
But MainGate isn't the only local firm noticed by NFL brass, sources said.
Indianapolis-based Lids Sports Group—and its Lids Clubhouse division—also have caught the eye of insiders.
Lids dipped its toe in the Super Bowl waters at last year's game in Dallas. Lids officials decided to up the ante this year, agreeing early on to donate apparel for Host Committee volunteers and to lease the vacant Circle Centre Nordstrom space before other tenants were sold on the concept.
The chain transformed 23,000 square feet of the former department store into a wonderland of Super Bowl apparel, hats and souvenirs. About 150 Lids associates from across the country staffed the store, with support from 250 volunteers with ties to the chain's corporate offices.
Now Lids appears poised to consider competing for the Super Bowl contract.
"This makes a lot of sense. They had a real nice presence at this year's Super Bowl," said Bob McGee, editor of Sporting Goods Intelligence, a Pennsylvania-based trade publication. "They're making a real investment in the league and team-licensed sector and it's starting to pay off."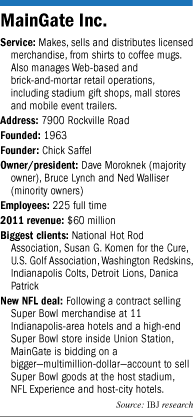 Lids—once known as Hat World—and MainGate have bumped into each other before.
Last year, MainGate held the merchandise contract for the IndyCar Series. This year, the open-wheel racing series awarded Lids a multiyear deal to manage online and track-side merchandising efforts for the IndyCar Series and Firestone Indy Lights.
Sources close to the NFL said the one thing that might hurt Lids is that it's a relative newcomer. Officials for Lids did not return calls seeking comment.
There's a good reason this deal should bring out some tough competition, McGee said.
"The NFL and the Super Bowl are by far the hottest U.S. sports properties there are and show no signs of slowing growth," McGee said. "Even though it's just one event, it's a huge piece of business."
Industry sources estimate that $15 million to $20 million of Super Bowl merchandise is sold during the week.
Sources with knowledge of Super Bowl merchandising said close to 50 percent of on-site sales comes from the NFL Experience store, 30 percent comes from the host city stadium store, and 20 percent from the kiosks at area hotels.
Moroknek, whose company scored $60 million in revenue last year, said profits to the firm that wins the bid will be seven figures annually.
There's another reason interest in this deal is high. Sources close to the NFL said league officials have concerns about FMI's financial stability. The firm has a big deal with the L.A. Dodgers and, due to the team's ownership problems and faltering attendance, has lost millions on the deal.
Amid its troubles, several of FMI's suppliers placed a credit hold on the firm last year. FMI unsuccessfully sued the Dodgers to get out of the deal. In court documents, FMI stated that a "business-threatening event" could soon face the company.
But, sources said, strong merchandise sales by FMI at this year's Super Bowl might have allayed some of those fears.
With the NFL's switch from Reebok to Nike merchandise for the upcoming season, McGee said the league is amping up its merchandising expectations. He said league officials want more on-site interactivity and customization options.
"I expect them to scrutinize these bids very closely," McGee said. "The Super Bowl provides one of the most affluent captive audiences there is, and the winner is going to have to prove to the NFL it can maximize the league's return."•
Please enable JavaScript to view this content.