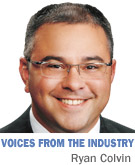 Worker's Compensation rates are on the rise and this time they will inspire a connection between safety and wellness programs.
Leading companies, through innovation or out of necessity, are integrating a culture of health into their organizations, not only to affect health insurance rates but also to mitigate their Worker's Compensation costs.
It is the strategy organizations are deploying to control long-term costs and support a healthy work force. Managing these two programs as one strategic initiative is critical. And a significant side effect is healthier, higher-performing employees who pay lower medical costs, are more productive, have fewer absences due to health issues, and have fewer and less severe Worker's Compensation claims.
Worker's Compensation claims are all about human capital: employees. Unhealthy, unproductive, unengaged employees are among a company's largest strategic risk. Numerous studies, rising health insurance rates, and employee turnover have pointed to this for years.
Now your Worker's Compensation insurer is starting to pay attention. Those companies are coming to the realization that safety programs aren't enough.
Yes, they are necessary and beneficial, but they don't address the health and wellness of each employee. Insurers recognize the changing demographic of today's employees: retiring at an older age and more likely to be overweight, which leads to co-morbid health issues like hypertension, diabetes and high cholesterol.
Let's take a look at a real scenario that, at the outset, looks quite simple. Mary is in the supply room getting a box of paper. It falls on and injures her foot. Her employer sends an incident report to the company's Worker's Compensation carrier. A few days later, Mary's foot is still bothering her with an ulcer forming at the impact site. Mary gets medical treatment, but the ulcer won't heal.
Fast forward a few months to the possibility of Mary's losing her foot—a complication of untreated diabetes.
Of course, this is an extreme example. But it takes only a few to create a trend and it's a trend insurers are waking up to.
In and of themselves, rising rates will be noticeable. The property and casualty marketplace is cyclical, and rates generally fluctuate when there is a fundamental change in supply. Supply for the property and casualty industry is the surplus insurers amass and invest. Before the financial crisis of 2008, surplus was growing and investment yields provided a margin when risks were underwritten at a loss.
As the recession coincided with a soft rate market, insurers competed for market share and were quite willing to compete on price, an uncommon occurrence by most standards. Insurance buyers were ushered into an era of incredibly favorable premiums—with some receiving jaw-dropping low rates. Those jaw-dropping premiums are a thing of the past.
The most immediate causes for the increase are a rise in claim frequency, medical care inflation, and deteriorating underwriting results for Worker's Compensation insurers. The financial crisis of 2008 caused insurers to write down their investment portfolios and reallocate seeking higher returns, but due to a prevalence of low-yielding investments, attractive returns were not possible.
Additionally, credit quality impaired insurers' massive holding of corporate bonds. Add in the impact of Europe's sovereign debt crisis and the drain on surplus caused by one of the worst catastrophic loss years on record in 2011, and insurers are seeking rate refuge.
With an aging and generally unhealthy population of Americans, combined with the hardening insurance market, a domino effect for Worker's Compensation rates is inevitable. When you add it all up, you've got the makings of a perfect storm.•
__________
Colvin is managing principal in the Indianapolis Office of South Bend-based Gibson Insurance Agency Inc. Views expressed here are the writer's.
Please enable JavaScript to view this content.