MASS TRANSIT
This was supposed to be the year when voters in Marion and Hamilton counties would have the chance to vote on a referendum for or against a regional mass transit system.
Despite years of intensive public and politician outreach, a transit bill died in the House Ways and Means Committee in late January by an 11-10 vote.
Ostensibly, the reason was insistence from bill sponsor and committee chairman Jeff Espich, R-Uniondale, that transportation workers of such a system couldn't be forced to join a union.
However, during an election year, "there was general concern about whether they would be viewed as having raised taxes," figures Ron Gifford, executive director of the Central Indiana Transit Task Force.
Whatever the case, the task force now plans to redouble its efforts.
"We're actively planning those activities we think we need to do in the next nine months and into the next session," he said.
Those include one-on-one meetings with legislators and fact-finding trips to cities with successful transit systems—perhaps Charlotte, N.C.; Minneapolis and Salt Lake City.
Gifford wants to educate legislators on exactly what worked and didn't work in those cities as far as expanded bus service and rail transit. The first such system for Marion and Hamilton counties is estimated to cost $1.3 billion.
If the Legislature OKs a referendum vote in the next session, the task force still has to convince the voters it's worth an extra $12 or $13 a month in taxes.
Opponents question whether the region has the population density or transit-oriented mentality needed to support a bigger mass transit system.
Some also remain concerned about rising government debt and its tax implications. They fear a transit system would expand and become a burden on taxpayers in decades to come.
The initial central Indiana system would consist of bus-rapid transit in four corridors in both counties. The most expensive element would be a 22-mile rail line between Union Station and Noblesville atop the Nickel Plate rail corridor.•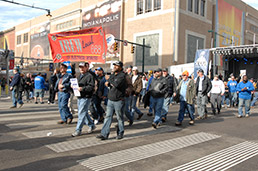 The Republican-backed right-to-work legislation angered union members, who staged protests downtown. Gov. Mitch Daniels signed the bill before the Super Bowl recess. (IBJ file photo)
RIGHT TO WORK
From Jan. 4 through Feb. 1, work at the Indiana Statehouse was dominated by chanting union protesters, boycotts by House Democrats and fines from House Republicans, all fighting over whether Indiana would become the first state in the Rust Belt to ban unions from collecting mandatory fees for union representation.
Right-to-work supporters claimed victory with a signature from Gov. Mitch Daniels one day before breaking for the Super Bowl.
Advocates of the legislation say it helps create a pro-business climate that attracts employers and increases jobs. Opponents say right-to-work laws lead to lower wages and poorer quality jobs.
SMOKING BAN
After weeks of wrangling over what exemptions to include in a final bill, lawmakers at the end of the session passed a statewide smoking ban.
The measure exempts Indiana's bars, casinos and private clubs, such as veterans and fraternal organizations.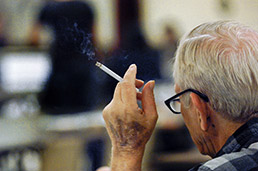 A statewide smoking ban won approval at the end of the session, but many public health advocates complained it had too many exemptions. (IBJ file photo)
Lawmakers seeking a tougher ban swallowed hard on the compromise, saying it was better to approve some type of ban now and return to it for more extensive restrictions later.
Public health advocates argued the measure was too weak after bars were cut out of the ban.
STATE FAIR STAGE COLLAPSE
Indiana lawmakers approved new temporary regulations for o`utdoor stages in hopes of preventing another tragedy like the collapse that killed seven people last summer at the state fair.
The measure will give the state's Fire Prevention and Building Safety Commission the power to inspect and approve stages and other temporary structures. It also will allow local officials to develop their own inspection routine if it is approved by the state.
The plan will sunset in 2014 unless lawmakers make it permanent. In the meantime, officials plan to review a pair of independent investigations into the stage collapse.
Legislators also approved another $6 million to stage collapse victims. The state already has distributed its $5 million liability cap to the families of the seven people killed and those hurt in the collapse.
REDEVELOPMENT COMMISSIONS
Sen. Luke Kenley's effort to rein in spending by redevelopment commissions died in a House committee.
Kenley, R-Noblesville, has been alarmed by the amount of debt the appointed commissions can issue without approval from a city council. He filed a bill that would have required council approval for any bond issue over $5 million.
Kenley has said some commissions are operating as "shadow governments," and that they appear to be taking their cues from the Carmel Redevelopment Commission, which has nearly $240 million in debt outstanding after building a $175 million performing arts complex.
GOVERNMENT REFORM
Firefighters and police officers will no longer be able to vote on their own pay, under a local-government reform law passed by the Legislature.
The General Assembly quietly passed a set of laws to end such conflicts of interest, as well as nepotism, after Gov. Mitch Daniels backed off his quest to eliminate township government.
Local government employees will be considered resigned after being elected to an entity that employs them. The law allows those who are in office on Jan. 1, 2013, to complete their terms.
The new nepotism law bans government employees from being in a relative's direct line of supervision. Those whose relatives are later elected to an office that supervises their unit can keep their jobs, but they cannot be promoted if it would result in nepotism.
STATE PENSIONS
A bill that would have replaced pensions with defined-benefit plans for government employees failed to get a hearing.
The bill's sponsor, Sen. Brent Waltz, R-Greenwood, said the Legislature simply ran out of time after Democrats' walkout and subsequent debate on right-to-work legislation.
Indiana lawmakers studied potential changes to the $22.2 billion Indiana Public Retirement System last year. Waltz's bill would not have changed anything for existing employees, but newcomers would be offered plans similar to a 401(k).
Defined-contribution plans differ from pensions in that there's no guaranteed payout. Rather, the benefits depend on how much is paid in and how well those investments perform before the employee retires.
21ST CENTURY FUND
A bill that would have required recipients of money from the state's 21st Century Research and Technology Fund to line up matching capital from other sources failed to get a hearing.
The legislation proposed by Sen. Brent Waltz aimed to lift the potential upside for the 13-year-old state fund, which supports high-tech entrepreneurs.
Waltz was disappointed that the $287 million sale of Marcadia Biotech, a recipient of 21st Century funding, in late 2010 yielded only a $600,000 profit for the state.
INHERITANCE TAX
Lawmakers agreed to decrease the state's inheritance tax in stages beginning next year until it is eliminated after 2021.
The plan also more than doubles the current inheritance tax exemption for children and grandchildren to $250,000 starting this year. The tax now brings in about $160 million a year to the state.
"If you have a constituent whose family has passed, or passed recently, they actually will start benefiting right away," said Rep. Eric Turner, R-Cicero, who wrote the original proposal.
HISTORIC PRESERVATION
Changes to the state's historic preservation tax credit program sought by the not-for-profit Indiana Landmarks failed to pass the General Assembly.
The bill's sponsor in the House killed it after the Senate version stripped out additional funding and blocked state officials from allocating funds from future years to current projects.
The changes would have made the program, which is capped at $450,000 annually, essentially useless for at least a decade.
TELECOM REGULATION
Privately owned broadband providers won a victory to restrict the expansion of the state's I-Light Network, which provides high-speed data connections to Indiana's state colleges and universities and private postsecondary institutions.
Some telecommunications companies were under the impression that I-Light would be expanded to hospitals and other institutions. Indiana University, which operates the network, denied such ambitions.
The bill was amended at the last-minute to gain votes—allowing continued, temporary connection to non-educational organizations to the extent it supports research activities conducted by colleges and universities. Once the research project is completed, the connection is severed.
"We will keep a vigilant eye on the network. … We're still concerned with any government-owned network that encroaches on our business," said John Koppin, president of the Indiana Telecommunications Association.
ENVIRONMENTAL REGULATION
A bill died that opponents argued would have been the equivalent of dropping a nuclear bomb on the state's recycling and household waste collection programs.
The measure would have required solid waste management districts to obtain county council approval to OK user fees the districts assess to fund their operations. Property tax levies now amount to about 40 percent of funding sources for the state's 34 solid waste management districts.
Bill sponsor Beverly Gard, R-Greenfield, said there's been little transparency by these districts since they were created 22 years ago. Sen. Luke Kenley, R-Noblesville, said the bill would ensure districts would have to sell the programs on a taxpayer-efficiency basis.
The Indiana Solid Waste Management District said the bill would have put into the hands of county officials detached from the process the two key funding mechanisms for the programs.
Two other measures fought by environmental groups are set to become law. One consolidates the state's water, air and solid waste boards into a single entity, known as the environmental rules board. The Hoosier Environmental Council said consolidation is sure to dilute the expertise in each category.
The other requires that the state Office of Management and Budget prepare a cost-benefit analysis of each environmental rule three years after it is adopted.
HEC said such a review will provide a grossly distorted picture because benefits of rules accrue over a longer period of time. It's in the first three years when companies spend a disproportionate amount of money to comply.
RETAILER REGULATION
The General Assembly approved a measure toughening state laws that prohibit businesses from selling synthetic stimulants nicknamed "bath salts" or other drugs that mimic marijuana.
Under the legislation, retailers could lose their business licenses for a year if they're caught selling the drugs. The license provision would apply in cases in which someone was convicted of selling the drugs as part of the retail outlet's normal business.
The bill adds several chemical compounds to a law that legislators passed last year banning marijuana-like drugs known as spice or K2. It also allows the state pharmacy board to declare a substance is a synthetic drug.•
Please enable JavaScript to view this content.