Construction on a $45 million downtown Indianapolis mixed-use project that's been in the works since 2009 could finally start next month after a city official signed off on its design Thursday morning.

Plans call for the vacant, two-story former Bank One Operations Center at the northwest corner of Washington and East streets to be converted into a five-story apartment building with office or retail space on the first floor.

Locally based Milhaus Development is leading the project that is set for final consideration by the Metropolitan Development Commission on May 2. The design needed approval from the commission's regional center hearing examiner, David DiMarzio, because the site is within the Regional Center overlay district and needs to comply with Regional Center Urban Design guidelines.

David Leazenby, a principal of Milhaus, said demolition of the existing structure's exterior is set to begin following the expected approval from the MDC.

"It's pretty exciting for us," he said. "A lot of work, a lot of planning, a lot of design went into this to get it to a product that makes sense to build today."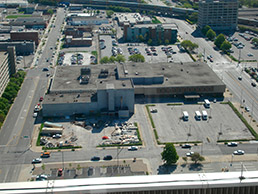 The two-story former Bank One Operations Center at the northwest corner of Washington and East streets is currently vacant.
The 256 apartment units to be built in a $28 million first phase would feature amenities including stainless steel appliances, granite countertops and solid-surface flooring, with rents ranging from $900 to $1,600 per month. Second-floor units in the old Ops Center structure would have 14-foot ceilings, exposed concrete columns and concrete floors.

Plans also call for a pool on the second level, and a community "sky deck" that would feature an outdoor kitchen, movie screen, putting green and vegetable garden.

Construction on a second phase of the project, which would add additional apartments, would start after the first units are delivered in spring 2013. In total, the developments would cost about $45 million.

The Ops Center project has dragged on since late 2009 as the developer, city and property owners tried to sort out financing, timing and valuation. A lawsuit also added to the delay.

The complicated deal—approved by the Metropolitan Development Commission in October 2009—called for the city to pay up to $18.5 million (the eventual purchase price came in lower, at $14 million) to an affiliate of Columbus, Ohio-based Smoot Construction for both the Ops Center and an adjacent 1,600-space parking garage. The pact called for the city to keep the garage but turn over the Ops Center to Milhaus.

In exchange for free-and-clear control of the rundown office building, a 10-year tax abatement and a subsidized deal for 600 parking spaces in the garage, Milhaus would develop the project. The city would pay for its purchase of the property from garage revenue.

Milhaus is partnering with locally based Gene B. Glick Co. Glick will manage the apartment community.