Indiana's only cash award for excellence in the not-for-profit sector will sit out this year, as organizers search for a new host.
The Indiana Achievement Awards is going on what organizers called a "sabbatical," though its return isn't guaranteed. The change is the result of a loss in grant funding for all not-for-profit programs at the IUPUI Solution Center, which organized the awards.

Dodson
James Dodson, who started the awards and was the driving force behind the program for 10 years before handing it off to IUPUI, is part of a steering committee that's trying to find a new home.
"There was a remarkable group of nonprofit and business leaders who even to this day are passionate about the awards and hope that they continue, as do I," he said.
Foundations that supported the award program indirectly want to give more of their money directly to charities, which are still struggling, despite signs of a broader economic recovery, Solution Center Director Teresa Bennett said.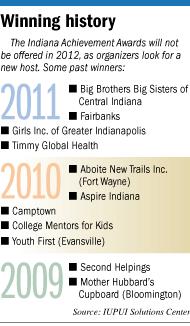 The center, which is funded by the university and Lilly Endowment, exists to connect Indianapolis businesses with academic talent at IUPUI. The Solution Center's entire program around building capacity in not-for-profits ended in February 2011, eliminating a dedicated staff member along with it, Bennett said.
That compounded the difficulty of hosting the awards, which struggled to find sponsors for the past two years, she said. The IAA used to be six $10,000 prizes, but last year gave less than half the total—four $5,000 prizes and two $1,000 prizes.
The Solution Center's other not-for-profit initiatives included a database of vendors and consultants and an annual conference. Those programs are also discontinued, since the Nina Mason Pulliam Charitable Trust, Central Indiana Community Foundation and The Clowes Fund decided not to renew their support, Bennett said.
Ironically, the Solution Center had rescued the Indiana Achievement Awards from more dire circumstances in early 2010.
Dodson struggled to keep the awards going after learning in 2009 that the chief financial officer of his company, The Dodson Group, embezzled more than $400,000.
The Sycamore Foundation, which Dodson started as a vehicle for giving away 10 percent of his company's profits, had provided one of the $10,000 prizes, and a Dodson Group employee donated time to field applications and organize a double-blind selection process.
Unlike most states, Indiana does not have a trade association of not-for-profits, which would be a logical successor for the awards, said Dwight Burlingame, director of academic programs at the Indiana University Center on Philanthropy.
"While an association like this has been discussed for years, perhaps this might be the catalyst needed to gain grass-roots support for this type of structure," Burlingame said.
The award-host steering committee isn't pushing to launch a trade group, Bennett said.
The Dodson Group, based in Indianapolis, sells office supplies, communications and procurement software. Dodson said it's recovered from the theft, and sales are rebounding along with the economy.
Dodson got his start in business by organizing bulk purchases for fraternities and sororities at Purdue University, so his charitable efforts have focused on making not-for-profits more efficient and effective.
The Sycamore Foundation is still active, organizing an annual event called Walking for Dreams, which raises money for multiple charities. The foundation raised about $74,000 last year and gave away more than $59,000.
The Indiana Achievement Awards reminded charity executives to step back and look at the big picture of their operations, said Patricia Wachtel, CEO of Girls Inc. of Greater Indianapolis.
Girls Inc. won in 2011 and in 2008 for successfully switching its model from serving about 600 girls at two fixed locations to reaching about 2,600 girls through partner organizations across Marion and Hendricks counties.
(Girls Inc. uses trained volunteers to teach girls about healthy relationships, college and career planning and self-esteem.)
"It is a lovely validation of our work," Wachtel said. Girls Inc., like most other winners, poured its prize money back into operations.•
Please enable JavaScript to view this content.