Carmel Community Players plans to launch a fundraising campaign next month with the goal of securing $250,000 for the buildout of a planned new community theater on North Meridian Street.
Founded in 1993, the CCP spent its first 16 years performing in various venues across Carmel: restaurants, churches and schools. The group had stints at the former Studio 15 in the Carmel Arts & Design District, in Clay Terrace shopping center and has most recently taken up residence at The Cat theater at 254 1st Ave. SW in Carmel.
Lori Raffel, the not-for-profit's board president, plans to start the capital campaign Oct. 1 to pay for the buildout of a roughly 4,200-square-foot space in a retail center at 13750 N. Meridian St. CCP hopes to make the space its new home by March or April of 2022.
"When you want to do theater, you do it wherever you can," Raffel said. "But we decided, if we don't get a space now, when is the best time?"
More than a decade ago, CCP was in dire financial straits. The city had not only evicted the group from the city-owned Studio 15 theater, but it chose to direct a $70,000 grant to the new Carmel Repertory Theater instead of CCP.
Raffel said CCP is in a strong enough financial position now to consider its own space because the city has granted the organization $15,000 each year for the past three years. Carmel-based Pedcor has been providing it with free warehousing, and performance expenses dropped drastically during the pandemic.
While a typical performance season might have as many as six shows, Raffel said the Carmel Community Players' previous and upcoming season were each planned with just three. The shows are also smaller in format, with many being put on without a set in the "black box" style.
"We have a lot of high hopes for this, but the capital campaign is our biggest issue right now," Raffel said. "We've never been good at that, since the beginning. We're more theater people, we're not schmoozers, really."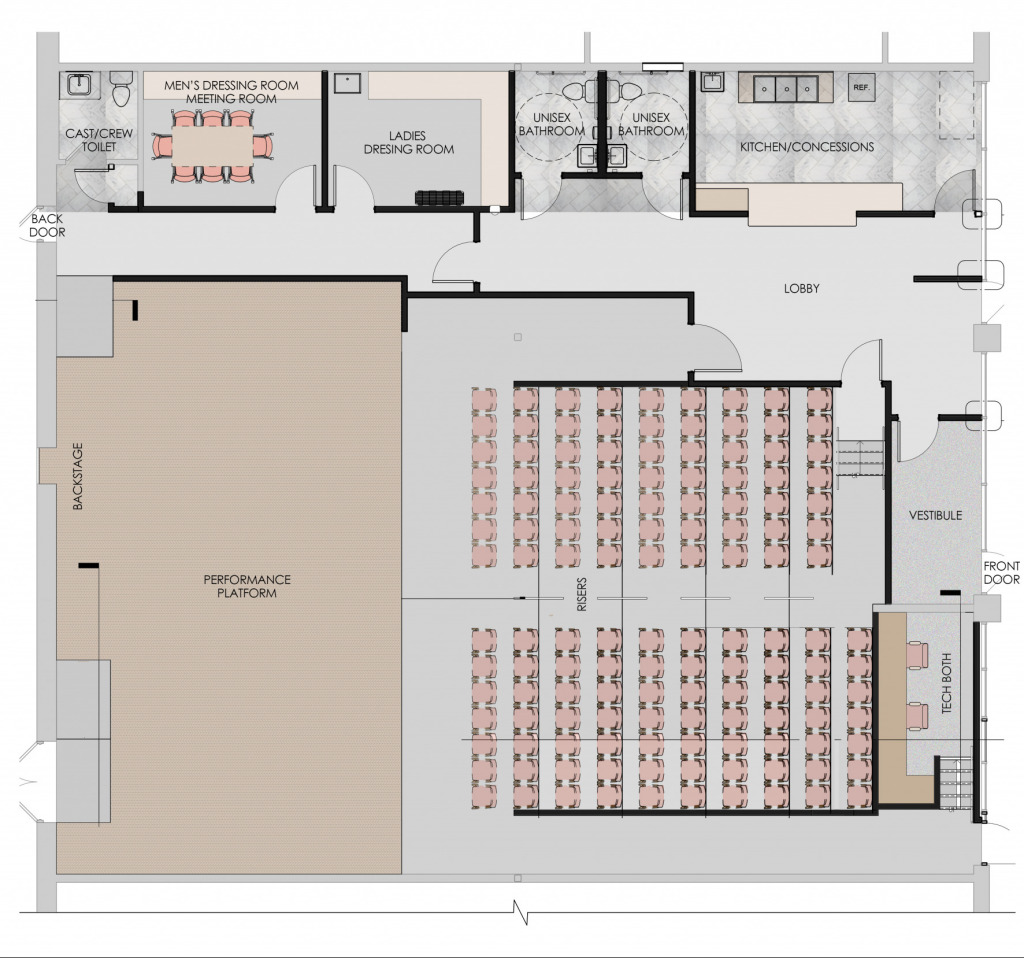 Right now, Raffel said performers are rehearsing in a non-climate-controlled warehouse. They're building sets off site and putting the pieces together in a rush between other theater groups' performances. They've not been able to extend soldout shows because the next weekend is usually booked.
The plan is to create a stage similar in size to The Cat's, with 120 stadium-style seats that allow audiences to look down on the performance. Early designs also include a kitchen for concessions, dressing rooms and a tech booth.
"We're not looking for a Palladium, but we want something that's comfortable for our members. It would be wonderful to have a place to call our own again," Raffel said. "We believe in what we're doing, and it seems we've been lucky to have people come along and support us."
Please enable JavaScript to view this content.