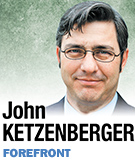 I'm sure I sounded cynical to the Zionsville High School senior just a few weeks from voting in his first election, but he asked an honest question about politics that deserved an honest answer.
"It's taken me a long time to come to realize this," I said, "but the whole point of negative campaign advertising is to turn you away from the election. You're an unknown and the political pros don't like unknowns."
I'm an optimist, really, but this campaign cycle would try the patience of a saint. The campaigns are so self-aware of their loathsome advertising that one of the negative ads actually featured tossed mud.
By contrast, the young man, who was about to vote in his first election, showed great maturity by confessing he didn't feel prepared to make well-informed choices once he entered the voting booth.
The television ads certainly didn't enlighten him. The newspaper coverage didn't spend much space on the issues in the U.S. Senate race, much less the local primaries or school board elections. The bloviating blogosphere's no help and, as a topper, the pressures of finals before graduation meant even this motivated first-time voter didn't have much time to consider his choices.
All of this means the political pros, those advisers who lead nomadic lives drifting from one campaign to the next, have us exactly where they want us: ignorant and dispirited.
Who hasn't bemoaned mean-spirited campaigns only to be told negative campaigns exist because they work. For the longest time, I took this personally, like it was my fault these playground "nyah-nyah" sessions repeated themselves with the same regularity that morning follows night.
Only recently have I begun to yield to my more cynical suspicions about the motives behind the smears and realized I shouldn't take it personally. These attacks were merely strategic decisions executed by those who desire power first and then, maybe, they'll deign to the business of governance of their fellow citizens and for their fellow citizens.
To political pros, voters are variables they can approach in two ways. One is to appeal to the variable's (voter's) reason and impress it with their candidate's accomplishments. The other is to relentlessly assail the opponent, defile the institution of government their candidate aspires to (re)join, and otherwise insult the intelligence of potential voters.
I guess I shouldn't be surprised that Option Two is the preferred one in this time of atomized media and short attention spans. I turn my lonely eyes and wonder, "Where have you gone, Edgar R. Murrow?"
How pathetic is that?
Now I'm not giving the politicians a pass. They hire these people and, as we've heard, they approve the ads. I'm not saying, either, that they shouldn't exercise their freedom of expression. So I try to remember that campaigns bordering on slander have existed forever and the republic has managed to survive.
But in this post-Citizen's United era when impenetrable Super PACs scarf up money only to puke it out in anger, I bemoan the fact that freedom of speech is getting awfully expensive. And I'm sorry the campaigns choose to use their resources to divide and conquer the electorate.
If you doubt my thesis, consider the declining voter turnout rates. That's why negative campaigns work. They discourage voters who might actually consider pesky issues or the community's well being in selecting a candidate. Many (most?) tune out and turn off, which means the campaigns realize the secondary benefit of their negative campaigns—firing up their true-believer supporters who will turn out on Election Day.
Yet I remain optimistic that the Zionsville High School senior and his buds will find the time to study the campaigns and visit the polls. It's a great way to defy the Establishment—if enough of them can ignore the distracting campaigns to cast a vote.
That goes for the rest of us, too. Only you can prevent the forest fire of negative campaigns.•
• Ketzenberger is president of the Indiana Fiscal Policy Institute, a not-for-profit dedicated to non-partisan research into the state's tax policies and budget practices. Send comments on this column to ibjedit@ibj.com.
Please enable JavaScript to view this content.