Co-founding a company that makes software to improve B2B sales prospecting wasn't exactly on Jenny Vance's five-year plan after graduating from DePauw University in 2000 with a degree in economics.
"When I left school, I said I'll do anything but inside sales and anything but tech companies. I wasn't a computer science major," Vance said.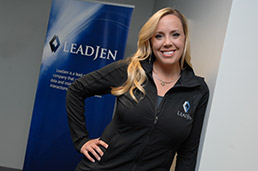 Jenny Vance co-founded two tech companies–LeadJen and Jesubi, both in Indianapolis. She's one of relatively few woman tech entrepreneurs locally. (IBJ Photo/ Perry Reichanadter)
Yet she is among relatively few women to start a technology firm in the region. Vance is president and co-founder of Indianapolis-based LeadJen, which employs about 60 people.
Most tech startups are birthed by men in their 20s and 30s who have a background in computer science.
To what degree women are underrepresented in the ranks of tech entrepreneurs is hard to quantify. It seems nobody local follows the issue in detail. But those who get around in entrepreneurial circles know, if only anecdotally, that it's a small universe.
A meeting at tech incubator Developer Town that Deb Hallberg attended drew 53 firms, yet "maybe three were woman-owned," recalled Hallberg, a board member of Women In Tech and business development manager at Barnes & Thornburg.
"It's always top-heavy in men," Lorraine Ball, co-founder of the social media firm Round Peg, said of participants in Indianapolis Startup Weekend, a tech event where students try to launch a company in one weekend.
At a gathering she attended of the tech networking group Verge, of 200 people there, "there must have been 25 women," Ball added. And about half of those she recognized from the public relations field.
Perceptions to blame?
Women are also underrepresented in computer science programs at the university level across the country.
"This has been a trend and characteristic for well over a decade or even two decades," said Lonnie D. Bentley, a professor in the Department of Computer Information Technology at Purdue.
"Thus, naturally, one would expect the male students to be dominating the entrepreneurial arena."
In many computer science programs, women represent a single-digit percentage of participants, said Robert Schnabel, dean of the school of informatics at Indiana University.
In recent years, IU has worked to boost the level of women in computer majors, which now stands at around 20 percent. But "it's been a very sustained and systematic effort."
Part of that effort has been to dispel the perception that computer science careers all involve a life of perpetual computer coding. Rather, there are careers in diverse areas, from consulting to health care, "very different than the Dilbert image," Schnabel said.
He theorizes that some women might be turned off by the idea of becoming a tech entrepreneur because there's a perception that such innovators start out like Apple co-founder Steve Wozniak, who initially spent 80 hours a week in a garage and rarely showered. That's "probably unappealing to someone who wants a more balanced lifestyle."
Backing into the field
To the extent educators can paint a compelling picture of careers in technology, there's a chance they'll influence someone like Allison Bowen, online account manager at Indianapolis blogging software firm Compendium.
"When I was in school, I heard that a lot of the jobs the kids in my class [would accept] hadn't been invented yet. I always thought it would be fun to be in one of those positions," Bowen said.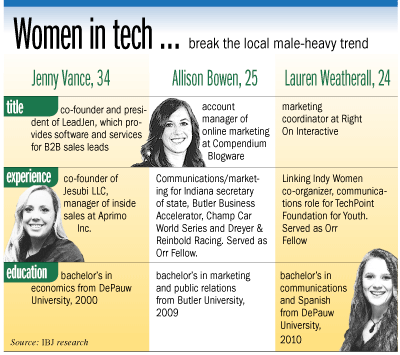 Her job: helping Compendium clients use blogs and other tools to show up prominently in Web searches.
She's not created her own tech firm, at least not yet. In fact, Bowen came not out of a computer science program but from Butler University's College of Business Administration—in marketing, in 2009.
"I think when a lot of the tech companies formed, they just needed the engineering resources to make those products run," Bowen said.
Another prospective entrepreneur in tech entered the industry outside of the computer sciences path. Lauren Weatherall, a marketing coordinator at Right On Interactive, graduated from DePauw University with a degree in communications and Spanish.
"It was a new space for me. I like stepping out of my comfort zone and constantly learning," Weatherall said. "I'm enjoying becoming an expert in a space that two years ago I was unfamiliar with."
Some advice from Weatherall that many women in the tech field also give: Don't be intimated by technology; "push yourself out and get involved."
Weatherall has attended Verge and other local tech groups, and credits the local tech scene for allowing her to collaborate with people of diverse talents. She also co-founded Linking Indy Women, a group that helps women network in the field.
Learners, networkers advance
Many women don't come out of college chomping at the bit to start a tech firm right away, as do some of their male counterparts. Entrepreneurs by nature often exhibit "pretty assertive, aggressive behavior," IU's Schnabel observes, noting it can serve well a recent college grad trying to drum up cash from investors.
Often, women prefer to get experience in larger companies first, said Hallberg.
Vance is one of them. Among her stops before co-founding LeadJen was Indianapolis marketing software firm Aprimo, where she spent 3-1/2 years in inside sales. That involves making cold calls to potential clients and can be a high burnout role.
She also spent her spare time at Aprimo trying to learn about its broader operations. That meant inviting people from other departments for lunch or early-morning coffees to learn what they did and how things worked. She encourages other women to take advantage of such informal learning opportunities. It's "proactive behavior," she said, that also includes finding mentors.
"I could have just sat in my little inside-sales role and just read the script," said Vance, who credits DePauw's management fellows program with instilling some of her foresight.
The prospect of more women starting tech firms of their own looks more promising. TechPoint's Orr Fellowship program, which gives college undergraduates experience at high-growth companies, will start its next class in June with 28 fellows. Almost half are women, said TechPoint's president, Jim Jay.
"We have been very intentional with the Orr Fellowship to bring talented women into the program," Jay said.
Bowen has been gung-ho about what else she can learn and do at Compendium.
"You're going to see more and more women appear in executive roles," she said.•
Please enable JavaScript to view this content.