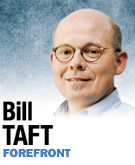 Are the stars finally aligning for urban Indianapolis?
The Indianapolis region's growth patterns have created a tale of two cities. While the metro region grew an impressive 15 percent from 2000 to 2010, Center Township actually lost 15 percent of its population, capping 50 years in which it has lost 57 percent of its residents.
While these statistics were disheartening for urbanites, there are also signs that Indy is ready to take the concrete steps necessary to reverse this core neighborhood decline. Indianapolis has created a strong downtown, and now has shown that it has the tools to revitalize the surrounding urban neighborhoods that have lost most of this population.
These neighborhood strategies are beginning to connect with larger efforts to reform urban public education, create an effective public transit system, and link neighborhoods to growing regional economic sectors.
We now have proven revitalization strategies and a collaborative spirit with potential to mobilize a response that could actually reverse these negative trends.
This combination of continued urban challenges and growing opportunity was recently evident in a "community conversation" convened by my employer, Local Initiatives Support Corp. This panel discussion reviewed the challenges of urban neighborhoods from several perspectives since it included local leaders like City-County Council President Maggie Lewis, Mind Trust CEO David Harris, Near Eastside community leader Joe Bowling, transit task force leader Ron Gifford, bond bank director Deron Kintner and Super Bowl Host Committee Chairman Mark Miles.
This group was dialed in on the need for comprehensive and coordinated focus on returning vitality to our urban core to ensure the vitality of our entire region. This conversation indicated that there is a growing consensus that Indy needs to address this challenge to both benefit current neighborhood residents and to attract young people who increasingly seek an urban lifestyle.
We must return our core neighborhoods to viability so our city can support its essential government services, let alone recapture an increased portion of the region's population that would prefer truly livable urban neighborhoods.
Several sectors of civic and economic activity now hold promise of proving a key ingredient for core revitalization. Six quality-of-life plans developed five years ago through the Great Indy Neighborhoods Initiative have proven to be excellent ways of mobilizing residents and other stakeholders around a shared set of goals that can be supported by outside partners. The Legacy Initiative showed how such a partnership attracted $152 million in investment in four years, showing itself to be a model that could be expanded to additional neighborhoods.
While the failure of traditional urban schools contributed to the loss of blue-collar and professional families from urban Indy, there is growing momentum around linking innovative schools founded on the belief that all children can learn with neighborhood revitalization clusters.
Transit has proven in other cities to be an effective way to get urban residents to blue-collar jobs that are now on the suburban fringe while attracting new residents to core neighborhoods. Creating such a system here would have profoundly positive neighborhood development implications.
Now our Legislature needs to empower local residents to vote on whether we can build an effective transit system to achieve these results. We have seen the power of each of these sectors to spur urban revitalization. We need to act on these lessons on a large-enough scale to transform our core neighborhoods.
Miles summarized the challenge best when he said the time is ripe to convince our regional leaders how important the urban core is to everyone, and to mobilize these leaders to significantly support organized neighborhoods in implementing their plans. This perspective is common among a growing group of civic and business leaders who are willing to invest in such ambitious plans—if government and philanthropy can break down their barriers to collaboration.
The synergy of interests aligning behind urban revitalization is a foundation on which fundamental market and cultural change can occur. Now the hard work of coordinated action must begin.•
• Taft is Indianapolis executive director of Local Initiatives Support Corp., a not-for-profit that invests in neighborhood redevelopment projects. Send comments on this column to ibjedit@ibj.com.
Please enable JavaScript to view this content.