Asset levels at many community foundations exceeded their peaks of 2007 last year, according to a new report from the Council on Foundations in Washington, D.C.
In a survey of 290 community foundations, 63 percent had assets above their 2007 level, the council found.
Central Indiana Community Foundation, the largest of its kind in Indiana and one of the largest in the country, has yet to reach its pre-recession asset level of $668.8 million.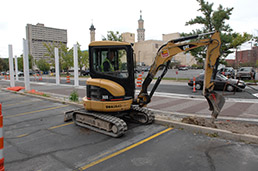 The eight-mile Indianapolis Cultural Trail is a $52 million public/private initiative led by the Central Indiana Community Foundation. (IBJ file photo)
The survey included 97 of the 100 largest community foundations and accounted for $53 billion, more than 90 percent of all estimated community foundation assets.
The foundations in the survey ended their fiscal years at different points, and those ending in December reported slower growth rates. Still, the portion of foundations reaching above the 2007 high-water mark was higher than in 2010, when only 52 percent did so, the council on foundations said.
CICF ended 2011 with $546.9 million in assets, which was down from 2010, when it had $575.6 million, according to the "vital statistics" reported on its website.
Asset levels are affected by new gifts and grant-making, as well as investment performance. CICF collected $28.8 million in gifts and granted $39.5 million last year.
As of May 13, CICF had assets of $582.1 million. While that's not a record high, it's a long way from $461.8 million in 2008.
Please enable JavaScript to view this content.