Longtime corporate stiff Bill Webster found himself at midnight on a recent Saturday flanked by hipsters half his age, sporting hoodies and playing bleeping and blooping pinball machines.

Webster's new business, Fountain Square Brewing Co., was hosting a pinball contest that didn't end until 3:30 a.m. Sunday. After four hours of sleep, the bedraggled, 56-year-old entrepreneur returned to the brewery to pore over financials and open its tasting room.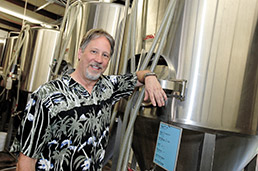 In addition to his keeping the day job at Eli Lilly and Co., Bill Webster recently co-founded Fountain Square Brewing Co. in hopes of solidifying his financial future and fueling a passion for post-Lilly years. (IBJ Photo/ Perry Reichanadter)
Just another weekend for the CEO of a bootstrapping startup. And on Monday, he was back to his regular, 50-hour-a-week gig as a project management consultant for Eli Lilly and Co.

"I'm going to die early," Webster joked. "Pretty much every waking moment is dedicated to one or the other job."

Dying early would be beside the point. Webster worries that he won't have enough savings stowed away for retirement. Hence, the new venture. He also wants a professional passion to keep him active past typical retirement age.

Webster has company among the nation's 77 million baby boomers. Since the 1990s, the demographic makeup of new entrepreneurs has been steadily shifting toward those in the boomer generation—currently those age 48 to 66.

A 2011 study by the Kauffman Foundation reported that 48.6 percent of new entrepreneurs in 2011 were between the ages of 45 and 64, compared with 38.2 percent for the same age group in 1996.
The national trend toward "boomer-preneurs" is reflected in central Indiana by the number of people seeking consulting support for their startup plans at the not-for-profit Business Ownership Initiative of Indiana, which serves the nine-county area.

In 2007, only 2.4 percent of BOI's 1,000-plus clients were over age 40. By 2010, the percentage of 40-and-over clients had climbed to 28 percent, and then a whopping 38 percent in 2011.

For some boomers, the impetus to start a business is financial. They lost their jobs and struggled to find new ones. The recession wrecked their savings. Or they never saved enough to begin with.

"Four years ago, entrepreneurship could be relegated to the ranks of those who are wired for it, but now it's an option of primary necessity," said Julie Grice, BOI's executive director.

"We see an increase in the number of experienced clients," Grice said of the post-40 crowd. "There are so many who have lost jobs for various economic reasons, none of which are their own faults. They're just trends in our own economy."

Some boomers just have the itch to strike out on their own. They want to stay engaged and relevant. Or they're fulfilling long-held dreams to be their own bosses.

"I think what we're seeing with boomers, is that it's a group that is not afraid to take risks," said Samuel Greengard, author of "AARP Crash Course in Finding the Work You Love: The Essential Guide to Reinventing Your Life."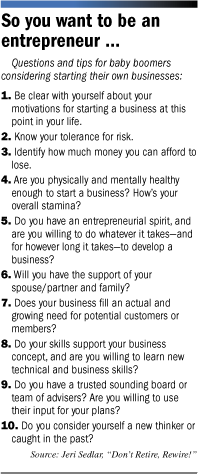 "They have survived the corporate environment," Greengard said. "They have experience they can put to use. And they want to do something more for themselves that they find more fulfilling."

Webster falls into both camps. About 10 years ago, he and a Texas-based boomer buddy began tossing around ideas for second careers. An avid home brewer, Webster finally realized his hobby could also be a profession.

"As you get toward the end of your career, you start to think to yourself, 'Who am I again?'" Webster said. "There are a lot of people in my generation who are not accepting the end of one career as the end of finding and following a passion."

Webster is quickly approaching the time he could leave Lilly with a retirement package, but fears his 401(k) won't be able to cover his financial obligations with two kids in college and a 10-year-old daughter.

The median household headed by a person age 60 to 62 with a 401(k) account has less than one-quarter of what is needed in that account to maintain its standard of living in retirement, according to data compiled by the Federal Reserve and analyzed for The Wall Street Journal by Boston College's Center for Retirement Research.

The brewing business could blossom and beef up Webster's bank account, but starting a company can carry big risks. Webster and two partners already have invested about $400,000 in the venture, which began brewing in September and opened its tasting room in December in the Fountain Square neighborhood.

"This is the worst-paying job I've ever had," he said of his jack-of-all-trades position in the startup. "But we're not losing money."

Assessing risk

Boomers contemplating starting their own firms need to be aware of how much they can afford to risk, according to Jeri Sedlar, co-author of the boomer-centric career guide, "Don't Retire, Rewire!"

"It's a budgetary process," Sedlar said. "Know what your financials are. What is your risk quotient? Even when you are starting out, you have to know where you are putting your time and money."

Pete Prust, 50, knew he was taking a big chance in 2006 when he decided to phase out his former firm—RK Equipment, which sold mining equipment—and focus on developing a new seat-cushion product he envisioned while on a long-distance motorcycle trip.

"In 2006, I sat my three kids down and said, 'This is going to be very tough. Things are going to get worse before they get better,'" Prust said.

He was right. In 2008, Prust was forced to sell his home on a short sale. He also lost his car. Prust and his family moved into a Zionsville home owned by a friend, who allowed them to stay there in part for clearing the overgrown five-acre property and rehabbing the house.

"I would come home, and my wife would be in tears and say, 'How are we going to make it through the month?' And I would say, 'We'll be fine.' And then I would turn around and say to myself, 'How are we going to get through the month?'" he recalled.

Years of investment and sacrifice are beginning to pay off. In 2009, Prust debuted a foam seat cushion called Ergoseet using a patented design that allows airflow and even weight distribution. Ergoseet has sold about 25,000 units in drugstores and via several appearances on the QVC shopping network, Prust said.

Prust's company, Seettek LLC, counts about 30 investors and has required about $1 million in investment, he said. The firm now is focusing on related products for medical and therapeutic uses, including a seat cushion for wheelchairs and a mattress overlay for cribs.

Prust expects a financial windfall, projecting major venture capital investment within 24 months and then the sale of part or all of the company in another couple of years. But he says he derives just as much satisfaction from providing relief to customers.

"I get phone calls from people who say [Ergoseet] changed their lives," he said. "It's emotional for me. I get goose bumps.

"I've had a lot of people say, 'You're going to make so much money.' And every day I wake up and say, 'I can help people.' That has helped me get through the tough times."

Mental rewards

Boomer entrepreneurs often are driven by emotional motives, said Sedlar of "Don't Retire, Rewire!"

"It's not just about the money," she said. "It hits people all of a sudden when they leave work, 'There is more to my job than money.' We hear, 'I want to belong. I want to be creative. I want to be a problem-solver. I want the recognition and power that comes from working.'"

Dan Bennett, 62, was forced to sell his Pendleton dentistry practice in 2010 after severe arthritis limited his dexterity. He feared the emotional toll of suddenly losing the focal point of his professional life for the last 33 years.

"You can only do so much golf and fishing," he said. "I have to be accomplishing something."

Then two longtime acquaintances from his son's generation offered a new opportunity. The 30-somethings were developing a series of accessories for people prone to dropping their mobile devices, including lanyards, mounting platforms, and finger sleeves that attach to devices.

Initially, the pair wanted to bounce some ideas off of Bennett, who had earned an industrial engineering degree before entering dentistry. He soon became a full partner in the endeavor, contributing a six-figure investment and taking the role of its chief financial officer.



Beyond his experience running a business, Bennett also brings a talent for one-on-one bonhomie, born from tending the teeth of thousands of patients.

"There are a lot of things that translate, especially interpersonal skills," he said. "I'm a good listener. I talk with potential customers."

"In some ways, it's really stretching me," he said. "Something I never had to do before was negotiation. I didn't deal with suppliers and customers, not to the degree that we have in this kind of business."

Production of the accessories line, called The Feinger, began in late April. One of his partners, who runs the business out of his computer store in Anderson, maintains the Feinger e-commerce site.

Sedlar encourages boomers to partner with younger entrepreneurs.

"They can learn from each other," she said. "It challenges the boomer to think differently. They're not stuck thinking, 'It's my way or the highway.'"

Help with technology

Younger partners also can bring expertise with technology—something commercial real estate broker Abbe Hohmann could use as she starts a solo practice.

Hohmann, 59, decided this year to strike out on her own after 26 years as an employee of brokerage Cassidy Turley and its predecessors in the central Indiana market. Gaining greater autonomy, she loses some of the tech amenities and support structure of a big firm.

As of early May, she needed to set up a website, find an Internet provider, and establish an e-mail account for the firm.

"I'll be happy when I'm through with all the startup responsibilities," Hohmann said, laughing.

Working under the shingle Site Strategies Advisory LLC, Hohmann will have a stable of established clients from her previous gig. But she also expects to have more flexibility with her workload.

"My plans are open-ended," she said. "I have friends with specific plans for retiring, but I know more people who really don't plan to retire. And one nice thing about what I do is that you can do a lot of it or less of it."•