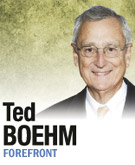 About 70,000 "small claims" are filed in Indiana courts every year, mostly debt collections or landlord-tenant disputes. Special rules for claims less than $6,000 prescribe an informal and expedited process designed to simplify these cases and produce a just result while holding down their cost.
Long-standing issues with small claims in Marion County have again raised serious doubts that all who find themselves in these courts, usually without a lawyer, are getting a fair shake.
Marion County has its own unique and unsatisfactory way of handling small claims. Seventy-five percent of Indiana's small claims are filed outside Marion County and are tried by full-time regular judges of the county courts. But in Marion County, each of the county's nine townships has its own township court with a part-time judge. Each of these nine courts has its own quirks, and each maintains its own website.
Except for landlord-tenant matters, a small claim may be filed in any of these nine locations in Marion County regardless of where the parties live. Small claims elsewhere are appealed to the Court of Appeals, but because there is no record in township courts, the losing party in Marion County is entitled to a retrial in the regular trial courts before appealing.
Over the years, critics have argued that the structure of these courts is inefficient, their procedures are unfair, and township officials have too much control over them.
In February, the Indiana Supreme Court appointed Judge John Baker and Senior Judge Betty Barteau of the Indiana Court of Appeals to a task force to investigate these charges. These judges have over 60 years of judicial experience, including several years in trial courts with small-claims jurisdiction. Their May 1 report found "serious problems in the management and operations of the Marion County Small Claims Courts."
The caseloads of some township courts in Marion County approach three times the volume of others, yet each maintains its own infrastructure. Among the task force's conclusions was agreement with proponents of streamlining government that maintaining these nine mini-courts is duplicative, confusing and wasteful.
The task force also found significant problems with the way litigants are treated. Permitting suit in any township in the county stands on its head the usual claim of defenders of township government that it is "close to the people." Downtown Indianapolis is reasonably accessible, but a person dependent on public transportation can spend hours trying to get from one corner of Marion County to another.
Fairness is also challenged. Allowing the plaintiff in a collection suit to file its case in any township allows the plaintiff to pick the court it thinks is most creditor-friendly or the most inconvenient for the defendant. Lack of standard procedures and uniform practices to inform the parties of their rights gives frequent filers an even greater advantage over their usually lawyerless opponents.
The task force offered three approaches to address these issues. The preferred remedy would be to align Marion County with the rest of Indiana and transfer small claims to the courts of general jurisdiction. If township courts are to retain small claims, the task force proposed they be made courts of record with full-time judges. Both of these steps would require legislation and some shifting of revenue and costs from townships to the county.
A rule change by the Indiana Supreme Court can prevent plaintiffs from choosing their courts.
Those actions would need some time, but township courts, acting individually or collaboratively, could make some steps immediately. Examples are standardized practices and a common website to offer self-represented litigants a basic description of their rights and the location of each court and how to get there.
The 70,000 citizens who will find themselves in small-claims suits in the next 12 months are entitled to a rapid response to the task force's report.
A last word: In last month's column, I mindlessly dated the Detroit brawl in 2005, not 2004, and referred to Jerry Reinsdorf, the Chicago Bulls owner, as Jerry Colangelo. Sorry about that.•
• Boehm is a retired Indiana Supreme Court justice who held senior corporate legal positions and helped launch amateur sports initiatives in Indianapolis. Send comments on this column to ibjedit@ibj.com.
Please enable JavaScript to view this content.