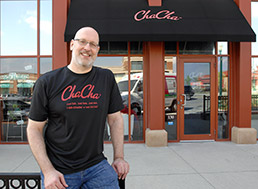 Red Herring magazine honored Scott Jones' company as a top tech startup. (IBJ file photo)
Q: What company was just recognized by Red Herring magazine as a top tech startup? A: ChaCha
Carmel-based ChaCha Search has been ensconced in technology glory, having been named a Red Herring Top 100 North American Startup.
ChaCha finds itself in good company. On the list of previous honorees are firms that weren't yet household names—tech startups such as Facebook, Twitter, Google, Yahoo and eBay.
If anything, the award may reflect the perseverance of ChaCha founder Scott Jones, who has constantly evolved ChaCha's delivery platform and has diversified the customer base of the answers service beyond young folks who ask for Lady Gaga's real name.
Initially, ChaCha answered questions mostly via desktop computer, using human "guides" who researched the answer. It left many scratching their heads in the day of Google and other automated search engines.
Now, ChaCha has accumulated more than 100 million question-answer pairs that can be accessed to provide answers. Many of its users now text their questions to ChaCha from their mobile phones, and receive an answer back with an embedded advertisement. The service is a particular hit among teens and young adults.
In recent years, Jones went in search of additional customer types. ChaCha provides answers to residents of New York via the city's "311" municipal information service. Jones, meanwhile, has also launched ChaCha in the United Kingdom, and is looking to adapt his text-messaging answers service to help inbound call centers.
ChaCha has received more than $75 million in backing over the years from investors the likes of Amazon.com founder Jeff Bezos and Compaq founder Rod Canion.
"We believe ChaCha embodies the vision, drive and innovation that define a successful entrepreneurial venture," Alex Vieux, publisher and CEO of Red Herring, said in a statement.
Jones said the Red Herring honor underscores growing excitement for supplementing traditional search with "highly accurate contextual and temporal answers across a broad range of platforms."
Please enable JavaScript to view this content.