An Indianapolis company that develops blogging software is repositioning its business to help clients manage demands from the growing number of digital marketing channels.

Compendium Software says there's money to be made in creating a place where marketing content can be centralized and repurposed and sent out via e-mail newsletters, social media channels and—of course—blogs.

"We no longer call it a blog. We call it a content hub," Frank Dale, Compendium's president and CEO, said of its product makeover.

Dale
Dale said he's trying to think of a more clever name, but he might do well to keep it simple with "hub." Corporate and institutional marketing staffs are shell-shocked enough by the complicated digital marketing schemes that have cannonballed through their departments over the last decade.

Compendium, founded in 2007, has fired some of those rounds. Its software allows an organization's employees to create, while blogging, keywords that improve the odds a company will show up near the top of search-engine results.

This search engine optimization, or SEO, can drive higher sales.

But many companies increasingly are marketing through e-mails and/or social media channels, such as Twitter and Facebook. Such channels have been multiplying like rabbits in spring: The latest to emerge for marketing exploitation is social photo sharing site Pinterest.

The challenge is that the more digital channels, the more marketing content has to be developed by overburdened marketing departments, which then must be tailored to each channel.

Companies might already be sitting on a ton of content, such as whitepapers, customer testimonials and even previous Facebook postings, which could be repurposed into more digestible pieces.

Trouble is that such content is often spread out within various departments of a company. Compendium's focus now is on software that helps those marketers create, proof, manage and promote the content.

The company scored a big win this month, announcing its new software will integrate with Indianapolis-based e-mail marketing giant ExactTarget. So now a Compendium customer can transfer content from its hub into ExactTarget marketing applications essentially with one click.

Dale said Compendium is planning similar integrations with other marketing software providers.

Compendium has about 400 customers, including Bass Pro Shops, Experian, Gymboree, The College Network and Indiana University.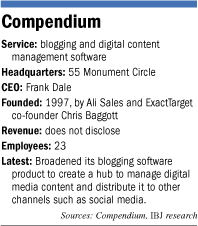 IU has been exploiting Compendium's newly created marketing hub for its "We Are IU" website, which uses IU student bloggers to provide information to prospective incoming freshmen.

Those IU student bloggers can now share blog posts on Facebook or Twitter with a click of a button rather than having to write separate blog posts for the social media sites.

IU estimated that 30 percent of "We Are IU"'s traffic comes from social media tools.

"That's what really directs a lot of traffic to the site," said Jay Steele, data manager of IU's Office of Enrollment Management.

Within the realm of interactive marketing spending, the social media market today is at $1.5 billion and growing quickly—and so is spending on social media management software, Dale said.

"Given the shifts in buyer behavior, marketers are moving into content marketing quickly and that requires a new set of tools to manage the strategy," he said.

Compendium doesn't disclose revenue. It has 23 employees—fewer than the 35 it had in 2009. Dale said the technology requires fewer people, although the company currently has a greater percentage of engineers.

"Having said that, we are getting to the limit of the efficiency frontier," he said. "We are actually hiring salespeople right now and will add another three to eight people by the end of the year, all in sales and client services."

Compendium is trying to raise another $1.5 million in private investment, according to documents filed recently with the Securities and Exchange Commission.

Compendium was founded by ExactTarget co-founder Chris Baggott and by Ali Sales. They originally positioned Compendium during the recession as a lower-cost way for companies to conduct marketing. Traditional forms of advertising favored companies with the biggest ad budgets.•