The developer of the $34 million 16 Park housing project said it will begin rebuilding as soon as possible after a building was destroyed by fire Friday night.
The Indianapolis Housing Agency is developing 16 Park, an 11-building project that was set to open in October along 16th Street between Central and College avenues. The blaze engulfed a four-story, 28-unit apartment building due to open this fall. Four occupied buildings in the complex were not damaged.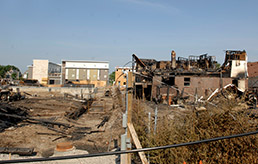 Fire destroyed a 28-unit apartment building under construction Friday evening. (IBJ Photo / Perry Reichanadter)
IHA Executive Director Bud Myers and Bruce Baird, its director of strategic planning and development, watched the building burn.
"It was heartbreaking," Baird said. "We put our heart and soul into the redevelopment of Caravelle Commons, so it was discouraging."
Caravelle Commons was a 65-unit, low-income housing property built in 1975. The seven-acre property had become a magnet for crime, with dead-end streets and fenced-in apartment homes surrounding crowded parking lots. But the Indianapolis Housing Agency was betting the new project would jump-start interest in the area.
IHA will begin the process of rebuilding as soon as the Indianapolis Fire Department finishes its investigation and gives the agency control of the site, Baird said.
IFD Lt. Larry Tracy said Monday morning that the probe is ongoing; he was unsure how long it might last. IFD estimated damage to the building at $3.5 million.
The destroyed building was insured, Baird said.
Four of 16 Park's 11 buildings are complete and occupied. When finished, the entire project will consist of 155 housing units.
Baird said he has no idea when the project might be completed.
"We're still assessing that now," he said. "We'll be aggressive in resuming construction and moving just as quickly as we can."
IHA bought Caravelle Commons in March 2009 from the Near North Development Corp., which took over the complex in 2003. Near North stepped in to refinance, renovate and stabilize the property with an eye toward eventually selling it to a more appropriate owner.
IHA is financing most of the 16 Park project with nearly $28 million in federal and state tax credits and another $4.4 million in federal stimulus funds. The housing agency used a grant of about $400,000 from a city housing trust fund to acquire the property and begin drawing up plans for redevelopment.
The fire is particularly devastating to IHA because 16 Park is the largest project in its $120 million portfolio, which includes the redevelopment of Barton and Lugar towers downtown, and the construction of The Braxton at the base of Lugar Tower.
Baird, though, said the fire at 16 Park could have been worse. No other apartment buildings were damaged by the blaze.
 
Please enable JavaScript to view this content.