If the Goodman Theatre's masterful (but now, alas, closed) "The Iceman Cometh" was all that was being offered on Chicago stages this summer, that would have been enough to make the Windy City a hot theater destination.
But that earth-shatterer—starring Nathan Lane, Brian Dennehy and a stellar supporting cast—was just the tip of the iceberg.
Speaking of icebergs, three years after the Titanic sinking, another ship went down in the Chicago River, providing the basis for Lookingglass Theatre's musical "Eastland" (through July 29).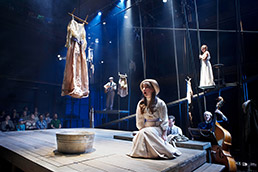 Above, Lookingglass Theatre's world-premiere "Eastland" artfully transforms a Chicago tragedy. (Photo courtesy of Sean Williams)
It starts in familiar fashion. We get a troubadour-esque musical prelude, an introduction to the passengers out for a 1915 pleasure cruise, and we have the hindsight opportunity to tsk tsk at the arrogance of its captain, who doesn't have the nautical foresight to see how the added weight will influence the ship's ballast. And it feels like we are in for a trip through a lower-budget, regional version of Broadway's "Titanic" musical.
But "Eastland" soon reveals itself to be something very different.
When the minimal revival-tent-like setting dramatically changes and the body count rises, we are plunged into matters far more unsettling than iceberg-dodging. And the talented folks at the Tony Award-winning Lookingglass aren't about to throw in cheap sentiment to mitigate the reality of the disaster.
A hero? Yes, this show has one—sort of. But he exists in a real world where even jaw-dropping acts of courage and selflessness are quickly forgotten while showboating celebrities (here personified by Harry Houdini) are burned into the public consciousness. I don't know about you, but I can't name any of the heroic people who ran into the World Trade Center.
Profoundly moving and boldly presented, "Eastland" left me shaken … and not sure if I was ready to follow it up with late-night laughs at Second City.
But I was glad I did. It's been far too long since I've stopped in on the storied sketch comedy company to see the latest in a line of talent going back through Stephen Colbert to Alan Arkin. For its 100th revue, "Who Do We Think We Are?" the new crop of talent seems more focused on the personal rather than the big picture. Most of their sketches somehow wrestle with identity and selfhood.
I expected funnier Obama material. And a few of the premises seemed overly familiar. But the hilarity level is otherwise high, the sense of spontaneity and precision are strong, and the cast uniformly terrific. Stand-outs were Katie Rich (charging audience members for the rights to an improv suggestion) and Steve Waltien (as Amy Grant's trumpet player—don't ask).
The marquis name for "Immediate Family," an independent production renting space at the Goodman Theatre through Aug. 5, is Phylicia Rashad, who isn't performing but directing this new play by actor-turned-playwright Paul Oakley.
You've seen variations on the plot before. A family wedding brings adult siblings back home and secrets are revealed as skeletons emerge. Here, eldest brother Jesse—who hasn't come out to his family—brings along his partner, hoping to pass him off as just a friend willing to photograph the nuptials. Even more shocking: The new partner is white.
The production's strength comes from an ensemble comfortable with one another. Glances between them seem filled with shared experience. Oakley skillfully brings the past to our attention without the feel of exposition. Each character has secrets to reveal, but those feel organic. Oakley, abetted by powerfully present actress Shanesia Davis, even finds the sympathetic core in the play's primary oppositional force, sister Evy.
Rashad and her cast are particularly adept at scenes of family chaos and conflict—like in a tense scene over a game of cards. Yet for a play where arguments are plentiful and laughter raucous, the ending is a quiet one. There's no group hug. But there is satisfaction.
I followed it with something completely different: "The Marvin Gaye Story: Don't Talk About My Father, Because God is My Friend" at Black Ensemble Theatre.
The company's new theater is perfectly suited for the kinds of musical biographies that are its bread and butter. Stylistically, this one is "Jersey Boys" without the polish, sleek stagecraft, or unified vision. The show isn't shy about Gaye's womanizing and drug abuse and is even less shy about slapping on an unearned redemption ending that crosses the border into condescension.
The redemption for the show comes in its songs, which are performed by the musically talented company (and hot, on-stage band, including a horn section). If the goal of the show was to make clear why Gaye continued to be appealing even as his behavior became deplorable, the production was successful.
If only as much attention had gone into the cliché-filled writing as went into the musical numbers. Writer—and company artistic director—Jackie Taylor calls these plays her "McDonald's hamburger" shows. They are products, created by formula.
That attitude may well keep the doors open. But it didn't keep me from alternating between hand-clapping and eye-rolling.•
__________
This column appears weekly. Send information on upcoming arts and entertainment events to lharry@ibj.com.
Please enable JavaScript to view this content.