Five years after launching out of Anderson's Flagship Enterprise incubator, ad agency Element 212 is spreading its wings and expanding to Indianapolis.

The firm, which specializes in marketing, branding and website development, is opening an office at 429 Pennsylvania St. on July 2 and hopes to generate 20 percent of its revenue from this market in the next year.

Rimer
"There are more opportunities for us in Indianapolis than in Madison County, and we've also got some companies down here asking about our services," said Tammy Rimer, who founded and owns Element 212 with her husband, Todd. "A lot of the impetus for our expansion has come from Indianapolis companies knocking on our door."

Element 212, which was founded as CN Design & Marketing, has grown its revenue more than 30 percent each of the last two years, Rimer said, adding that the expansion into Indianapolis could significantly boost growth. The company, which was funded through the Rimers' personal savings, has been profitable since 2010, and Rimer says the bottom line is growing annually.

She declined to provide financial details.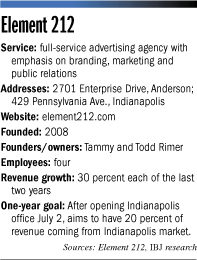 Element 212 is relying on networking and word-of-mouth referrals to grow in Indianapolis. The firm so far has only one Indianapolis client—Landrum's Services LLC, but Rimer said "several deals are in the works. We think they're very close."

Many of those seeds were planted through recommendations from existing clients in Anderson and Muncie, Rimer said.

While Element 212 is a full-service ad agency, she said the firm excels in "brand positioning and messaging."

The agency, which will maintain its offices in Anderson, has brokered a partnership with Indianapolis-based Ewing Miller Communications to seek and work on a variety of corporate public relations projects.

"Element 212 has a unique approach to connecting the brand of a client to the interests of a desired audience," said Susan Miller, founder of Ewing Miller Communications and a former Hickman & Associates veteran.

Miller met the Rimers three years ago when she hired Element 212 to develop a website for Ewing Miller Communications.

"They were responsive and nimble and understood how to use new media to connect to clients and potential clients," Miller said.

But it might not be easy for Element 212 to get a foothold in Indianapolis.

"The economy is still pretty difficult for ad agencies with a lot of companies still holding back on their advertising budgets," said Bob Gustafson, a Ball State University advertising professor and former agency veteran. "On top of that, Indianapolis is a highly competitive market."

Rimer thinks her four-person staff can offer more personal services than larger agencies and she's hoping her firm's expertise in health care, insurance and manufacturing will help it gain Indianapolis clients. She also hopes to expand into the city's growing technology sector.

"We know the barriers of entry in this field are low, and, quite frankly, the market is somewhat saturated," Rimer said. "But we think—with our brand-audit techniques and the way we partner with our clients and become part of their culture—that we have something to offer."

Another way Element 212 sets itself apart is through the extensive market research it offers clients, Rimer said.

"We know we're going to be a small fish in a big sea in Indianapolis," she said, "but we think we can make a big impact in this market."

Rimer, 38, is no stranger to change. The Chicago native started her marketing career working for agencies in Arizona and Utah before she and Todd, 42, bought College Displays, an advertising firm that helps businesses reach students and prospective students through digital and traditional media, including billboards and signage on college campuses.•