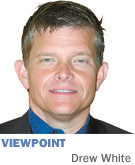 In central Indiana, 94 percent of Hoosiers own a car, and we generally don't think twice about getting behind the wheel to go to work, the grocery store or the doctor's office.
We think even less about where our cars sit when we're not behind the wheel. And that's too bad, because, as we increasingly demand compact, environmentally friendly and walkable communities, the way we deal with parked cars becomes an issue.
Developers know this well. They're on the front lines in the effort to ease the tension between the demands of car-centric citizens and the need for sustainable, cost-effective building and design standards.
A key source of this tension? Zoning codes that require new real estate developments to include a minimum level of parking spaces. Indianapolis, for example, requires 3-1/2 parking spaces per 1,000 square feet of commercial space; in Carmel, it's four spaces.
Of course, there are variances, but the requirements add up. According to the U.S. Environmental Protection Agency, a 25,000-square-foot, four-story office building needs about four acres to accommodate the building and required parking. In this case, the parking lot would cover seven times the amount of land as the building.
To build one standard space for a surface lot, including the curbs, lighting, plants and drainage, the cost is approximately $2,500. For a sustainable parking space, including rain gardens and permeable pavement, the cost is more like $10,000.
Costs for spaces in parking structures are even higher. The cost per space in an efficient garage with zero impacts is roughly $5,000, while a spot in an inefficient garage in an urban environment could cost $20,000. Spaces in underground garages can top $30,000 each.
Think about how these requirements affect projects like the proposed Block 400 development downtown, which necessitates a new OneAmerica parking facility. Think about how such mandated parking spaces eat up usable land and drive up rents in housing or commercial spaces … shifting the cost of driving to the general public.
The original thinking behind these requirements was sound: It shifted the burden of supplying parking for a new structure to the owner of the structure. But high minimums have resulted in a glut of parking and cemented our reliance on the automobile.
Imagine what could be done with land set aside for parking if these minimums were not required. Some cities are removing on-street parking and replacing it with bus rapid transit lanes, pedestrian walkways and bike paths. Denver, San Francisco and Los Angeles have developed plans that remove parking for alternative, more sustainable uses. Other cities are allowing buildings to be constructed closer to sidewalks.
Some cities, including Nashville, Tenn., have abandoned parking minimums. Residents of Cincinnati are considering a no-minimum approach. Other cities have found that a strong transit system allows them to require fewer spaces. For example, Alexandria, Va., a Washington, D.C., suburb served by a thriving transit system, requires as few as 1.7 spaces for every 1,000 square feet—and 5 percent of parking space must be set aside for car-pool users.
As central Indiana continues to examine how to develop a robust transit system, we need to look at ways to lessen our dependence on cars. We need to imagine parking spaces replaced with public spaces, parking lots replaced with parks, and roads and acres of concrete replaced with transportation systems and car-sharing programs.•
__________
White is a partner at Axis Architecture + Interiors. Send comments on this column to [email protected].
Please enable JavaScript to view this content.