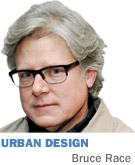 Think of the most impossible places to walk in Indianapolis and I'll bet you are imagining trying to cross the street in one of our many, many strip commercial districts.
These districts have discontinuous sidewalks, bus stops with bent signs next to small brown patches of earth, and out-of-scale gaudy competing signage. They also lack trees, shade and crosswalks. Most of them sport alpo-grade architecture. Oh, and high vacancy rates because we are WAY over-zoned for auto-oriented commercial uses.
Savvy cities understand strip commercial corridors are economically and environmentally unsustainable. They are proactively planning for market-driven and transit-oriented conversion of tired strip corridors into new neighborhood main streets and avenues. They view strip corridors as transit-ready urban infill land banks that can accommodate several times the density of low-density suburban development.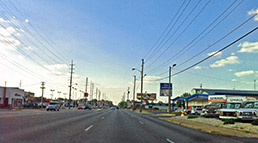 Today's Keystone Avenue streetscape, top, could be transformed into a more economically viable, aesthetically pleasing transit corridor with proper planning and the implementation of bus rapid transit and light rail. (Images courtesy of Bruce Race)
That means every acre of strip development that is redeveloped into a livable neighborhood avenue district could save four or five acres of farmland. Moreover, the image and vitality of the city can get a big boost from reinventing these strips.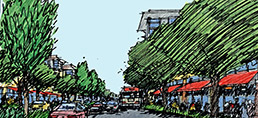 Keystone Avenue is near my house. Not Keystone at the Crossing, but a part of Keystone without crossings. You cannot comfortably walk around the fancier Keystone address up north, but it's even more of a challenge to move around the four-block commercial district between 52nd and 56th streets. This area has the dogs' dinner of commercial zoning. There are five commercial zoning categories in four blocks of frontage and seven more in the district. That's 12 zoning categories all with their own specialized standards. Because much of the area was developed before city and county consolidation, there is a lack of any attempt to landscape, connect or coordinate development. It is a mess created one project at a time, and without an urban design plan it will stay that way.
If the Legislature ever lets us determine our own transit future, the Nickelplate Transit line will intersect near 52nd Street with a Keystone Avenue Bus Rapid Transit route. This will create a spike in property values and housing demand not reflected in strip corridor zoning.
As in many other corridors in Indianapolis, the benefits can cascade well beyond the strip into adjacent neighborhoods, but only if they are planned for.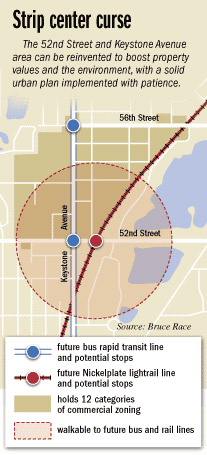 Reinventing the strip will take a combination of patience and planning beyond the trendiness and veneer of "complete (transit) streets." Strip corridors do need to be improved for safer traffic flow, transit, walking and biking, but they also need to be planned for improved environmental and economic performance.
Reinventing the strip can enhance Indianapolis' identity, improve storm water management, and provide shade, reducing the city's heat islands. A citywide comprehensive approach will increase property values and promote economic vitality while providing a social focus for dozens of Indianapolis neighborhoods.
Indianapolis has been revisiting strip commercial corridors, such as East 38th Street and West Washington Street, where the emphasis has been on providing input on completing sidewalk connections through the Rebuild Indy program.
These efforts are important and deserve our support. However, these plans should be part of a larger vision of a sustainable and compelling Indianapolis—a city with beautiful travel corridors and transit-supported neighborhood centers. This takes visionary business and political leadership committed to follow through with the promise of UniGov, which gave us the ability to comprehensively imagine and plan Marion County.•
__________
Bruce Race, FAIA, FAICP, is an award-winning architect and urban planner and owner of RaceStudio. He lives in a historic Indianapolis neighborhood and teaches urban design at Ball State University's Downtown Indianapolis Center. His column appears monthly. He can be reached at br@racestudio.com.
Please enable JavaScript to view this content.