In March 2005, when Emmis Communications Corp. scrapped its soft-rock format at WENS-FM 97.1 for country music, it was more of a head scratcher than a boot stomper.
Why, some radio experts asked, would Emmis scrap the format of a top 10 station in this market to take on country powerhouse WFMS-FM 95.5?
Seven years later, Emmis officials may be getting the last heehaw.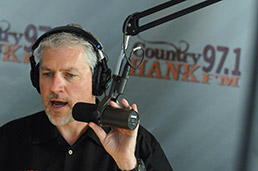 WLHK DJ Dave O'Brien has been charged with taking on WFMS' popular morning show featuring Jim Denny, Deborah Honeycutt and Kevin Freeman. (IBJ photo/ Perry Reichanadter)
After more than two decades as one of the market's top ratings- and revenue-generators, WFMS is getting some serious competition from WENS' replacement, WLHK—known by its listeners as Hank.
In May, WLHK and WFMS were deadlocked at No. 1 among all central Indiana radio stations, with each scoring an 8.1 share among listeners 6 and older, according to New York-based Arbitron Inc.
A No. 1 ranking is nothing new for WFMS, but it's a first for WLHK since it replaced WENS at 97.1 FM. The 8.1 share—which means 8.1 percent of the people listening to radio tuned into that station—is a high for the station.
The battle the two country stations are locked in is one of epic and perhaps historic proportions—locally and nationally. May is the first ratings period local industry sources can recall where country music has pulled down a combined 16.2 percent of the radio audience.
"I have never seen two stations with the same format in any market nationally tied for No. 1 with these types of numbers," said Scott Uecker, communications instructor at the University of Indianapolis and general manager of public station WICR-FM 88.7. "It's certainly the first time in this market I can remember [that happening]."
WLHK's ascent didn't end with Arbitron's broadest demographic numbers. The station beat WFMS in the 18-34 age group and in the 18-49 and 25-54 sectors. Those are the most important demographic categories in the eyes of advertisers, according to local media buyers.
"It seems like everything came together for us in one month," said Bob Richards, Emmis operations manager.
No easy payday
WLHK might have hit pay dirt in May, but the success didn't come overnight.
Initially, the country station pulled in just two-thirds the revenue of its predecessor. According to BIA Financial Network, a Virginia-based research firm, WENS brought in nearly $6 million in ad revenue during its last full year of operation. During WLHK's first year, BIA reported the country station brought in only $4 million.
The man who initiated the change preached patience early on.
"We knew this transition was going to take time, and we anticipated some advertiser attrition [at 97.1 FM]," Emmis' then-market manager, Tom Severino, told IBJ in 2007. "But in the long run, we think this is going to be a great move for Emmis."

Morgan
In the station's early days, Severino's proclamations weren't easy to believe. Listener numbers fell along with revenue. In 2007, WFMS, along with rock station WFBQ-FM 94.7, sat atop the local market, with each grabbing about 9 percent of the 25- to 54-year-old audience, according to Arbitron. WLHK, meanwhile, could only muster an audience about one-third that size. Ratings in the 25-54 demographic were down 50 percent from where they were a year earlier, when the station was WENS.
But Severino, who died of cancer in 2009, turned out to be a prophet. Slowly, as WLHK worked to wrestle young listeners away from WFMS and employed a strategy of aggressive marketing, the ratings—and ad revenue—began to climb.
Emmis worked feverishly to get up-and-coming country stars from Nashville to visit the station on Monument Circle. The result, said Emmis' Richards, is lasting relationships with some of country's biggest stars—relationships that allow the station and its listeners personal access at concerts and private events.
"We take chances with newer artists that we think have a lot of potential," Richards said. "When you show support for an artist just starting out, they don't forget it."

Earlier this year, well-known country singers such as Martina McBride and Luke Bryan have performed concerts in Emmis' lobby. Others, such as Brad Paisley and Rascal Flatts, have whipped out guitars and played live in WLHK's studios—even in an Emmis conference room.
The strategy seems to be helping pull from a broader demographic than previously thought possible. Arbitron data shows that WLHK pulls listeners not just from WFMS, but from oldies, soft rock, rock 'n' roll and alternative music stations.
"They've really done a good job programming the station to pull in listeners from across generations and cultures," said Rick Doyle, media director of Indianapolis-based MZD Advertising. "They've done some things to make this an attractive station to place ads."
WFMS exodus helps WLHK
Emmis has done more than bring in country artists to its station to bolster WLHK. Company officials have also made a number of executive hires that helped blaze the trail up the ratings chart.
Emmis hired Charlie Morgan from IMS Productions in September 2009 to replace the late Severino. Morgan once held the same position at Atlanta-based Cumulus Media's local radio cluster—which included WFMS.
Morgan quickly turned to Richards, who had helped him build WFMS into a country powerhouse. Richards had departed WFMS and Cumulus in March 2009 to start his own video production company, Pinehurst Productions.
But in October 2009, Morgan talked him into coming to work for him, in large part to help bolster WLHK. They immediately began working to connect with the community through concert promotion and event marketing.
"Charlie Morgan and Bob Richards certainly have the blueprint to take on WFMS," said Art Vuolo, a Detroit-based radio industry consultant with more than 40 years in the industry. "They're the architects who built WFMS. And they're a primary reason for WLHK's recent success."
Morgan and Richards in turn hired popular disc jockey J.D. Cannon after his abrupt exit from WFMS last year. That hire paid immediate dividends for WLHK. Since last October, when Cannon joined WLHK, the station has seen its overall audience share climb more than 40 percent during his 9 a.m. to 4 p.m. weekday time slot.
Lacking leadership
To compound matters for WFMS, there is an air of uncertainty within its management ranks. Cumulus fired its Indianapolis market manager, Chris Wheat, in early May and no replacement has been named.
WFMS Program Director Mark Hamlin told IBJ: "We're kind of in transition right now and we don't really have anyone to answer your business questions."
Hamlin declined further comment and referred questions to WFMS Vice President of Sales Melissa Stoner and officials at Cumulus' Atlanta headquarters. Stoner did not return calls seeking comment, nor did Cumulus officials in Atlanta.
Despite uncertainties at its local headquarters, WFMS remains a power.

Richards
Although climbing in the ratings, WLHK "still hasn't matched what WFMS is drawing in ad revenue," Vuolo said. "WFMS has solid programming, a very strong morning drive program, good community involvement and a very loyal audience. Remember, this station has built its reputation over nearly a quarter century. They have some very solid brand equity and that carries over with advertisers."
At its height, at about the time WLHK was launched and before the economy began to tumble, WFMS was bringing in $15 million to $17 million a year in ad revenue, according to BIA. WFMS brought in $12 million last year, still tops in the market, along with WFBQ.
There's a chance, radio industry analysts said, that this war could have two victors.
Susan Kreiner, marketing director for Live Nation's Midwest Region, says country music's popularity is at an all-time high.
"There are a number of established stars and a great pipeline of up-and-comers," said Kreiner, whose company manages Klipsch Music Center in Noblesville. "Based on the number of country shows we currently have on our summer season schedule, and how well attended they are, our belief is that country is as strong as it has ever been in central Indiana."
In the long run, Vuolo isn't sure there's room in Indianapolis for two country stations, noting that bigger markets such as Chicago and Detroit have only one.
With recent data showing that nearly one in five central Indiana residents listens to country music, University of Indianapolis' Uecker doesn't think either station will back down.
"Country music is a red-hot format right now and central Indiana is hotter for country than most," Uecker said. "As a result, I think you're going to see a major battle between the programmers and ad sales teams on both sides of this."•
Please enable JavaScript to view this content.