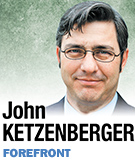 A cynical voice sounded in my brain last month when I read the accounts of Tim Durham's conviction for plundering an Ohio bank and cheating some 5,000 people out of $200 million.

"He's like all the other bigwigs," the voice thundered. "Out for himself and doesn't care about what happens to anybody else. And it doesn't matter whether they're crooked; they're selfish just the same."

These do feel like the bad old days of a century ago when cons were constant and regular Joes and Janes were the suckers born every minute. Durham's just the latest to have a conviction hung around his neck.

Who could forget Bernie Madoff, who in 2009 pleaded guilty to 11 felony charges for running a Ponzi scheme that bilked $18 billion from investors?

Remember, too, Scott Rothstein, an ex-attorney in Florida who got 50 years in prison in 2010. He pleaded guilty to five felonies related to a $1.2 billion Ponzi scheme.

And just last month, a federal judge in Houston tagged Texas financier R. Allen Stanford with a 110-year prison sentence for his role in a $7 billion Ponzi scheme. Stanford was convicted in March on 13 felony counts after he plundered his own Antigua-based bank to pay for a lifestyle that would make Robin Leach blush.

Heck, in this company of cons, Durham, who once boasted he wanted to be the world's richest man, looks like small potatoes.

But I digress.

Recently, a more hopeful side of me got to thinking about an antidote for these horrid examples of greed and criminal behavior. This took hold during one of my occasional strolls through Crown Hill Cemetery, which is a great place to gain perspective.

Right there on the eastern base of Crown Hill, under some nice shade trees, is Eli Lilly's mausoleum. He was founder of a small company that his heirs, who also inherited Eli's philanthropic bent, built into an international force. For a century, this company has created incredible wealth, not just for the Lillys and company executives, but for thousands of employees and investors.

And don't even get me started on how critical the Lilly Endowment is to central Indiana.

I looked around some more and felt even better when I saw lots of good, solid names: Clowes and Eiteljorg and Fairbanks and many more. These legacies honor their families and benefit the city.

Those legacies include people like Jeremy Efroymson, who has put his good fortune to use in ways that support the city's imagination and creativity. The Efroymson family has a long and progressive history of philanthropy; Jeremy's starting to fulfill the next generation's promise.

Mark and Karen Hill and a slew of smart people around here designed software solutions for small banks and eventually signed up more than 1,000 of them. For nearly 20 years, they built the company and livelihoods that supported hundreds of families they sold to Experian.

Now they use the considerable wealth they earned to seed new companies with new jobs and new potential.

These examples all are tonic for the cheaters, self-dealers and dispiriting crooks among us.

And the news gets even better. All around us are people without the pedigree or the wealth who work every day to provide for their families and the well-being of others.

They give a few bucks to extend their faith and spend a few hours helping out where they can, and they volunteer to organize the neighborhood watch. They're good Hoosiers, sometimes cantankerous and sometimes critical, but usually willing to help out if they can.

It's important to remember that everyone isn't trying to game the system for personal gain or glory. It won't make what Tim Durham did to those folks in Ohio seem any less awful, but it will help put a little perspective on it.

And it will quell that cynical voice in your head, too.•

__________

Ketzenberger is president of the Indiana Fiscal Policy Institute, a not-for-profit dedicated to non-partisan research into the state's tax policies and budget practices. Send comments on this column to ibjedit@ibj.com.