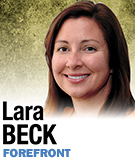 I love local government. As a neophyte press staffer, I worked at the city's Department of Metropolitan Development early in my career. At DMD, I had the great fortune to work with professionals who were passionate about their community. Whether it was leading countless meetings on the comprehensive plan, resolving complicated zoning disputes, or whittling down citizen wait times at the Mayor's Action Center, I encountered true public servants.

It's no secret that city and county employees don't share top billing with Warren Buffett on Forbes' Billionaires list. The city does its best with limited resources to offer competitive health and pension benefits, which are integral to any organization seeking to attract top talent.

Yet, employees who are in committed relationships with a same-sex or opposite-sex partner are prevented from including their loved one on their insurance plans.

Hopefully, that's about to change. In June, City-County Councilor Angela Mansfield, along with councilors Zach Adamson, John Barth, Pamela Hickman, Benjamin Hunter and Robert Lutz, introduced an ordinance that would offer domestic partner benefits to city and county employees. The ordinance would essentially offer identical benefits to domestic partners and spouses. These benefits include insurance coverage, pension benefits, and family and medical leave. Children of an employee's domestic partner also would be covered.

Already, numerous Indiana businesses offer domestic partner benefits. We often hear that government should be run more like business. Well, here's our chance to do just that.

What these companies understand—companies like Cummins, Eli Lilly, Roche and WellPoint—is that if a business is to succeed, it needs top-flight talent. Period.

Our universities get it, too. Indiana University, Purdue, Ball State and Butler all offer domestic partner benefits.

Some of the best faculty in the nation are educating the next generation of Hoosier leaders at these institutions. Does it really matter if the scientist searching for the cure to cancer is using a university's domestic partner benefits?

The same goes for city government. If we want to attract and engage the most innovative employees to work for our city and county, we must offer a benefits package that reflects the diversity of the city in which we live and work.

I firmly believe the men and women serving Indianapolis are dedicated to their jobs and to this city. Enhancing the benefits offering to include domestic partnerships not only tells all employees that they are valued, but it sends a strong message that Indianapolis is an inclusive and tolerant community.

Many critical issues face our city, issues like mass transit, crime, neighborhood development and education. It's imperative that the best and brightest are tasked with tackling not just these issues, but efficiently managing a 21st century city.

I shudder to think that there are those willing to turn their backs on good ideas because those who conceive the ideas have a different lifestyle.

I think the detractors also can stand down. It's estimated that nearly 30 people would use domestic partner benefits, which would account for 0.3 percent of the city's entire benefit budget.

To put this into context, consider: According to a recent IBJ article, the city has 7,451 employees eligible for health insurance benefits, and about 87 percent of them are enrolled. With spouses and children, the city's total enrollment is 15,181.

There are a number of companies and municipalities that have implemented domestic partner benefits to assist our city in navigating through the enforcement process.

I applaud the work of these councilors working across party lines to move this ordinance forward. Let's get behind them to make it a reality.•

• Beck served on the staffs of former Mayor Bart Peterson and former First Lady Maggie Kernan. A resident of Irvington, Beck owns the strategic communications firm Beck Communications. Send comments on this column to ibjedit@ibj.com.