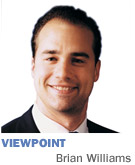 The rebirth of downtown and its continued viability are the result of clustered assets—hotels, the convention center, sporting facilities, familiar restaurants—and a strong convention business. While the city supported these private developments with prodigious amounts of cash, generous tax abatements or sometimes both, municipal leaders requested comparatively little in return either financially or civically.
We did not require striking architecture like found in Columbus or environmental innovation like in Chicago.
Just as the city provided critical seed capital for the private developers of downtown, these enterprises can provide the "seed" capital for a community effort that helps the municipal budget, Indianapolis Public Schools and township schools, and provides environmental benefits.
So, how can we do this right here in Indianapolis? Biodiesel production. Nationwide, restaurants produce 2.5 billion pounds, or about 300 million gallons, of waste vegetable oil annually. Converting waste oil to biodiesel is relatively clean and cost-effective. The primary cost of production is collection and transportation of the waste oil to a production facility.
High-density areas with large restaurants and hotels are the best, most-efficient sources of waste oil for biodiesel production. Fortunately, Indianapolis has such a concentration as a result of years of downtown investment.
Earlier this year, Smyrna, Ga., began transitioning its municipal service fleet to biodiesel produced from waste oil from area restaurants and residents. Aided by a $200,000 federal grant, Smyrna built two 55-gallon processing plants. The city will be able to substantially lower fuel costs and lower emissions, and use less fossil fuel by the end of the decade.
Further, the program will lengthen the life of service vehicles and improve operation of Smyrna's sewer system by decreasing the amount of cooking oil entering the system. Smyrna was able to adopt the biodiesel program without adding employees or facilities.
A few years ago, Kokomo launched a biodiesel effort and has realized similar financial and environmental benefits.
Indianapolis Public Schools' bus terminal at 10th street and Massachusetts Avenue, less than two miles from Monument Circle, is an ideal location for a facility to convert waste oil from the large restaurants and hotels in the Mile Square.
Most large restaurants and hotels sell their waste oil to firms that reuse it for biodiesel or animal feed. However, the value of the oil as potential biodiesel for the city of Indianapolis far outweighs the amount received from resellers.
The environmental benefits may prove to be even greater. Anyone who has been stuck behind a diesel vehicle during rush hour traffic knows the ill effects of diesel emissions on air quality. An EPA study showed that usage of biodiesel led to an 86-percent lifetime reduction in production of greenhouse gases. And the acrid stench of diesel emissions is decreased.
Because of the stop-and-start nature of bus driving, marginal increases in vehicle efficiency and decreases in emissions can have large effects on air quality.
While lowering carbon emissions from the burning of fossil fuels is a step in the right direction, there is no substitute for eliminating fossil fuels. In this era of local government austerity, it is vital that Indianapolis be a leader and find opportunities to improve operations that lower budgetary pressure and generate positive results for the community.•
__________
Williams is an Indianapolis-based entrepreneur and businessman, who is active in many community organizations. Send comments on this column to ibjedit@ibj.com.
Please enable JavaScript to view this content.