There's an innovation crisis in the U.S. life sciences industry.

Major pharmaceutical companies like Eli Lilly and Co. are struggling mightily to launch breakthrough drugs.

Medical-device firms like Bloomington-based Cook Group increasingly launch products in Europe and Asia before—or even instead of—the United States, citing concerns about regulators here and a looming new tax.

All companies wonder if the federal Medicare program, as well as private insurers, will continue to pay a premium for new products at a time the U.S. government and employers are saying "No mas!" to rising health care costs.

These uncertainties have caused investors to flee life sciences in favor of the ferocious competition of the IT world.

Some have argued this age of austerity is the end of innovation, that life sciences companies no longer will have financial incentive to bring breakthroughs to market.

But instead, it appears the cash-strapped future is prompting life sciences companies to change the nature of medical innovation—both how it's done and what it produces.

"All of this provides an even bigger stimulus for innovation," contends David Johnson, CEO of BioCrossroads, an Indianapolis-based life sciences investment and development group.

"For sure," he added, "what has passed for innovation before—a lot of the iterative and me-too innovations—that's going to get hit real hard. Therefore, the real breakthrough innovation will probably get more expensive. Because it's going to have to be really great stuff."

This shift in innovation is taking two major forms.

Pharmaceutical firms and some medical-device firms are trying to shoot bigger game with smaller guns, aiming their research at more daring breakthroughs while at the same time trying to strip costs out of their development processes. Indianapolis-based Lilly is a leading example, trying numerous initiatives to reduce its costs while trying to find drugs to treat difficult diseases such as Alzheimer's and rheumatoid arthritis.

The other major form, popular among most medical-device firms, is focusing on making innovations that help both patients' bodies and hospitals' bottom lines. That includes surgical products that save time, reduce infections or eliminate the need for medical staff in an operating room.

"We used to just think about, 'How do we solve a clinical problem?'" said Pete Yonkman, executive vice president of strategic business units at Cook Medical Inc. "Now we think about, 'How do you solve a time challenge or an [operating room] problem?'"

Cook formalized that new approach to problem solving five years ago by creating a Healthcare Business Solutions group inside its 10,000-person operation.

That's a nod to the fact that the problem isn't going away anytime soon.

Developed countries worldwide are grappling with aging populaces that need more health care, which the relatively smaller generations of younger citizens cannot afford to fund.

Baby boomers present a similar problem in the United States, though it is somewhat less intense than in Japan and Europe.

Even so, the 2010 health care reform law put in place several mechanisms that promise to keep pricing pressure intense for years to come.

The law restricts profits of health insurance companies, likely leading them to be more cost-conscious than ever. It creates financial incentives for doctors and hospitals to keep patients healthier and in need of less health care. And it creates the Independent Payment Advisory Board that is charged with achieving savings in the federal Medicare program without reducing coverage or quality.

Pharmaceutical companies worry the board will force price cuts to the drugs they sell.

In addition, health reform included funding for comparative-effectiveness research, which means new technologies will be frequently compared against existing therapies and procedures to see which works best to keep patients healthy—and reduce costs.

Hospitals especially will be awash in such data in coming years, allowing them to be much more judicious about which innovations to embrace and which to shun.

The good news for medical-device makers like Cook is that the hospitals it sells to increasingly listen when Cook tries to describe how one of its products could reduce costs in the health care system broadly.

For example, Cook sells a drug-coated stent used to prop open closed arteries in patients' legs. Because the drug on the stent prevents the artery walls from growing back together again, it can reduce readmissions to reopen arteries by 50 percent.

Having to redo a procedure never used to be a problem for U.S. hospitals. It actually was a good thing, financially: That would generate a second set of fees for treating the same patient.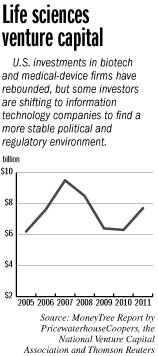 But now that the federal government and even some private health insurers are refusing to pay for readmitting patients to redo procedures, Cook finds those aspects of its product drawing more attention from hospitals.

"It used to be difficult to get people to listen to you when you talked about the downstream effects," Yonkman said. "Now they're much more interested in understanding those things."

So, too, are many health insurers and the state-run health plans of foreign countries. Drug and device companies used to be able to command a double-digit price premium just for bringing out a new product based on existing technology, with some new features.

Increasingly, the health plans want to see data on how the new product can save them money before they agree to pay a hefty price. Or, alternatively, they may accept a new drug at a high price, but charge patients higher co-pays to get it.

Patients are more allergic than ever to high out-of-pocket costs, as the number of Americans with high-deductible health plans has soared in recent years. If an expensive new drug isn't that much better than similar, cheaper drugs already on the market, patients and doctors are less likely to embrace it.

Dr. Ben Park, who treats numerous diabetic patients in Lebanon, said the latest diabetes medicines can cost a patient as much as $500 per month, or $6,000 per year. Meanwhile, Park noted, an excellent diabetes drug called metformin costs about $4 per month.

"The risk that they have is pricing themselves totally out of the market," Park said of drug companies. "For $6,000 a year, I would get a bigger bang for the buck if I opened a gym and gave out gym memberships."

Cost considerations

In the midst of these shifting economic winds, Joe Muldoon is trying to launch a product and win enough sales to generate a return for the venture capitalists backing him.

The CEO of Indianapolis-based FAST Diagnostics Inc. is trying to bring to market a test developed at the Indiana University School of Medicine that can, for the first time, not only directly measure kidney function but also produce accurate results in an hour. Existing, indirect measurement methods require a day.

FAST's original plan was to conduct a clinical trial to show that its test was safe and effective. Once it won market approval, it planned to conduct a "market adoption" study that could show how the faster, more accurate test helped shorten hospital stays and improve drug dosing—both of which can save money.

Now, however, Muldoon is thinking about doing a study to document how the test saves money even before launching the product. Otherwise, he fears sales of the product will be too slow to give his investors the return they want in the time they want it.

The adoption might be slower, Muldoon said, because—instead of individual doctors' having the authority to bring new technologies into a hospital—it is increasingly common for hospitals to have a designated committee make all decisions on new technology. And those committees want to see hard data—not just speculation—that a product can deliver better care and reduced costs.

"It's become apparent to us as things have unfolded in the market that the data we may need to create may have to be more complete, more compelling and we may need to produce it earlier in the process," Muldoon said.

Even though FAST has already raised nearly $12.5 million to fund itself, it is contemplating a larger fundraising round next year to help fund its first clinical trial, which will start by early next year in Europe. Venture capital investors increasingly want to see that a company has plans to study a product's cost-saving potential before they will invest in a company.

"They're saying, you need to be prepared to do these types of things, and we need to be prepared to fund you to do these types of things," Muldoon said of venture capitalists.

Of course, raising any money at all has gotten far more difficult for life sciences companies. Venture investments into biotech and medical-device companies plunged from a peak of $9.5 billion in 2007 to $6.3 billion in 2010, according to a MoneyTree report produced by PricewaterhouseCoopers and Thomson Reuters.

Investment rose to $7.7 billion last year, but declined again during the first half of this year.

"You're seeing the pricing of new technologies not being rewarded," said Ron Henriksen, who serves as chief investment officer of Twilight Venture Partners, an Indianapolis-based life sciences venture capital firm, which has decided not to raise a new fund. "That's why you see the venture capitalists fleeing the market."

Quick decisions

Even major pharmaceutical companies are struggling to launch new products—at least enough to offset sales they lose as patents of older products expire.

"The pharmaceutical industry faces a triple challenge: it must produce more, better, and affordable innovation, or face implosion," said Bernard Munos, who worked in Lilly's corporate strategy group for 30 years before leaving in 2010 to form his own consulting firm, Indianapolis-based InnoThink Center for Research in Biomedical Innovation.

Lilly's strategy has been to cut drug development costs so it can support a larger stable of experimental products. It figures that, with more than 60 molecules in some stage of human testing, some will make it to market and make big money.

Lilly's efforts to reduce costs in its development pipeline began in earnest with the 2002 launch of Chorus. A small team of researchers took a drug compound that had only been tested in labs, hired outside firms to conduct initial clinical trials, and tried to prove the drug was better than existing treatments and for less money.

It worked. Chorus was able to shave one year and $3.2 million off the average incurred by all pharmaceutical companies for the same work. The strategy allowed Lilly to kill projects that didn't work before spending more money on them and to more quickly advance ones that did work.

No Chorus compound has reached market. Furthest along is tabalumab, which Lilly is testing in Phase 3 trials to treat lupus and rheumatoid arthritis.

No treatment works well for any of the diseases, meaning tabalumab has huge marketing potential if it works.

Lilly has launched a variety of other initiatives aimed at improving its R&D efficiency. It has also started several programs in which academic and independent researchers can submit their molecules to Lilly for early technical help—without ceding intellectual property rights—in exchange for Lilly's getting an early look at promising research.

Lilly is also performing cost-effectiveness studies on many more of its experimental drugs than it once did, said Jan Lundberg, president of Lilly Research Laboratories.

"We are introducing specific things in our development programs to show that if patients are using our medicine, it actually lowers overall costs," Lundberg said, citing Lilly's drug Effient as an early example. Lilly compared Effient head-to-head against an existing blood thinner, Plavix, in clinical trials. It also designed its study to show how Effient reduced heart attacks more than Plavix—something that can reduce costs drastically in a hospital.

Lundberg, who formerly headed research at United Kingdom-based AstraZeneca Plc, noted that European countries, especially the U.K. and Germany, have asked for such data in the past. Now, he said, it's happening globally.

Other smaller companies have mimicked Lilly—but much more radically.

The Boston area has seen several "micropharma" companies pop up—some operated by only one former pharma executive out of a living room.

For example, Boston-based LipimetiX is trying to develop a cholesterol drug that would be better than Lipitor. It has four employees and outsources all its other work.

A similar example is Flexion Therapeutics, based in Woburn, Mass. It was started by Dr. Michael Clayman and Neil Bodick, the men who started Chorus for Lilly.

Flexion now has 11 people and is developing three drugs—all injectable medicines for osteoarthritis companies. Clayman, Flexion's CEO, said his company is using all the principles Chorus developed—only to bring drugs all the way to market.

Perhaps the most important principle is to structure a small human trial to determine if a drug has a clear ability to exceed existing drugs on the market. And if it fails to show that potential right away, to abandon the drug.

Too often, Clayman said, research teams within pharma companies focus on the silver linings in a drug's performance rather than asking hard questions about whether it is a true breakthrough.

"The processes that lead to innovation and important solutions for patients, those processes can be substantially improved in terms of efficiency," he said. "There's been lots and lots of talk about efficiencies, but there have been very few actual examples."•