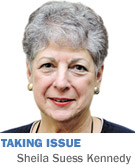 If you've been following my columns and blog posts, you are probably tired of my frequent rants about what Americans don't know about our own constitutional system.
It's an issue that has preoccupied me for a long time, so I am delighted to announce the establishment of a Center for Civic Literacy at IUPUI.
The center will include a research clearinghouse and a scholarly journal; we will also conduct research on a variety of civic literacy issues. What are the programs and curricula that have demonstrated effectiveness in producing constitutionally competent students? Why have previous efforts at reform lacked staying power? What are the political consequences of civic ignorance? Can we use our research on these questions to develop a set of recommendations for basic civic education that can be implemented and sustained?
Can we provide a common, accurate framework for our inevitable policy debates? Because that matters. A lot.
It matters because we live in an increasingly diverse country. People read different books and newspapers, visit different blogs, watch different television programs, attend different churches, and even speak different languages.
The information and beliefs we share are diminishing and our fragmentation is growing.
Our constitutional values are ultimately all we Americans have in common. They are the covenant that forges unum from our pluribus and makes us more than the sum of our quarrelsome parts.
All governments are human enterprises, and like all human enterprises, they will have their ups and downs. In the United States, however, the consequences of the "down" periods are potentially more serious than in more homogeneous nations, precisely because this is a country based upon covenant rather than identity.
Americans do not share a single ethnicity, religion or race. We never have. We don't share a comprehensive world view. What we do share is a set of values, and when we don't know what those values are or where they came from, we lose a critical part of what it is that makes us Americans.
At the end of the day, it doesn't matter if I think the Establishment Clause requires a certain result and you think it requires a different one. What matters is that we both know what the Establishment Clause is, and what values it was meant to protect.
It doesn't matter whether I think freedom of the press should protect bloggers and you disagree. It matters a lot that we both know what freedom of the press means, and why it was considered essential to trustworthy government.
Daniel Patrick Moynihan famously said we are all entitled to our own opinions, but not our own facts. If I think this is a table and you think it's a chair, we aren't going to have a productive discussion about its use.
We don't need citizens who all agree about the implications and applications of our founding decisions, or who even agree with the decisions themselves. But we desperately need citizens who share an accurate understanding of what those decisions were and how the courts have interpreted and applied them.
Scholars and educators have expressed concern over inadequacies in citizenship education for a very long time. Periodically, there have been efforts to increase requirements for civic and constitutional educational content, generally in government or "social studies" classes. The typical trajectory of these efforts has been an initial burst of enthusiasm followed by diminishing implementation and limited impact.
Our Center for Civic Literacy is going to try to change that.
Wish us luck!•
__________
Kennedy is a professor of law and public policy at the School of Public and Environmental Affairs at IUPUI. She blogs regularly at www.sheilakennedy.net. She can be reached at skennedy@ibj.com. Send comments on this column to ibjedit@ibj.com.
Please enable JavaScript to view this content.